Michael Vick: Can Fleet-Footed QB Survive an Entire Season?
August 15, 2011
Nick Laham/Getty Images
While Tom Brady may have won the Most Valuable Player award last season, and Aaron Rodgers may have won a Super Bowl and finally cast off Brett Favre's shadow from his career, the real quarterback story in 2010 was the rejuvenation of Michael Vick from overpaid bench warmer to once again one of the most electrifying players in all of football.
Using his first season to get back in shape and improve his throwing mechanics, Vick got his opportunity when Kevin Kolb went down with injury and thrived.
He showed improved accuracy, incredible arm strength, careful decision making and that he is still one of the fastest players in the league. However, most importantly was that the team rallied behind him.
Vick is a leader.
With him at the helm, the entire Eagles offense sparks to life and everyone on the team believes they have a chance to win so long as he is leading them. That is why when Vick starts an entire game, the Eagles so far are 8-2. He is without a doubt the most crucial player on the Eagles roster.
However, that brings up additional concerns about having Vick as the starter. While Vick has certainly improved by light years as a pocket passer, he is still a scrambler and will make plays with his feet when he needs to as well as attempt to buy time when being blitzed, as opposed to curling up and taking the sack.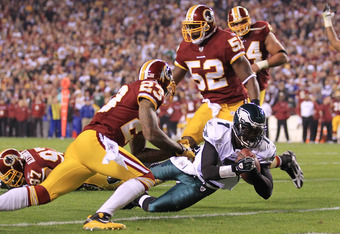 Chris McGrath/Getty Images
If Vick can stay healthy, the sky is the limit for the Eagles; but if he cannot, the Eagles may be in trouble.
At 31 years of age, Vick is not exactly young and many fear that his body may not hold up for a full 16 games. Whether or not those fears are realized will depend upon two factors: Offensive line play and Vick's improvement as a passer.
The bulk of the task of keeping Vick healthy will clearly rest within the offensive line.
Last season, the O-line was one of the biggest weaknesses for the Eagles, as Vick was taken down 34 times in only 10 games. Only four quarterbacks were sacked more last year. If such lack of protection continues, it would take almost a miracle to keep Vick standing by the end of the season.
With Jason Peters and Todd Herremans at the left tackle and left guard spots, the Eagles were solid on the left side of the line, yet the play on the right side was incredibly poor.
Winston Justice was inconsistent at right tackle. The right guard spot was never figured out. All attempts to bring in Nick Cole, King Dunlap and Reggie Wells failed miserably. And as Winston Justice would play on an injury in the Wild Card Game against Green Bay and against a monstrous pass-rusher in Clay Matthews, his poor play at right tackle arguably cost the Eagles the game.
But, well aware of this glaring weakness on the team, the Eagles drafted Danny Watkins with their first-overall pick, thus locking up the right guard spot.
Former-Bronco Ryan Harris, a solid young tackle with great potential, was brought in to play the right tackle, helping to better secure Vick's blind side. And Reid made a key addition by bringing in legendary offensive line coach Howard Mudd out of retirement. With all these key additions, the O-line should be much improved from last season.
Although the O-line should be improved to help give Vick more time, the rest of the task of staying healthy will depend almost solely on Vick.
With another offseason now to learn the playbook and become familiarized with his receivers, Vick must improve even more as a pocket passer and develop a quicker release—something he struggled with at times in 2010.
With the ball out quicker, defenses will not have as much time to sack the quarterback and Vick can limit the amount of hits that he takes. This combined with his improved sliding technique that he implemented last season (his awkward face-forward slide) should be enough to keep Vick healthy until the postseason.
With an improved offensive line and Vick getting rid of the ball faster, Vick should be able to minimize his chances of getting hurt and missing significant time due to injury. While he broke his ribs against the Washington Redskins in Week 4 and ended up missing three games, that was really a combination of him not sliding, attempting to force a touchdown with his legs and encountering a freak accident of being sandwiched between two defenders. 
If Vick avoids such scenarios, does not force scores while unnecessarily sacrificing his body and if he can get rid of the football quicker, then, combined with a more reliable offensive line, he should be able to remain healthy—which will possibly be the utmost important factor in the Eagles' Super Bowl hopes, for this Eagles team will go as far as Michael Vick will take them.
So goes Vick, so goes the Philadelphia Eagles.