Pittsburgh Steelers: Antonio Brown, Cameron Heyward Stepping Up
August 15, 2011
Gregory Shamus/Getty Images
Standing on the sidelines of the Steelers practice on Sunday, you would have never known of the poor performance that was on display in Pittsburgh's 16-7 loss to the Washington Redskins on Friday night.
It was a relaxed atmosphere as Mike Tomlin joked with Ben Roethlisberger, James Harrison and others. They did not deviate from their normal routine and had a solid practice.
But not all was a wash Friday night as two young players raised their level of play and took the spotlight.
Antonio Brown, who has gotten plenty of reps with the first team due to injuries, was the star of the offense. He finished with four receptions for 64 yards.
More importantly, it was the little things that made Brown impressive.
Everyone knows of his athleticism, but he needed to improve his mental game. Brown clearly has as his routes were outstanding and he did the little things, such as blocking down field on Isaac Redman's touchdown run.
Brown's threat as a playmaker had the Redskins defense on edge as he beat DeAngelo Hall deep, but Byron Leftwich was unable to connect with him. He also drew a pass interference call.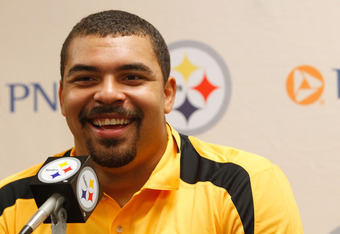 Jared Wickerham/Getty Images
Doubts of Pittsburgh's depth at the position were eased with Brown's impressive showing. He will enter the season as the fourth receiver, assuming Emmanuel Sanders is healthy by the season opener.
On the defensive side of the ball, much was left to be desired as the starting unit looked disinterested in tackling and the decimated defensive backfield struggled in stopping Rex Grossman.
However, Pittsburgh's first-round draft choice, Cameron Heyward, did not disappoint.
Already having a strong camp, Heyward put his hard work to action on the field and showed why the Steelers spent their first-round pick on him.
Heyward was a force on the line, winning many of his battles to disrupt developing run plays.
One of the highlights of the night was when Heyward broke through to overpower running back Ray Helu, spinning him to the ground for a short loss.
Though he has ways to develop, Heyward did not look like a rookie and made the first step to earn time in the Steelers' rotation at defensive end.
Pittsburgh will hope to see similar results this Thursday against Philadelphia, as well as some growth from other young players as well.
As we saw last season, Tomlin will play young players if they deserve it. Brown and Heyward are proving their worth and now others must follow.
Sunday Camp Notes:
I made it to camp for one final time and got one last close up look of the team from field level. Here are some quick observations of the practice:
In the first round of team drills, Troy Polamalu avoided a collision with Ryan Clark as both were trying to coverage Mike Wallace across the middle. Polamalu landed awkwardly on the turf field and came up limping. He took himself out of practice on the next play but did not see any significant attention from the trainers. Polamalu would later return to practice.
Jerricho Cotchery, wearing No. 82, practiced for the first time with the Steelers. He had a solid first practice and was the target of the quarterbacks. There is a significant talent gap between Cotchery, who is expected to be the fifth receiver, and Limas Sweed and Tyler Grisham.
Do not be surprised if the Steelers sign another running back after cuts are made. No one beyond their top three have been overly impressive.
Tony Hills was with the first team offensive line at right guard. This is after Chris Scott was completely unimpressive Friday. Ramon Foster seems to have fallen out of favor, as Doug Legursky was at left guard in team drills. Hills handled himself well, and I would expect him to get the start Thursday.
Speaking of left guard, Chris Kemoeatu returned to practice but only in a limited fashion. He will be a welcome addition back to the offensive line.
Heyward and Jonathan Scott got into a scuffle today and Maurkice Pouncey jumped in as well. There was a huge crowd around the players to separate everyone. Ziggy Hood came out of the group yelling. It was basically 'what's wrong with you guys."
Aaron Smith and Brett Keisel both sat out practice.
Curtis Brown made some nice plays earning the praise of Carnell Lake.
Daniel Sepulveda was launching rockets in punting drills.
The biggest thing I took from practice is how meaningless one-on-one blocking drills are. Meaningless may not be the exact word, but they do not translate very well to games. If they did, the Steelers would have a pretty good offensive line. Get them in game action and it is a different story.

Another example is David Johnson, who is one of the better blockers in practice but struggled this past Friday. With that stated, I hope a starting offensive is set soon so they can begin to gel on work together in the preseason games. Right now it is a revolving door at both guard positions, and things need to get settled.
Follow me on Twitter @ChrisG_FC