Barça Player Grades in Real Madrid CF 2-2 FC Barcelona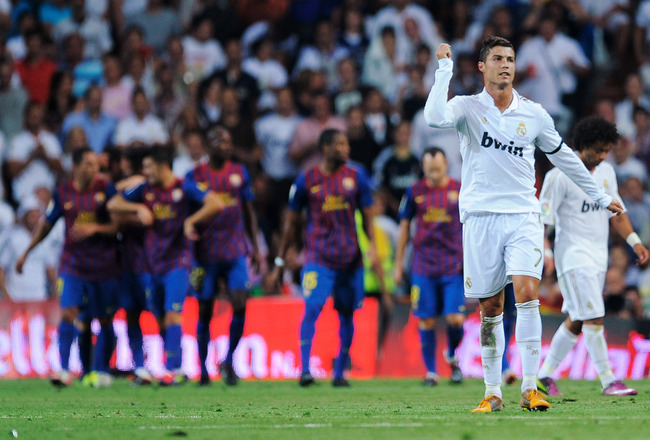 Denis Doyle/Getty Images
FC Barcelona have tied 2-2 against rivals Real Madrid in the Supercopa's first leg. But how did Pep's boys perform?
Truth is, with all that's happened this preseason, Barça played a very good game yesterday and the result they got sets up a more than likely Supercopa title this Wednesday at Camp Nou.
Want to know who had the best games individually?
Start the slideshow to find out!
GK: Victor Valdés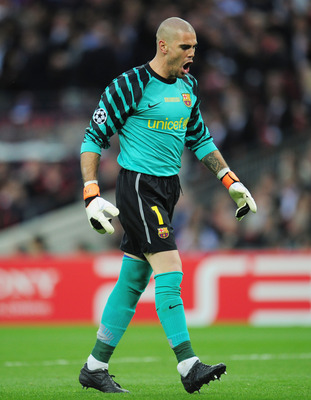 Shaun Botterill/Getty Images
Valdés was solid like concrete wall against Madrid.
He stopped every shot he could, and except for a bad play on a Real Madrid cross, he had a fantastic game.
He's a big part the game ended 2-2 and was solid and provided a sense of confidence throughout the match.
Grade: A
RB: Dani Alves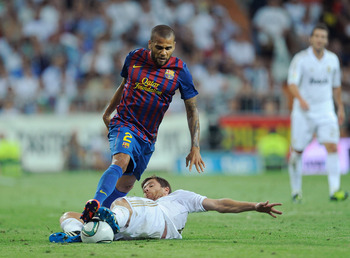 Denis Doyle/Getty Images
I love Dani Alves, but he had a very average game against Madrid.
He wasn't dangerous going forward or pressing and was inconsistent defending (no surprise there).
He had no preseason work at all, and it was heavily felt.
Grade: C-
RCB: Javier Mascherano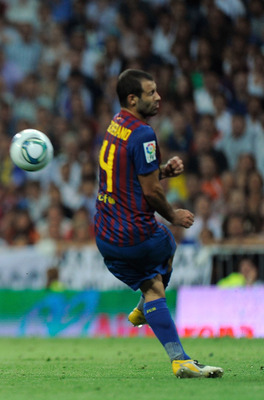 Denis Doyle/Getty Images
I've been a big Mascherano as CB supporter, but he looked downright awful in this game.
Again, a big part of that is that he had no preseason.
But the truth is Mascherano was one of Barcelona's worst players at the Bernabeu.
Grade: D
LCB: Eric Abidal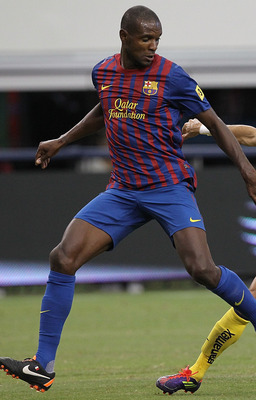 Ronald Martinez/Getty Images
Abidal seems to be transitioning well to CB, and he was Barcelona's top man on a very bad backline.
Still, I know he can be more than just good on a frankly awful backline.
Wasn't as good at LB, though.
Grade: B
LB: Adriano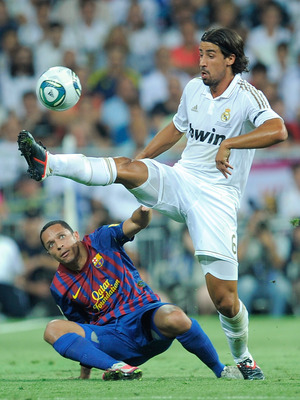 Denis Doyle/Getty Images
If Alves was bad on the right, Adriano was terrible on the left.
The first goal came from a bad play on his side of the pitch, and he was nowhere to be found offensively or defensively.
Grade: D+
DMF: Seydou Keita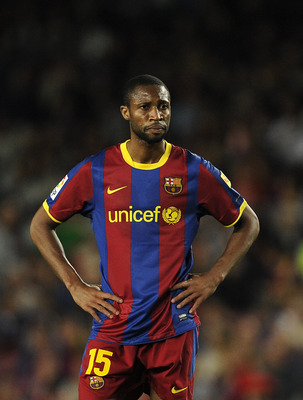 David Ramos/Getty Images
Seydou's fantastic as a centre box-to-box midfielder, but as defensive midfielder he's adequate at best.
And this Sunday against Madrid, he was clearly Barça's worst player.
He didn't help out on the creative or destructive duties needed for a Barça defensive midfielder.
Grade: F
RCM: Thiago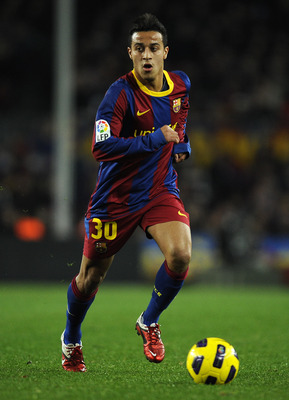 David Ramos/Getty Images
Thiago was given the keys to the Barça sportscar... and he wasn't ready to drive it.
At least not yet.
He wasn't bad, but he's clearly not used to having Khedira and Xabi Alonso biting his ankles every single play and lost a couple of important balls in the first half.
In other words, he's promising, but he's not quite ready for the big time (yet).
Grade: C
LCM: Andres Iniesta
Denis Doyle/Getty Images
Horrible and very quiet game for Iniesta by his standards.
He was never comfortable with Madrid's physical and borderline play.
He improved when Xavi jumped in.
Grade: C
RWF: Alexis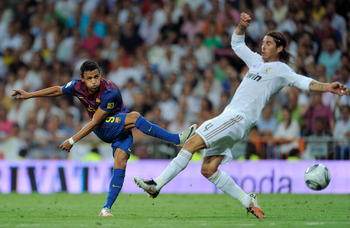 Denis Doyle/Getty Images
Alexis had a magnificent debut for Barcelona.
Marcelo had trouble with him all day long, and his defensive contribution was magnificent, tallying nine fouls to his name, which must be a record for a winger.
He could've rounded it up with a goal, though.
Grade: B+
LWF: David Villa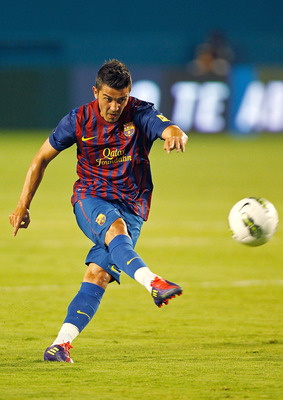 Mike Ehrmann/Getty Images
Scored a magnificent goal, but did little more.
He's finding the net way more often now, which is fantastic news for Barça.
Grade: A-
CF: Lionel Messi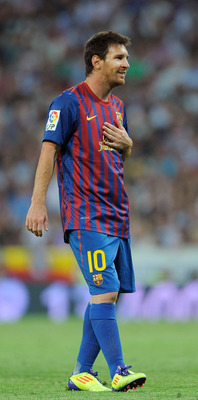 Denis Doyle/Getty Images
VERY quiet game for Lio.
Messi's definitely out of shape and was invisible for the most part of the game.
Yet he scored a goal.
That about sums it up when you're the world's best.
Grade: B+
Sub 1: Xavi
Denis Doyle/Getty Images
I missed him.
I'm sure Pep did too.
And so did his teammates.
When he came in, Barça was just better.
Grade: B
Sub 2: Piqué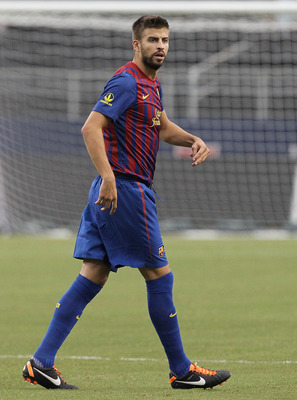 Ronald Martinez/Getty Images
Out of shape and injured, Pique is far from his optimal form.
And it shows; he wasn't an improvement in the D-line when he came in.
Grade: C-
Sub 3: Pedro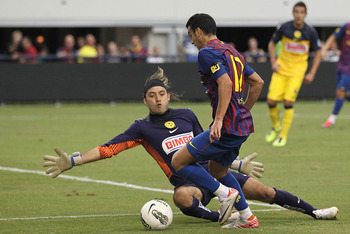 Ronald Martinez/Getty Images
Pedro was his feisty old self.
He didn't have time to do much more.
Grade: C
Ref: Teixeira Vitienes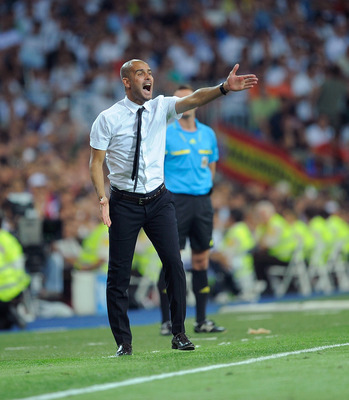 Denis Doyle/Getty Images
Teixeira was horrible. He permitted Madrid to be very aggressive on the Blaugrana's heels every time they received the ball, which led to even more aggressive play, evidently.
Khedira wasn't red-carded for a kick to the face, and Pepe ended the game without being booked because... well, because he didn't mean it or something.
He also blew a clear penalty call on Pedro by Marcelo and was very home-sided throughout.
Hala Madrid.
Grade: F-
Manager: Pep Guardiola
Denis Doyle/Getty Images
Guardiola gets an 'F' in fashion sense because he chose to dress up like a bus driver for no apparent reason.
However, he did his best with the men at his disposal and a 2-2 result is certainly an "Advantage Barça."
Great job by Pep, who hasn't lost in the Bernabeu.
Grade: B+
Follow me on Twitter! @ehrli

Keep Reading

FC Barcelona: Like this team?