Has Golf Run Out of Dominant Players?
August 15, 2011
Andrew Redington/Getty Images
As PGA Tour rookie Keegan Bradley sank a one-foot putt to seal his three hole aggregate playoff victory over Jason Dufner in the 2011 PGA Championship Sunday evening, it marked the crowing of a fourth different major champion this year—and the first time for an American player to enjoy the spotlight.
For Bradley, it was his second win this year—he also won the Valero Texas Open—but that's a rarity these days. His two victories is about as dominant as a player can get in professional golf.
There have been 31 different champions on the PGA Tour in 2011 thus far. Furthermore, Bradley is among six rookies who have realized first time success on the Tour this year.
With the win, Bradley moved from No. 108 to No. 29 in the Official World Golf Ranking. And he jumped 20 spots to No. 4 in the FedExCup standings.
Hello, Keegan Bradley.
The tournament was a sign of the times. The 2011 PGA Championship was a mirror image of the 2011 season on the PGA Tour.
Gone are the days of Tiger Woods dominance. From 2003 to 2009, Woods won an incredible 37 times. Now, he rarely finds himself on the leaderboards of tournaments he does compete in.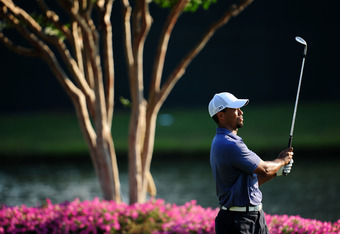 Stuart Franklin/Getty Images
There aren't even any rivalries to get excited about. Modern day professional golf is a melting pot of high caliber talent and practically anyone who is competing has a legitimate chance to win the tournament on any given week.
Few people expected a final group of Dufner and Brendan Steele in the PGA Championship. And Bradley was just a shot back in the second to last pairing.
I predicted that all three would falter and a more seasoned veteran like Phil Mickelson, Steve Stricker or one of the world's top two players—Luke Donald or Lee Westwood—would rise to the top.
But that's not the way it played out.
The game has run out of dominant players, for now.
Whether Tiger Woods returns to the form that made him virtually unbeatable or whether a new face—like Keegan Bradley—ushers in a new era of dominance, remains to be seen.