Philadelphia Eagles: Winners and Losers from NFL Preseason Week 1
Jim McIsaac/Getty Images
The Philadelphia Eagles got on the right foot Thursday night, beating the Baltimore Ravens in the opening week of preseason, 13-7.
Overall, there was a lot to love with the Eagles' performance. Philly racked up six sacks, and the offense scored a touchdown on its only offensive series. There wasn't a particular aspect of the game that looked like it could develop into a major problem for the Eagles.
Preseason is still just preseason, however. Remember the Detroit Lions went 4-0 preseason the same year they went winless, but it's hard not to get excited about the upcoming regular season after such a good start.
Let's look at the Eagles' winners and losers from the NFL's first week of preseason play.
Winner: Jim Washburn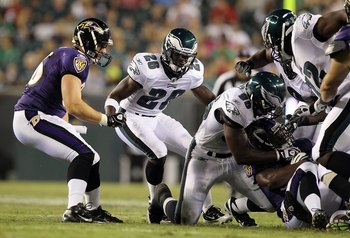 Jim McIsaac/Getty Images
The biggest change for the Eagles going into the 2011 season was at defensive line. Jim Washburn was brought in from Tennessee as the new defensive line coach to try and fix what was a very soft pass-rush in 2010.
It appears it will take no time to achieve just that.
The Eagles picked up six sacks against the Ravens, and they could have had at least 10 if they weren't chasing one of the fastest quarterbacks in the game for three quarters, Tyrod Taylor. Trent Cole, Darryl Tapp, Phillip Hunt, Daniel Te'o-Nesheim and Derek Landri all finished with at least one sack (Tapp had two).
We saw linemen being rotated in and out like a line-change in hockey. It worked extremely well. Everyone went all out to get after the quarterback or whoever had the ball. When they were a little fatigued, in came the next set of guys to wreak havoc in the backfield.
There wasn't one single player who didn't thrive in the new system.
Winner: Riley Cooper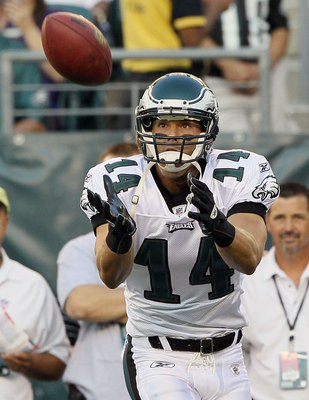 Jim McIsaac/Getty Images
Riley Cooper only had one catch against the Ravens in the first preseason game, but boy was it a good one. Cooper got a step on future Hall of Fame safety Ed Reed, then leaped over Reed to bring the ball down for a 42-yard pass play from Michael Vick.
Heading into the 2011 season, Cooper has a chance to break out in a big way. Jeremy Maclin is still battling with a mystery illness that no one outside of the Eagles' coaches and trainers know anything about. Cooper is the likely candidate to replace Maclin on the outside opposite of DeSean Jackson.
On just one play, Cooper proved he can be that guy if Maclin isn't healthy once the regular season starts.
Winner: Mike Kafka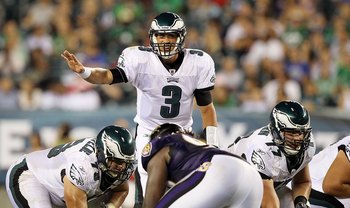 Jim McIsaac/Getty Images
Mike Kafka had himself a solid start to the 2011 season, completing 68 percent of his passes for 132 yards on Thursday night. Kafka rarely had time to get rid of the ball and find an open target, but they didn't seem to bother him one bit. He got the ball out very quickly and read the blitz like a 10-year pro.
Kafka did throw one interception to Ravens safety Bernard Pollard, but he seemed to get better and better after his one pick.
Although clearly the third-stringer behind two former Pro Bowl quarterbacks, Michael Vick and Vince Young, Kafka did show a lot of promise despite having very little protection. Maybe in a couple years we will see the Eagles' front office turn Kafka into a second-round pick and a former Pro Bowl player in a trade with a quarterback needy team.
Only time will tell.
Winner: Daniel Te'o-Nesheim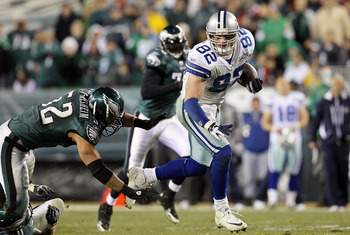 Jim McIsaac/Getty Images
Daniel Te'o-Nesheim looked like a bust in his 2010 rookie season. Te'o-Nesheim, the Eagles' third-round pick of the 2010 draft, only managed to play in six games, where he managed only two tackles.
Te'o-Nesheim got off to a much better start in 2011.
He had two solo tackles and one sack, along with several more pressures on the quarterback against the Ravens. It appears Te'o-Nesheim will thrive under Jim Washburn's scheme.
Te'o-Nesheim won't be a starter in 2011, but he should be part of a very active rotation of back defensive ends that could include Darryl Tapp, Phillip Hunt and Brandon Graham.
Winner: Darryl Tapp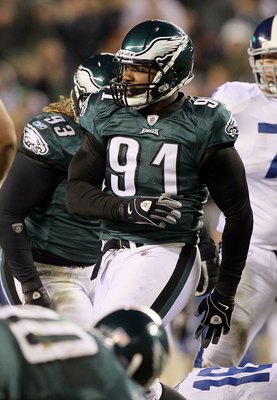 Jim McIsaac/Getty Images
Darryl Tapp was the biggest benefactor of Jim Washburn's attacking line scheme in the first week of preseason action. Tapp finished the game with two sacks and was in on several pressures on the quarterback.
Even if Tapp isn't able to steal a starting job from projected starter Jason Babin, he should be the Jason Terry of the Eagles' defensive line. Tapp will at least be a key part of Washburn's rotation that will be able to give Trent Cole and Jason Babin a rest.
Tapp finished the 2010 season with just three sacks, a number he could easily surpass before the Eagles' bye week in Week 7.
Winner: Casey Matthews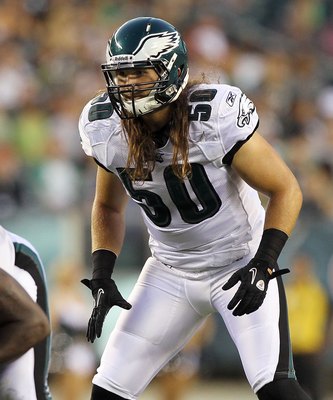 Jim McIsaac/Getty Images
Casey Matthews appears to be the Eagles' biggest concern going in to the 2011 season. Philly let last year's starting middle linebacker, Stewart Bradley, sign with the Arizona Cardinals in free agency.
The Eagles' also moved Jamar Chaney to outside linebacker. Chaney made two starts in the regular season and one in the playoffs after Bradley went down with a dislocated elbow.
Matthews has been working with the first team defense throughout training camp and made the start for the Eagles in the first preseason game. Matthews only played in the first eight defensive plays of the game before being pulled with the rest of the first team defense.
Matthews didn't record a single tackle, but he did an exceptional job of covering Ray Rice in the backfield, forcing the Ravens' quarterback to throw elsewhere on a couple plays in the first quarter.
Pass coverage from the linebackers was a big weakness for the Eagles in 2010, and it appears they found a player who can greatly improve them in that area.
Winner: Alex Henery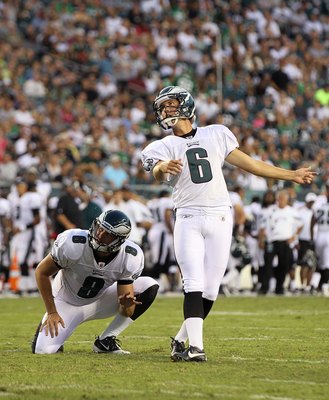 Jim McIsaac/Getty Images
The Philadelphia Eagles have been set at kicker for the past 12 seasons with David Akers—2011 will be a different story with rookie kicker Alex Henery.
Henery got off on the right foot in the first preseason game last Thursday night.
Henery made both field goals, along with his only extra point. He also will be handling kickoffs as well, something he didn't do much of in college. Henery drilled all four kickoffs into the end zone, including three touchbacks.
It appears Henery is more than capable of being the consistent kicker Eagles fans have been used to for more than a decade.
Loser: Ryan Harris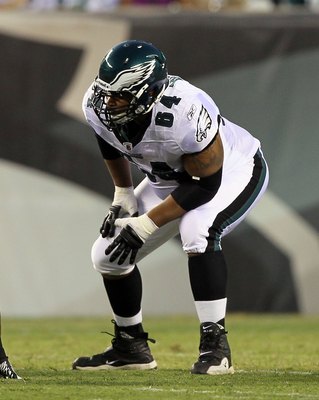 Jim McIsaac/Getty Images
Ryan Harris is in the perfect situation in 2011. He signed a one-year contract with the Eagles to compete at right tackle with Winston Justice, who may not be healthy for the first game of the regular season. Harris will be getting all the reps at right tackle with the first team while Justice recovers from knee surgery he had in the offseason.
Harris did not take advantage of his situation against the Ravens, though. He was up and down in pass protection all game with both the first and second team units. Harris barely got a hand on much quicker pass-rushers at times.
The right tackle protects the blindside for Michael Vick. It is too important of a position to give to an inconsistent player. Ryan Harris has to show Howard Mudd and Andy Reid a lot more in order to start over a player like Justice, who has been the team's starter since the 2009 season.
Loser: Austin Howard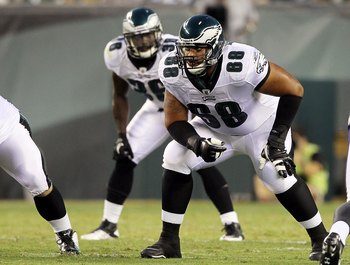 Jim McIsaac/Getty Images
Austin Howard is fighting for a backup tackle spot on the Eagles' roster, and he did not get off to a very promising start. Howard struggled to give Vince Young adequate time, leading to a 10-yard sack and a 16-yard grounding penalty.
Howard played left tackle with the second team unit. He isn't an ideal candidate for Howard Mudd's blocking scheme, weighing in at more than 330 pounds. Howard will have to improve his pass protection if he is going to secure a roster spot for 2011 and beyond.
Loser: Johnny Lee Higgins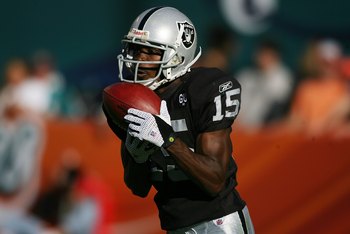 Marc Serota/Getty Images
Johnny Lee Higgins is in for the fight of his life to earn the final roster spot at wide receiver.
The Eagles already have DeSean Jackson, Jeremy Maclin, Jason Avant and Riley Cooper, and they also signed Steve Smith (formerly of the New York Giants). With the mystery illness of Maclin and Smith still recovering from knee surgery, a sixth receiver on the Eagles' roster is very likely.
Chad Hall, Sinorice Moss and Johnny Lee Higgins are all battling for that sixth wide receiver spot. Hall finished the first week of preseason with five catches for 82 yards, while Higgins finished with just one six-yard catch. Higgins also missed a couple other very catchable passes in the process.
Higgins is listed first on the Eagles' depth chart at kick and punt returner, but with the new kickoff rule and several other capable return men on the roster, Higgins' return skills will not guarantee a roster spot.
A better effort in the passing game will go a long way toward earning a spot on the team. Higgins is already behind Chad Hall in that regard.
Keep Reading

Philadelphia Eagles: Like this team?