Liverpool FC: 5 Things Liverpool Need to Do to Improve from the Season Opener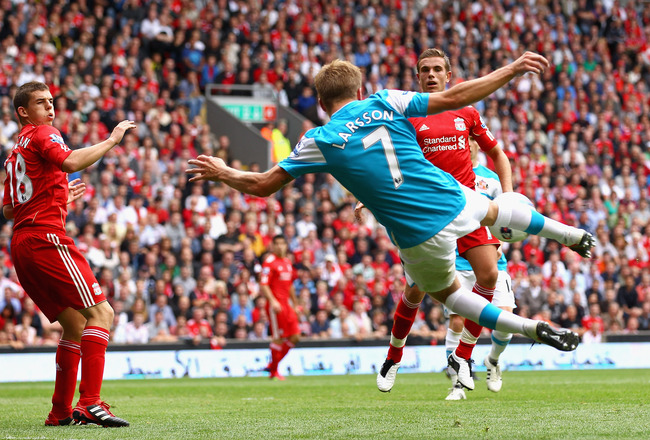 Clive Brunskill/Getty Images
After an active summer, Liverpool were expected to come in and beat Sunderland comfortably.
They didn't.
They may have dominated. They may have scored first. They may have a significantly more skilled team. None of those usual factors for a win mattered. Liverpool staggered to a disappointing 1-1 draw.
If the Reds want to mount a serious title challenge, they need to win games. That all starts at the Emirates Stadium next Saturday.
Here are five things Liverpool need to do for them to be successful next week and beyond.
5. Take Their Chances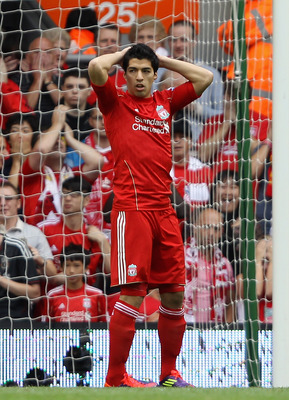 Clive Brunskill/Getty Images
In this league, you have to take your chances—especially in games where you dominate like you do against Sunderland. You just can't throw away penalties like the one Luis Suarez did.
It's not easy to create opportunities. How many blue-chip chances do you get in a game? Maybe two or three? Throw in the fact that Liverpool are absolutely an offensively minded team and you're going to give up goals. Liverpool are likely to have to win a lot of 3-2 games this season. They have to score every time.
Chances like Stewart Downing's bar-rattling strike are bonuses. They need to keep that up.
4. Sign a New Centre Back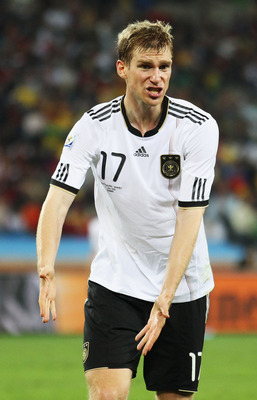 Joern Pollex/Getty Images
This isn't to say that Liverpool had a big problem in the position on Saturday, but the lack of top centre backs on the bench is alarming. Jack Robinson, while a defender, is a left-back, and at 21, it will be tough for Martin Kelly to come on and make an impact like a substitute needs to.
Gary Cahill, Scott Dann, Ryan Shawcross and Per Mertesacker have all been linked with Liverpool, and they would all change the dynamics of the team. Daniel Agger is a top defender, and if he can get elite support next to him, Liverpool would look a lot stronger.
Imagine Agger and Mertesacker in the middle of defense. Must be one of the top ones in the league.
3. Give Andy Carroll More Aerial Balls
Clive Brunskill/Getty Images
Andy Carroll needs to be involved more. When he is on form, he is one of the best strikers in the league. His movement and ball control on Saturday suggested he may well be on form.
Arsenal lack significant size and power in their defense, so Carroll could definitely have an impact. He is a bulldozer. If he can position himself in the middle of the box and have Stewart Downing and Luis Suarez provide him with crosses, he could put up some goals.
2. Improve the Right Side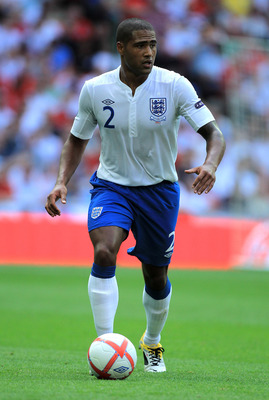 David Cannon/Getty Images
Liverpool looked strong on Saturday. There weren't many weaknesses. The right side was a big one.
John Flanagan is young and talented, but he looked outmatched against the skill of Sunderland's Swedish left winger Sebastian Larsson. Jordan Henderson failed to make an impact down the wing, rarely testing the opponent's defender.
Henderson is a long-term solution, so it is difficult to replace him with anyone. As much as I like Flanagan, Glen Johnson needs to come back to take over the right defender spot. If not, Martin Kelly should play.
1. Move to 4-3-3
Reina
Johnson—Agger—Carragher—Jose Enrique
Lucas
Adam—Aquilani/Meireles/Henderson
Suarez—Carroll—Downing
Liverpool look like a much stronger team with a 4-3-3. Carroll plays as a point striker, with Suarez and Downing providing width. Lucas is the defensive key in the midfield, while everything goes through Charlie Adam. He was the team's best player on Saturday, so getting him involved more needs to be a priority for Kenny Dalglish. Aquilani would be perfect on the other side of the midfield.
The Reds didn't look dynamic enough in the 4-4-2. A more hybrid playing style would complement the offensively-gifted players in the squad better.
This is obviously a team built to be an attacking force. You have to play with an attacking system.
Keep Reading

Liverpool: Like this team?