UFC on Versus 5: Hardy vs. Lytle Live Results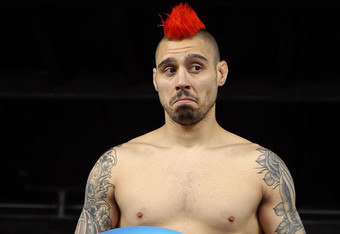 Whether by accident or design, the UFC powers-that-be have another intriguing card for the non-paying public when UFC on Versus 5: Hardy vs. Lytle goes hot. Chris Lytle, Dan Hardy, Jim Miller and Ben Henderson all have considerable stakes on the line, while Donald Cerrone and Charles Oliveira enter the Octagon with only slightly less to lose.
In the headliner, "Lights Out" Lytle has already announced this will be his last bout before slipping off into retirement. He'll muster one last charge into the fray, and you can bet that Lytle—a man known for going out on his shield—will use every reserve to make it memorable.
"The Outlaw" should be more than happy to oblige, as the brash British striker could be facing an exile of his own should he lose to his opponent.
Of course, Hardy's would be of the involuntary variety. He's coming off three consecutive losses to UFC welterweight champion Georges St-Pierre, as well as top contenders Carlos Condit and Anthony Johnson. That's the cream of the welterweight crop, but a fourth-straight loss would make his presence in the UFC stables tough to justify, regardless of the competition.
Meanwhile, the cluttered lightweight division should make a bit more sense Monday morning.
Jim Miller takes his seven-fight win streak into the cage against former WEC lightweight champion Ben Henderson. Both 155-pounders can claim a top spot in the lightweight pecking order with a victory.
The same can be said to a lesser degree about Cerrone's clash with Oliveira. Cowboy Cerrone has won four contests in a row, including his first two UFC bouts, while "Do Bronx" already boasts 16 scraps at the tender age of 21 with only one loss (to Jim Miller). These two aren't quite as high on the lightweight ladder, but they are on the fringe of the title picture and would move closer to the thick of it with a W.
So join us on Sunday at 5:45 p.m. ET/2:45 p.m. PT for the preliminary bouts on Facebook before the proceedings go live on Versus at 9:00 p.m. ET/6:00 p.m. PT.
Main Card Bouts
Welterweights: Dan Hardy vs. Chris Lytle—Lytle defeats Hardy by submission (guillotine choke) at 4:17 of the third round.

Lightweights: Jim Miller vs. Ben Henderson—Henderson defeats Miller by unanimous decision (30-27, 29-28, 30-26).

Lightweights: Donald Cerrone vs. Charles Oliveira—Cerrone defeats Oliveira by TKO (punches) at 3:01 of the first round.
Welterweights: Amir Sadollah vs. Duane Ludwig—Ludwig defeats Sadollah by unanimous decision (29-28, 29-28, 29-28).

Preliminary Card Bouts
Middleweights: C.B. Dollaway vs. Jared Hamman—Hamman defeats Dollaway by TKO (punches) at 3:38 of the second round.

Bantamweights: Joseph Benavidez vs. Eddie Wineland—Benavidez wins by unanimous decision (30-27, 30-27, 30-27).

Middleweights: Kyle Noke vs. Ed Herman—Herman defeats Noke by submission (inverted heel hook) at 2:13 of the first round.

Light Heavyweights: Karlos Vemola vs. Ronny Markes—Markes defeats Vemola by unanimous decision (30-27, 30-27, 30-27).

Featherweights: Alex Caceres vs. Jimy Hettes—Hettes defeats Caceres by submission (rear-naked choke) at 3:12 of the second round.

Lightweights: Cole Miller vs. T.J. O'Brien—Miller defeats O'Brien by submission (guillotine choke) at 2:28 of the second round.
Lightweights: Jacob Volkmann vs. Danny Castillo—Volkmann defeats Castillo by unanimous decision (29-28, 29-28, 29-28).

Bantamweights: Jason Reinhardt vs. Edwin Figueroa—Figueroa defeats Reinhardt by TKO (punches) at 0:50 of the second round.

Many expected a knock-down-drag-'em-out affair when the headliner to UFC on Versus 5: Hardy vs. Lytle was set.
And neither Lights Out nor the Outlaw were interested in disappointing those expectations.
The Brit Hardy stuck to a disciplined game plan and met Lytle's unorthodox striking style with crisp, technical boxing in return. Unfortunately for the Outlaw, that meant he was foregoing a possible advantage in his considerable Muay Thai prowess.
By the middle of the second round, it was almost strictly a boxing demonstration save for a few knee from Hardy and a single kick from Lights Out.
The retiring Lytle scored early and often with left and right hooks to Hardy's dome, mixing in a smattering of those patented right hooks to his opponent's body. The Outlaw landed his share of bombs, even stumbling the never-knocked-out Lytle at one point in the second.
In the finale of Chris Lytle's highly competitive career, it was only appropriate for the bout to be a closely contested scrap to the final horn.
Or it would've been had Dan Hardy not tried to steal the round—and possibly the fight—with a late takedown.
Lights Out was having none of it, stuffing the attempt easily and cinching on a triumphant guillotine with less than a minute left.
There are storybook endings and then there is that stoppage.
Chris Lytle defeats Dan Hardy by submission (guillotine choke) at 4:16 of the third round.
Seems fitting for a classy competitor to go out on top and with a stoppage to boot.
The only rub is that it came at Dan Hardy's expense and what an expense it may be. The loss is the Outlaw's fourth in a row and, even though the Brit rarely fails to put on a show, it's tough to see his UFC tenure surviving this latest loss.
Which is a shame, but it's also the business he's in.
Exciting slate of fights and all for free; can't complain about that.
This article is
What is the duplicate article?
Why is this article offensive?
Where is this article plagiarized from?
Why is this article poorly edited?
Although Jim Miller vs. Ben Henderson wasn't the headliner, it was the most important scrap on the card and didn't disappoint.
Smooth Henderson was on the grappling defensive for much of the first round, but he was inflicting some serious carnage when he turned on the offense. Miller threw submission after submission at the former WEC champ—even attempting a standing side choke—but Henderson weathered each storm and calmly escaped danger before putting his opponent in some peril of his own.
The pattern continued in the second round as Miller attempted kimuras, heel hooks and kneebars amongst other submission attempts. But the man who would be the No. 1 lightweight met frustration with each attempt...frustration and a whole lot of fists.
Smooth even managed to open up the better of the fighting Miller Brothers, drawing blood for perhaps the first time since Jim Miller began his UFC win streak.
Down two rounds to none on most objective scorecards, Miller fired from his corner to start the third and tried to take the tussle to Smooth. For one hot second, it looked like Jim might have his prayer answered as he collapsed Henderson with a bomb early in the final stanza.
Unfortunately for Miller, Smooth recovered quickly and immediately rebounded to put Miller on the canvas before ultimately taking Jim's back to snap on a problematic rear-naked choke. The New Jersey native survived that choke, but he couldn't survive the decision as Hendo spend the final 100 seconds pounding away on his deflated adversary.
Ben Henderson defeats Jim Miller by unanimous decision (30-27, 29-28, 30-26).
Good lord, I'm not sure anyone saw that fight unfolding like it did i.e. in dominating fashion for Ben Henderson. As good as Jim Miller had looked during his winning jag, even if you were gonna pick Smooth, I doubt anyone would've tabbed Bendo for such a trouncing.
Almost as dumbfounding as Henderson making an impassioned plea for his teammates in his post-fight interview.
Well played, sir.
This article is
What is the duplicate article?
Why is this article offensive?
Where is this article plagiarized from?
Why is this article poorly edited?
Suffice it to say youth was NOT served when the young Brazilian, Charles Oliveira, stepped into the Octagon opposite Donald Cerrone. The Cowboy, almost seven years the elder of Do Bronx, promised to put on a Muay Thai clinic and that's precisely what the American did.
He used an assortment of leg kicks, biting knees and crisp punches to put Oliveira on the defensive early. The Brazilian tried to hang with the American striker and was doing a decent job in terms of trading volume, but the power disparity eventually caught up with the bright prospect.
Cerrone's superior strength simply overwhelmed Do Bronx, pushing him to the brink with a salvo of punches—including a soul-crusher to the torso—and then shoving him over with a bruising knee to the face. That knee pretty much sealed the deal, but a withering combination of punches to the turtled Oliveira gets official credit for drawing the stoppage from referee Mario Yamasaki.
Donald Cerrone defeats Charles Oliveira by TKO (punches) at 3:01 of the first round.
Whoa.
Charles Oliveira may still be a little green and unpolished at the age of 21, but he's already a respected figure on the lightweight landscape. The kid looked like an unstoppable holy terror until suffering his first loss at the hands of top 155-pound contender, Jim Miller.
So it's no small accomplishment that Donald Cerrone stopped the Brazilian so quickly, especially considering it's the Cowboy's first knockout of any variety in his 19-bout career that started back in 2006.
The lightweight division has quickly become arguably the UFC's most hotly contested weight class so Cerrone needed to make a loud statement against a tough competitor.
Consider that mission accomplished and consider Donald Cerrone—undefeated since coming over from the WEC—near the front of rugged line for a lightweight title shot.
He's not quite at the front, but he's gotta be getting close.
This article is
What is the duplicate article?
Why is this article offensive?
Where is this article plagiarized from?
Why is this article poorly edited?
The first fight of the main card featured The Ultimate Fighter alumnus and Season 7 winner Amir Sadollah against the dangerous Muay Thai practitioner, Duane Ludwig.
In a bout that went the distance, Bang Ludwig spent the majority of the first two rounds teeing off on his adversary. He routinely wobbled Sadollah with an array of rights and lefts while mixing in kicks and knees for good measure. By the end of the three rounds, Ludwig was even throwing in takedown attempts and doing so successfully for good measure.
However, perhaps Duane felt he opened up a decisive gap by the start of the third stanza because he allowed Amir to gain the upper hand and control the action. The TUF grad pushed forward, was the clear aggressor and took the five-minute exchange by a pretty safe margin.
That, of course, opened the window for the judges to ride in a screw everything up.
Luckily for Ludwig and the UFC, the cageside judges delivered a verdict that agreed with the eye test.
Duane Ludwig defeats Amir Sadollah by unanimous decision (29-28, 29-28, 29-28).
Everyone keeps insisting that Amir Sadolllah is an improving fighter and a tough out inside the Octagon. I'm not sure that's accurate—Sadollah is clearly a tough dude and can absorb a lot of punishment, but I'm not sure you can say anything else that flattering about the 170-pounder.
His record inside the Octagon is a middling 5-3 and, although all the contest came inside the UFC, the wins haven't been as impressive as the losses have been troubling.
At this point, it's tough to know if he's more a creation of the promotional machine and carefully picked opponents or whether he's the real deal.
Even if Sadollah is more smoke and mirrors than genuine contender, the beating Ludwig just dished out was impressive. Consider the pool of welterweight contenders one fighter deeper.
This article is
What is the duplicate article?
Why is this article offensive?
Where is this article plagiarized from?
Why is this article poorly edited?
The final two Facebook fights didn't disappoint, wrapping up the superb online portion of UFC on Versus 5: Hardy vs. Lytle.
Urijah Faber's less famous teammate, Joseph Benavidez, put the 135-pound division on notice with his sound thrashing of Eddie Wineland. The Beefcake opened up Wineland in the first round with overhand rights and continued to make a mess of Eddie's face for the remainder of the three rounds. Wineland scored a few flush bombs of his own, but they were fewer and farther in between.
But in the end, it was WIneland's lack of aggression and Benavidez' superior ability to switch from striking to wrestling that carried him to a unanimous decision. Not to mention a massively effective right hand—combine that with Beefcake's notorious ground game and the bantamweight division has another large blip on its radar.
The last prelim of the night pitted C.B. Dolloway against the former college football player, Jared Hamman.
The Doberman, another TUF alumnus and finalist, exhibited more polished striking and found the Messenger's chin on more than one occasion. Of course, the striking was a mere prelude to what Dolloway does best: take the fight to the ground and wrestle. Hamman was able to scramble out of danger on several occasions and even mounted his adversary, but C.B. still managed to dominate the action.
In the first round, the Doberman came perilously close to a stoppage via side choke and wobbled the Messenger on numerous occasions. If not for a granite beard on Hamman, C.B.'s large right hand would've brought the festivities to an end.
The second stanza told a different story, however, as Hamman came out like a house afire and the Doberman wilted under the frenzied pressure of the Messenger.
Jared Hamman was all over C.B. Dolloway from the jump, picking apart a staggering Doberman with flurries upon flurries of punches while standing. A desperate shot attempt from Dolloway was easily stuffed, but the Messenger followed his victim to the ground to dole out additional punishment.
Ultimately, Hamman pounded an unresponsive Dolloway into oblivion and forced referee Herb Dean to take mercy upon the vanquished at 3:38 of the second round.
This article is
What is the duplicate article?
Why is this article offensive?
Where is this article plagiarized from?
Why is this article poorly edited?
The Facebook preliminaries keep cruising along with a steady diet of fan favorites (or villains depending on your perspective) and intriguing prospects.
An example of the former would be Alex Caceres, who is well known to The Ultimate Fighter audience as Bruce Leeroy.
The youngster is either hero or heel depending on personal taste, but he might be on his way out regardless of allegiances after absorbing his second straight defeat. This time, UFC newcomer Jimy Hettes put on a spectacular Brazilian jiu-jitsu display, fluidly transitioning from submission to submission while attacking any vulnerable limb opened up by Bruce Leeroy.
Eventually, the Kid snapped on a rear-naked choke before he had Caceres' back and forced the tap at the 3:12 mark of the second round for a very impressive win in his UFC debut.
In the fifth fight of the evening, another gladiator making his UFC debut stole the show as Ronny Markes destroyed Czech wrestling champion, Karlos Vemola. The Terminator came into the match as the more heralded entrant, but it was the young Brazilian who controlled the proceedings with thunderous takedowns and excellent ground 'n' pound. Even in the standup, Ronny did most of the damage, landing several series of knees to Vemola's midsection.
Although Markes wasn't able to secure the stoppage, he took all three rounds on each judge's scorecard for an easy unanimous decision.
Markes and Vemola gave way for yet another grappling exhibition, this time coming from Ed Herman at Matt Noke's expense. Short Fuse Herman was able to turn back KO's first takedown attempt, ending up on top of his opponent. From there, Noke was able to reverse and put Herman on his back, but that turned out to be the beginning of the end.
Herman turned on a relentless submission assault, finding openings for chokes, armbars and eventually the fatal inverted heel hook. The American wrenched the Australian's foot almost all the way around, making for a gruesome stoppage at 2:13 of the first round.
This article is
What is the duplicate article?
Why is this article offensive?
Where is this article plagiarized from?
Why is this article poorly edited?
UFC President Dana White and company have seen it fit to offer eight bouts via online streaming on Facebook. That's quite the combat buffet for the cyber-fans, considering only four fights will be featured on Versus.
So far, the action has left little to be desired.
Nelson Figueroa and Jason Reinhardt kicked off the animosity with a dominant performance from the younger El Feroz.The 26-year-old bounced back in fine fashion from his loss to Michael McDonald in a bout Figueroa took on short notice. Nelson outclassed his opponent on his feet and overpowered him on the ground, splattering the 41-year-old Reinhardt en route to a second-round TKO.
Next up were Jacob Volkmann and Danny Castillo—Christmas Volkmann put on a takedown and submission display, routinely dragging Last Call Castillo to the ground and slapping on a variety of chokes. Castillo enjoyed an obvious advantage in the stand-up exchanges, but he seemed strangely content to engage Christmas on the ground.
Bad idea—Last Call demonstrated excellent submission defense...for about 10 minutes. Joe Rogan can rave all he likes, but spending that much time on the defensive ain't gonna win a fight. In the end, Volkmann pulled out the clear-cut unanimous decision (29-28, 29-28, 29-28).
The third preliminary bout pitted doppelgangers against each other as Cole Miller and T.J. O'Brien, two lanky strikers, collided at 155 pounds.
Both Magrinho and the Spider check in over 6'0" despite residing in the smaller weight class, which meant two tall, skinny drinks of water met in the middle of the Octagon. After a back-and-forth affair for the first five minutes saw each man find his spots, Miller grabbed the advantage. Cole dumped O'Brien with a clean left hook and then closed the tussle with a vicious guillotine, eliciting the Spider's tap almost instantaneously.
Two stoppages in the first three fights will put a smile on any fight fan's face so consider the start a success for UFC on Versus 5: Hardy vs. Lytle.
This article is
What is the duplicate article?
Why is this article offensive?
Where is this article plagiarized from?
Why is this article poorly edited?