Cleveland Browns: Rookies Impress in Win over Green Bay Packers
August 14, 2011
Jason Miller/Getty Images
The Cleveland Browns looked like a tough NFL team in their 27-17 win against the Green Bay Packers last night. Yes, it's a preseason game, so naturally it's not going to mean very much. In spite of that, this game made me that much more optimistic about this coming season.
Let's start with the obvious big performance in Colt McCoy. Against the first-team Packers defense, McCoy completed 9-of-10 passes for 135 yards and a touchdown. He looked great on the field, no question about that.
My only concern with McCoy is how he will fare in cold weather, but there's no way to know that for a few months, so for at least the first couple months he'll be great.
What really impressed me in particular, however, was not the Browns' offense, but their defense. They showed a lot of depth in the secondary and linebacker spots. They made Graham Harrell and the third-string offense look silly throughout most of the fourth quarter.
A standout player in particular was Titus Brown. He's just looking to make the team, and being all over the field as well as recovering a fumble for a touchdown will certainly help his case.
Another was Armond Smith, the fifth running back on the depth chart who was plowing through holes I didn't even see in the fourth quarter. He may have worked his way onto the roster, or at least past Quinn Porter on the depth chart.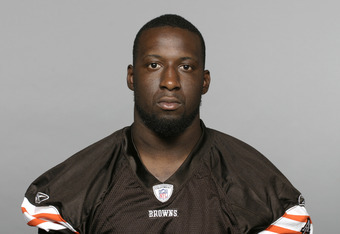 Handout/Getty Images
Aside from that, the Browns beat the Packers easily in the sack count, five to one. That's not something that has been associated with the Browns, and while that was with the backups, that's still great to see out of any of the Browns.
Players like Auston English and Brian Sanford in particular, each of whom had a great night, need games like this to stay on the roster, as both are third on the depth chart for each defensive end position.
If I had to pick a defender who I was disappointed with, it would be linebacker Eric Gordon of Michigan State. He's competing alongside Archie Donald for the weakside spot, and at least one of them will be cut. He did not help his case last night, not putting up any numbers and missing a couple tackles that caused images of Eric Wright to pop into my head.
Most of the wide receivers, aside from perhaps Demetrius Williams, did not leave an impression on me. I should be seeing a lot more from that position given the new West Coast offense, as well as how many of them are looking to make the team.
The Browns have 88 players on their roster right now, and with how impressive some of the defenders were against Green Bay, any bad nights can end with the pink slip.
The Browns face the Detroit Lions on Friday next, and for those looking to make the team, this will be just as big as the Packers matchup, especially for those positions that are wide open past the starters.