Fantasy Football 2011: Is Cleveland Browns' Greg Little a Potential Sleeper?
August 15, 2011
Greg Little's arrival in Cleveland gives many Browns fans something to get excited over with his size, speed and excellent hands, but is Little a potential sleeper in the fantasy football world?
I first mentioned Little as a potential difference-maker before the 2011 draft even occurred, you can read the original piece here if you wish.
I still stand by my initial statement in the respect that those monstrous receivers that come out of North Carolina have a tendency of making significant impacts early in their careers.
The early reports from around the mock world has Little being drafted in 67 percent of the leagues with an average ADP of 125.32 over at MyFantasyLeague.com.
The various news wire reports also confirm the sleeper notion, and my initial outlook:
At first glance, Greg Little might seem like a similar player to the receivers the Browns already have. But the Browns don't see the second round pick as more of the same. They see him as bigger, stronger and more capable of taking a hit and getting yards after the catch than any receiver on their roster. Little isn't a blazer, but he does have an element of suddenness in his play that appeals to Browns coaches. – National Football Post

"…in Little, I think you're going to be pleasantly surprised if you don't know him very well. He's a young man who has a tremendous upside.  A home-run hitter isn't necessarily everyone going out for a long one. Yards after catch and a receiver's ability to break a tackle … can be a home run of sorts. That's where one of his strengths is." – Cleveland Plain Dealer

"It's the same terminology (as my college offense), the same verbiage, exact same calls, everything," he said. "I think it's going to be such a smooth transition to where when I met with the Cleveland Browns, I knew a lot of their terminology already. I think that's one of the things that I'm really excited about as well." – Greg Little speaking with The Cleveland Plain Dealer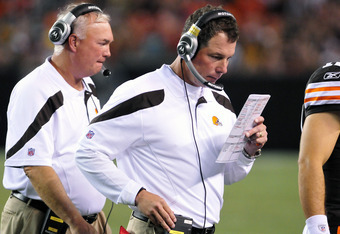 Jason Miller/Getty Images
And that's where we get to the real meat of things folks, because the Browns will have a vastly different look offensively from 2010.
The Browns—like many other NFL teams this year—are switching to the West Coast offense which bodes very well for receivers, especially the over-sized variety like Little.
After spending 12 or so years doing the same old thing, the Browns have been due for a change on offense and they feel they have the right combination of players and coaches to make it happen.
For fans wondering the end reason why Little is sleeper material it's simple: lack of quality competition, and a higher upside in talent.
I don't see Brian Robiskie doing anything at all this year outside of spot gains, and Mohamed Massaquoi will be a primary deep-ball threat in situational throws, leaving the possibility for Little to mature into the team's No. 1 receiver by mid-year.
The Tarheels do, in fact, run a very similar version of this particular WCO, and Little's stats showed how effective he can be in this system:
| | | | | |
| --- | --- | --- | --- | --- |
| Three years | 86 receptions | 969 yards | Six touchdowns | 252 plays |
I think in the end that ADP might hold true, but don't think you won't be able to grab him a little later in your draft. The Browns will be providing a ton of opportunities in the new scheme which will bode well for fantasy owners willing to take the chance on him.
His range, speed, natural talent and new team design all are reasons to anticipate Little's potential for fantasy football sleeper this season.