The Final Round: Week of August 8th in MMA
August 14, 2011
Jon Kopaloff/Getty Images
In the inaugural addition The Final Round, we'll attempt to recap select stories from the week that was in MMA. No fluff, just an honest opinion. 
RASHAD EVANS: The Rebirth
In his dominant performance at UFC 133 last Saturday, Rashad Evans disproved all skeptics and showed that a long layoff can be overcome with enough dedication and smart training.
Now that he's officially claimed his No. 1 contender spot and eagerly awaits his chance to face the winner of next month's Jones/Rampage title bout, it's time to stop all the hating on the man called "Suga." 
With a record of 16-1-1, the former Light Heavyweight champion deserves a level of respect at this point. Do some call him arrogant? Sure. But Chael Sonnen is much worse.
Is he flashy? Sometimes, but nobody to date has been as flashy as Anthony "Showtime" Pettis. Besides can you really say that last week's performance against Tito Ortiz was flashy? If anything, it was an incredibly efficient. 
Since the title fight won't be taking place till sometime within the first quarter of 2012 (hopefully in New Jersey, Mr.White, if you're listening), it would be best for Rashad to hang back and just keep focused till it comes time to begin his training camp.
No tweets. No blogging. No Facebook posts. Just studying your next potential opponent. What I will say is that if he can maintain the level of focus that he had going into the Ortiz fight, either Jones or Rampage will be in for a short night.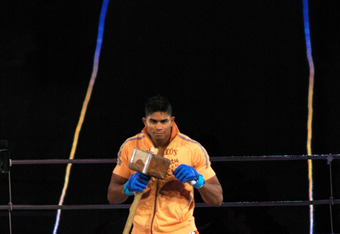 Tomokazu Tazawa/Getty Images
GOLDEN NEVER ENDING STORY
With the booting of nearly the entire Gold Glory roster from Strikeforce with the exception of Sergei Kharitonov, the ongoing debate between what is the truth behind why parent company Zuffa decided to make such a drastic move continues.
However, as anyone with a few braincells can see, this is all about Alistair Overeem. It always has been about Overeem. He's the team's biggest draw and marquee fighter. Why do you think that Zuffa still retains matching rights for the former Strikeforce Heavyweight champ? 
Lets face it, Zuffa rules the sport. If you decide to play the cat and mouse game with them you're gonna clawed to death. Despite his underwhelming performance against Werdum in June, he's still going to be a draw.
Bringing him the to UFC would be a great business move as potential match ups between current UFC Heavyweight Champ Cain Velasquez, Junior dos Santos, and Brock Lesnar leave MMA Fanboys drooling in anticipation. 
Overeem needs to quit the prima donna antics and realize that he's not dealing with Scott Coker and the old Strikeforce; the Zuffa owned version will only work with Overeem on their terms.
If the 'Reem says that he's only interested in taking fights for the money to help provide for his family, then fighting in the United States for the UFC will be the most financially prosperous move that he could make for his career.
At the age of 31, he's not getting any younger, so he needs to get on the ball here and not follow in the path of his fellow former Strikeforce stablemate, Fedor Emelianenko.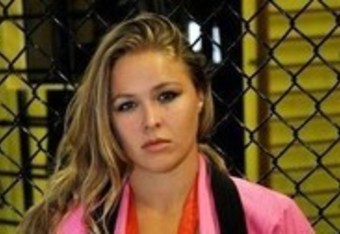 RONDA ROUSEY: A Potential New Face For Women's MMA
With Women's MMA on its last legs, there might be a glimmer of hope.
Her name is Ronda Rousey. In her Strikeforce debut on Friday night, she submitted Sarah D'Alelio with an armbar less than 30 seconds into the first round.
For those of you unaware, Rousey is an Olympic Bronze medalist from the 2008 games and accumulated some impressive performances since her pro debut. She's fast, explosive, highly technical, oh yeah, and she's incredibly hot.
Fighting at the 145 division, she could be a great opponent for either Gina Carano or Cyborg, although I would rather see her drop down to the 135 division and get herself in the mix against a larger pool of talent, like the current champ Miesha Tate and Sarah Kaufman. 
If women's MMA has any shot at survival, the best thing to do is to strip all the divisions down to just one and build from there. The 135-pound class is the most ideal and already has a solid pool of talent, so Dana and the Fertittas, if you are reading this, take note.