Predicting Every Pac-12 Bowl Team
There is a lot of change in the Pac-12 this year, with the additions of Utah and Colorado and a conference championship game for the first time in the history of the league. Out the window is a round robin format where every league team faces one another and now each team will miss two other schools from the other division of which they are not in (North or South). It's a new era for the old Pac-10 and 2011 will certainly be one of the more exciting years in the conference's storied history.
Key Questions Pac-12 fans should be asking
Does the conference have a legitimate national championship contender in Oregon or Stanford? All eyes will be on Dallas, Texas, come Saturday night, September 3 when the Ducks battle LSU. Win that one and one would have to believe their train arrives in Palo Alto undefeated for a historic match-up with Luck's Cardinals. For Stanford, can they keep the edge even though Coach Jim Harbaugh is up the road coaching the 49ers? Stanford is loaded with NFL ready talent.
Is Arizona State for real? They have garnered quite a bit of preseason love from the national media and are picked to win the South, but has this movie already played before? In 2008, the Sun Devils were picked second in the preseason media poll, but stumbled to a 5-7 record. Sure, different year with different personnel but the question has to be asked about the team from Tempe.
Where does Utah fit into the conference picture? Two BCS Bowl appearances and the thorough beat down of the teams they played? Check. Quarterback returning? Check. Seasoned coaching staff? Check. Rabid fan base and home field advantage? Check. Listen, 2011 will be a feel-out year for the Utes and the rest of the conference. The schedule early on is tough, but they do miss Oregon and Stanford. Do they have the depth to sustain a 12 game, more violent schedule than that of the past in the Mountain West?
How will the middle of the conference shake out? Will Cal play better as an underdog rather than a popular first division pick as in years past? The post Jake Locker era starts in 2011 in Seattle and running back Chris Polk and wide receiver Jermaine Kearse lead the way as the Dogs are trending up. How about Oregon State's 2010 hiccup? There is a lack of star power in Corvalis, but doesn't Mike Reilly like flying under the radar? Can Arizona find an offensive line to help out Nick Foles? Because the skill players are certainly stockpiled in Tucson. Can Washington State make a run at a lower tier bowl game? Nah, that's crazy talk.
In the next few slides, I'll help you make your holiday travel plans and tell you who's headed where in the postseason.
Begin Slideshow

»
Getty Images
On Friday, December 3, the country will tune in as no other games are on the national schedule to see who takes home the inaugural conference championship game title. The Oregon Ducks will host the Arizona State Sun Devils in Eugene, Oregon at Autzen Stadium.
Why? Arizona State has a lot of experience across their roster and their defense may be one of the best units in the country. It starts with linebacker Vontaze Burfict and his play making in the middle of the Sun Devil defense and the defensive line that's anchored by Junior Onyeali. ASU was close in 2010 to having a special year, but they couldn't close out games. They will blow out Missouri on September 10 and will beat USC and bitter arch rival Arizona in Tempe to win the Pac-12 South. For the Oregon Ducks, they'll win 11 regular season games and will be sitting in the top five of the BCS standings on the outside looking in for the national championship race.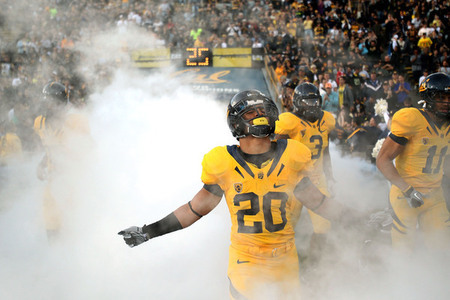 Getty Images
Cal's coach Jeff Tedford could be facing his biggest challenge in Berkley. It's safe to assume that the revised coaching staff and new playbook, along with a new quarterback in Zach Maynard (University of Buffalo transfer), will need time to gel. Tedford must plug holes on every level of the defense and replacing defensive end Cameron Jordan, linebacker Mike Mohamed and defensive backs Chris Conte and Darian Hagan will be no easy task. Did I mention Cal has no real home field advantage in 2011? Memorial Stadium is getting a much needed face lift and Cal will play at AT&T Field which baseball's San Francisco Giants call home.
Pencil in trips to Eugene, L.A., Palo Alto and Tempe as losses and the Bears will finish in the middle of the conference but will get back to postseason play. With a veteran offensive line and play makers on the edge, plus a deep linebacking unit, the Bears will build towards a potentially big year in 2012. They'll take on the Maryland Terrapins of the ACC and will have a nice home crowd for their bowl game.
Getty Images
The biggest win in the past year for the Husky football program didn't take place on the field. When the Huskies were able to ink a new five year deal for Coach Steve Sarkisian and his entire staff (all nine assistants got new deals), the Huskies now have that stability they have not had since the Don James era. With 15 starters returning and what seems to be a capable quarterback in Keith Price, the dogs are trending up in Seattle. They'll ride Chris Polk and a strong physical running game, as the young QB comes along in two early season warm up games vs. Eastern Washington and Hawaii at Husky Stadium.
Going to Lincoln and Palo Alto will be too much to ask for and a loss at home somewhere to either Arizona or the hated Oregon Ducks is likely. There are the swing games with Utah in Salt Lake City, at USC, at Oregon State and home against Cal that could go either way. Washington will record seven wins and get an intriguing matchup with TCU from the Mountain West because Boise State will be playing in a BCS game.
Getty Images
The Utah Utes will get what their coach Kyle Whittingham is calling "baptism by fire" when they head to USC on September 10. They'll know soon enough where they stand in the conference. The biggest wins in the offseason for Utah? Finding out they'll miss Oregon and Stanford, the Pac-12's heavyweights on the 2011 slate. The questions for Utah are how do they replace four starters in the secondary, who steps in at running back to replace Matt Asiata and in general, how does Utah deal with its adjustment to a much harder week in and week out schedule?
Utah will play in a bowl game for the ninth year in a row, they've got 52 returning lettermen and the cupboards are stacked with some talent for a run at the South division crown.
Utah will be slow out of the gate with a loss at USC and then to BYU in Provo before coming home to finally get a win vs. Washington. With a loss to Arizona State and Arizona down in Tucson and you heard it hear first—a loss in Pullman to Washington State, I see the Utes hammering out a respectable 7-5 record and date with Clemson out of the ACC in El Paso.
Getty Images
Arizona will be gunning for a school record fourth straight bowl game, but they'll have to survive a front loaded nasty first two months. Try this for your first four of five games: at Oklahoma State (more than likely preseason top 10 team), host preseason top 10 team Stanford, host preseason top five team Oregon and on the road at USC. Yikes.
There is hope, and just like his brother Bob, Mike Stoops has a lot to be excited about in 2011. Start with Nick Foles and all the skill players that surround him plus a defensive group, while hampered with some preseason injuries, that will still be a malicious group. Linebacker Paul Vassallo will lead another great Stoops defense in Tucson.
While Arizona reached the AP Top 10 last year, they wont come close in 2011, but they will survive the brutal front loaded schedule to get to San Diego and play Missouri in the Holiday Bowl. The four losses I'm penciling in for the Cats are: Oklahoma State, Stanford, Oregon and at Arizona State. This team has too much talent and the offensive line that's unbelievably raw will eventually gel. A 1-3 start will be a thing of the past when they finish 8-4 and Coach Stoops saves his job.
Getty Images
Have the Sun Devils really not been to a bowl game since 2007? Well, Coach Dennis Erickson has said all along that this was the year ASU would contend. With the hammer in the middle of the defense, middle linebacker Vontze Burfict leading an aggressive and experienced unit, expect Arizona State to be in every game this year. They have a favorable schedule, are extraordinarily stocked in terms of talent and just great athletes across the roster and showed in 2010 they can hang with the big boys. 2011 will show if they've learned to close out games and not shoot themselves in the foot with costly turnovers and penalties.
Games are won in the trenches and the ASU offensive line returns all five starters. Quarterback Brock Osweiler only has two career starts, but at 6'8," 235 lbs., he's an intriguing talent and the coaches love his leadership. The defense that's nasty and plays with an attitude will be leaned on early to get wins vs. Missouri, at Illinois and at home vs. USC in the first month of the season. This team will have a hiccup that nobody saw coming and that loss could be at UCLA on November 5 or at home to Colorado. Having extraordinary seasons requires week in and week out preparation, focus and respecting every team and this program has yet to show they can do that for an entire season, so I expect a highly ranked ASU team to be upset somewhere along the road.
At nine wins and three losses, this ASU team will make it to San Antonio and will play Texas in the Alamo Bowl in one of the more exciting match-ups in all of the postseason as the Longhorns return to a respectable bowl game after their 2010 hiccup.
Getty Images
Just four years ago, Stanford finished a miserable 1-11 and the hole they were in looked impossible to dig out of. Fast forward to 2010, and who would have thought that the Cardinal would have sprinted to a 12-1 finish, a Heisman Trophy finalist quarterback and a top five finish in the polls. Simply remarkable.
The architect of this run, Coach Jim Harbaugh, is now up the freeway in San Francisco coaching the NFL's 49ers and the question must be asked, did he take that swagger with him? Stanford has lined up three tight ends, a fullback and rammed the ball down defenses' throats and dared teams to stop them. Using the play action to dissect defenses, Andrew Luck became an overnight star and will be relied upon heavily in 2011 to do the same. However, Harbaugh is gone along with big time all conference fullback and linebacker Owen Marecic, a few big play wide receivers in Doug Baldwin and Ryan Whalen and other key contributors from last year's defense.
New Coach David Shaw, a former Cardinal player, will be tasked to keep the momentum and handle unprecedented high expectations. Games to circle on the calendar will be the obvious November 12 matchup with conference favorite Oregon at home, road dates at Arizona on September 17 and at USC in late October. Getting the Ducks, Washington, Cal and Notre Dame is a big plus. Stanford will fall somewhere not anticipated and I think they'll get knocked down by Oregon State on the road or at home by Notre Dame late in the year, those would be upsets that could alter the national landscape.
Final analysis: Stanford will go 10-2, Andrew Luck will win the Heisman Trophy and the Cardinal will make back-to-back BCS bowl appearances and will have a date with Boise State in Glendale, AZ. Boise State and their quarterback, Kellen Clemens, who himself made it to NY as a Heisman finalist, going against Andre Luck and the top five Stanford Cardinal will make this one of the most watched Fiesta Bowl's in BCS history.
Getty Images
Oregon might not duplicate the offensive numbers they had in 2010 (49 points and 537 yards per game) as they replace three starters on the offensive line and find depth at the wide receiver position, but they'll be just as explosive. The Ferrari fast offense, or "blur" offense, will be led by Darron Thomas and Heisman Trophy finalist LaMichael James. The defense is led by an experienced secondary and one of the nation's top corners in Cliff Harris. The question is this for Oregon: Can they win the big game and dominate along the line of scrimmage in those big games? Auburn ran for 254 yards on the Ducks in the BCS title game and Oregon managed a measly 75 yards rushing and it was in a similar fashion in which Oregon lost to Ohio State and Boise State in 2009.
Oregon will beat LSU in the early season showdown that's being hyped as one of the biggest non-conference season openers in recent memory. Two reasons why: (a) this Oregon team is battle tested, led by a savvy core of guys who've been in big games and won't melt under the bright lights of Cowboy Stadium and (b) Darron Thomas. Oregon's star quarterback will involve all of the freshly infused super recruits from De'Anthony Thomas, to Colt Lyerla, Tacoi Sumler, Rahsaan Vaughn and Devon Blackmon and the Ducks will surprise LSU by throwing the ball a lot more than expected. They'll keep the Tigers off balance the entire night by mixing up packages with Kenjon Barner and LaMichael James running the ball and Thomas' arm dissecting the LSU defense.
Oregon will also beat Stanford in the big matchup in November down in Palo Alto. However, the Ducks will stumble somewhere along the line that no one in August can really fathom. Very few teams go undefeated in the regular season and then come back to run the gamete again unscathed. Potential traps for the Ducks loom with dates with Arizona in late September, at home vs. Arizona State and USC and on the road to the always raucous Husky Stadium vs. the Huskies. I'm predicting the Ducks will finish the regular season 11-1, they'll then beat Arizona State in the inaugural Pac-12 Championship and at 12-1, they'll go on to play Wisconsin from the Big 10 in the Rose Bowl.