2011 CWHL Draft: Top 3 Picks
Bruce Bennett/Getty Images
Meghan Agosta, first overall pick in the CWHL 2011 Draft
On July 21, 2011, in Mississauga, 112 very talented women were selected in the 2011 CWHL Draft. These are some of the best women's hockey players on the planet. Expect to see many of these names on jerseys in future Winter Olympics striving to lead their respective countries to gold medals.
The CWHL's first draft was held at the Hockey Hall of Fame in August 2010. Some elite names like Kim St. Pierre, Julie Chu. Becky Kellar, Angela Ruggeiro and Jayna Hefford were chosen in that draft. Now, a new generation of women's hockey players have their dreams of playing professionally come true.
There are exciting happenings in the CWHL for the 2011-12 season. Team Alberta has now entered the league, bringing the league to six teams. The league should be starting play in late October 2011 and I am sure all the General Managers are excited to see how their draft picks fit into their respective teams.
Without further delay, here is a look at the top three picks in the 2011 CWHL Draft.
Begin Slideshow

»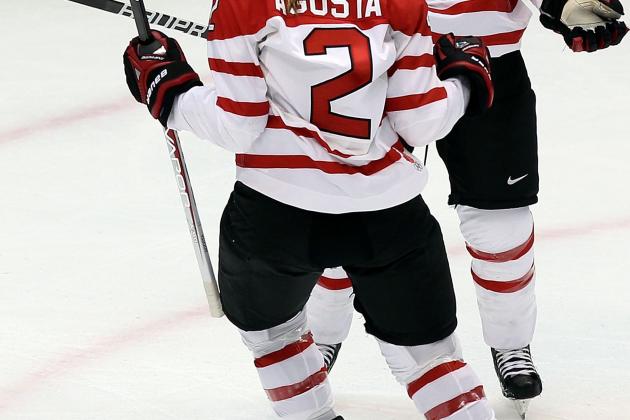 Alex Livesey/Getty Images

Meghan Agosta is a 24-year-old 5'7" forward from Ruthven, Ontario, Canada. At age six, Agosta switched from figure skating to hockey and a future women's hockey star was born. She also became a good inline hockey player, winning gold with Canada at the 2004 World Inline Hockey Championship.
She played for Team Canada at the 2006 and 2010 Winter Olympics, winning gold medals in both events. One of the highlights of her career was being named the MVP of the 2010 Winter Olympic Hockey Tournament.
Between the 2006 and 2010 Winter Olympics, she has accumulated 12 goals and seven assists in just 10 games.
Agosta played her college hockey with the Mercyhurst Lakers where she majored in Criminal Law and Justice. She finished her NCAA hockey career as the all time leader in goals (157), points (303), power play goals (55), shorthanded goals (20) and game winning goals (39).
She was also a four-time First Team All-Amercian. As well, four times she was named the CHA Player of the Year.
It's no wonder based on her past success that the Montreal Stars selected her first overall in the 2011 CWHL Draft. She will become a big part of the Stars offense during the 2011-2012 CWHL season when they look to defend their 2011 Clarkson Cup Championship.
Tom Dahlin/Getty Images

Molly Schaus is a 23-year-old 5'9" goaltender from Voorhees, New Jersey. She played her NCAA hockey with Boston College. Prior to that, she was a multi-sport athlete at Deerfield Academy. There, she was a varsity letter winner in softball, soccer and cross-country.
Schaus's statistics through four years at Boston College speak for themselves. From 2006-07 to 2010-11, she totalled 80 wins, 36 losses and 18 ties. She also had a very impressive 1.82 goals against average and a 0.934 save percentage with 21 shutouts in 134 games played.
These numbers led the Boston Blades to draft her second overall. The team's rookie season in the CWHL went fairly well but they were only able to manage 10 wins in 26 games and lost in the first round of the playoffs. The team allowed an average of 3.88 goals per game. They are hoping that Schaus will help to solidify the team between the pipes.
Phillip MacCallum/Getty Images

Meaghan Mikkelson is a 26-year-old 5'9" defender from Regina, Saskatchewan, Canada. Her father, Bill Mikkelson, played four seasons in the NHL in the early 1970s for Los Angeles, New York Islanders and Washington. Bill is best known for holding the NHL record for the worst plus-minus at minus-82 for the 1974-75 Washington Capitals.
There is more hockey in her family still. Her brother Brendan currently is a member of the NHL's Calgary Flames and was a Memorial Cup Champion in the CHL with the Vancouver Giants.
She played in the NCAA for the Wisconsin Badgers, moving from forward to defense during her third season. She won two National Championships with the Badgers in 2006 and 2007.
She has also won three silver medals with Team Canada at the IIHF Women's Hockey Championships (2008, 2009, 2011). Her biggest accomplishment to date is winning the Gold Medal with Team Canada at the 2010 Vancouver Winter Olympic Games.
She is known to be a solid defender that also contributes offensively and should help to stabilize Alberta's defense during their first CWHL season.