Joey Barton's Hall of Shame: Listing the Disgraceful Acts Commited by Barton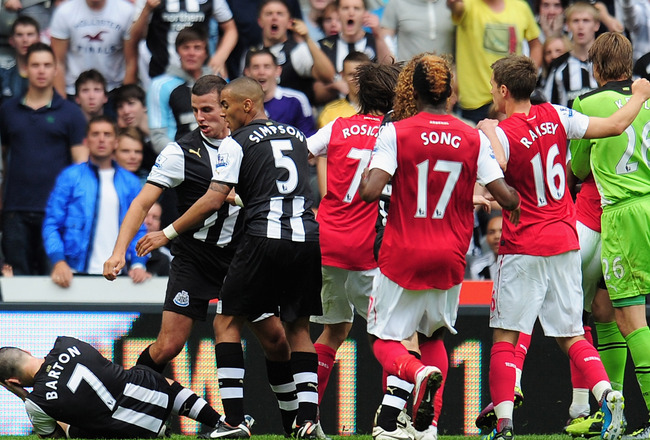 Shaun Botterill/Getty Images
Joey Barton is definitely not the person who you can bank on. In an important game he could leave you with 10 men in the pitch by getting sent off.
Although a wonderful footballer, Barton just can't keep his anger inside the lid. Fabio Capello mentioned that he could never trust Barton. If it is not for his anger, Barton could easily find a place in the English midfield.
He has had some bitter incidents that he would like to forget in his life.
Here is a list of them all.
2008: Jailed Six Months for Assault

Barton Assaults

On December 27, 2007, Barton assaulted a man by punching him in the face rapidly and then attacking a teenage boy outside a McDonald's shop.
He was jailed for six months due to this vulgarity. The judge said that it was a "violent and cowardly act".
The CCTV Footage shows the assault.
2007 : 10-Match Ban for Teammate Ousmane Dabo During Training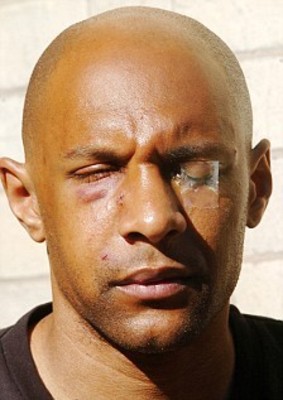 Dabo comments that Barton was a coward. He reportedly hit him from the behind and continued his assault until Dabo became unconscious.
Dabo had to miss the remainder of that season due to the assault. A case was reported and Barton accepted that he was guilty.
2010 : 3-Match Ban for Punching Morten Gamst Pederson in the Gut
During the game, Barton punched Pederson in the Gut and that was not seen by the referee. He was only awarded a yellow card.
Later, FA viewed the incident and gave Barton a three-match ban. As you might see in the video, the punch was rather violent.
Barton accepted this crime, too.
2009: Suspension for a Career Threatening Tackle on Xabi Alonso
Now this was outright wrong!
Xabi Alonso was just playing the ball in the corner of the pitch and Barton lashes out at him with no aim to win the ball, but to hurt the legs of Alonso. Maybe he was getting restless.
He was red-carded without any delay and this tackle could have easily ended the career of Xabi Alonso.
2010 : FA Warning for Homophobic Comments on Fernando Torres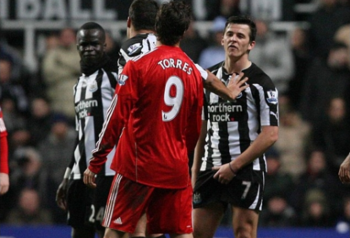 This was outright wrong and pathetic.
During the game against Liverpool, Barton grabbed his crotch and shouted a homophobic slur towards Fernando Torres.
He was not banned as FA considered it as "non-racist". Many media people wanted Barton to get banned permanently for this action. Still, the FA let him off with only a warning.
2007 : Escapes Punishment over Etuhu Tackle
Another career-threatening tackle. This was really unprofessional from Barton.
He literally went in the air and kicked the upper part of Etuhu's thigh. The incident was not charged as the referee didn't see any violence on spot.
Barton aplogized later and said that there was no malice in the tackle.
2011 : Grabs Gervinho and Gets Him Sent Off!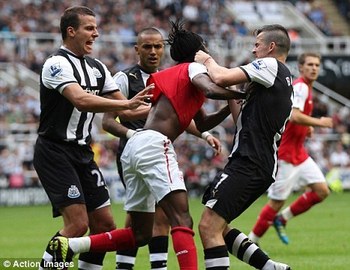 Minutes before this incident took place, people were feeling sorry for Barton as Alex Song stamped him on his feet and escaped punishment.
But after this took place, no one is feeling sorry for him.
Gervinho, the new Arsenal man, went down easily in order to get a penalty. After seeing this, Barton got angry and grabbed Gervinho by the neck and dragged him. This led to a massive fight and Gervinho's fingers came across Barton's face.
Barton, who thinks cheating to get a penalty is wrong, goes down as if he has been hit by a monster. This leads to Gervinho getting sent off, but Barton stays on with only a booking.
What Is the FA Going to Do with This Man?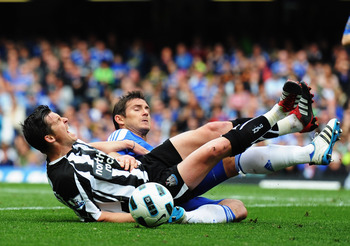 Michael Regan/Getty Images
I'm sure I missed a handful of other incidents regarding Joey Barton (If yes, please share them in the comments section).
After all this, what is the FA going to do with him?
The News of the World brought a "Ban Him" campaign back in 2008 against Barton. I'm not saying that we should ban him.
If that is the case, we should have banned John McEnroe and a handful of others. Punishing Barton doesn't seem to work so the FA should come up with something to keep this man quiet.
If not, he might actually end careers of football players on the pitch itself.
Keep Reading

Newcastle United: Like this team?