Learning the Art of Wrestling from Colt Cabana
August 17, 2011
New York, NY - Don't worry, wrestling fans, I'm not writing an article about myself as a Soccer writer working the territories trying to get a shot at the big time only to find out that some big-name publication pay their reporters less than what I make and have no reservation in cutting them loose at the earliest opportunity.
To be honest, I know what I want to write but I'm not sure how it's going to appear. I'm a Soccer Writer based in NYC and other than my passion for American soccer, I've always been a wrestling fan. I have nothing but respect for wrestlers.
From past conversations with WWE Hall of Famers Johnny Valiant and Nikolai Volkoff, I've learned to appreciate the work and dedication they've put forth in having a career.
Whenever I think about Major League Soccer (MLS), I've always compared it to Professional Wrestling from a territorial and grassroots perspective. Even though both are watched by millions and are now accepted by American society, neither sport has fully been embraced and accepted by the majority.
In the case of MLS, the league constantly has to endure the criticism of the media and soccer fans who believe that MLS is a watered-down league compare to the European leagues. As far as professional wrestling goes, it's still considered to be fake due to their predetermined finishes.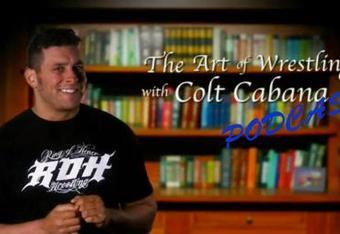 Much like some of the soccer players who flop and attempt to sell their "injury" and the European teams who have been caught for fixing their matches, pro wrestling matches may be predetermined but in the end, the athletes still have to perform.
Besides, when has MLS ever been accused of a match fix scandal?
With the exception of the WWE, who has been able to sustain its status as a sports entertainment company, professional wrestling is still grassroots where you have hundreds of promoters and thousands of wrestlers trying to make a career out of it. The same can be said for soccer players who have aspirations of making it professionally.
Unlike the hula hoop, which was a fad, soccer and wrestling have been longstanding American traditions that were able to endure despite the lack of coverage from the bigger publications and television for a long time.
True soccer and wrestling fans are cut from the same cloth in the sense that while they are willing to invest their time and money in a sport they're passionate about. In doing so, neither party has the tolerance to be patronized if the announcers are trying to sell a horrific match on television or if the performance they're witnessing in person is simply rubbish.
If you follow both sports, then you're aware how vocal soccer and wrestling fans are at a live match if the performance is horrible. At the end of the day, the only thing that matters to fans is that they witnessed a decent performance.
And in today's TMZ/Twitter/Facebook/Podcast world, fans are going to want to listen and read about the same game they witnessed.
One podcast I enjoy listening to on a regular basis is the Art of Wrestling by Colt Cabana. Through his humor and honesty, he and his guest of the week are able to give you an idea of the trial and tribulations of his profession in both the WWE and the independent circuit.
Along with his passion for wrestling, I can't help but admire his work ethic. Everyone who's worked with him have said in various podcasts is that while Colt is an entertaining individual, he's one impressive businessman.
Through his podcast, YouTube clips, comedy shows, and his merchandise, Colt has always been clear in explaining that while wrestling is a business, it's also his livelihood and he has to make a living out of it. That kind of honesty is enough to make anyone hope that he continues with his success.
Through Colt, I've learned the importance of engaging with potential and current readers. Whether through Twitter, email, or in person, I always make it a point to address them.
While it's also important to have a professional relationship with team management and players, I believe my relationship with my audience is the most important.
The second thing I've learned from Colt is the while it's fantastic to be passionate, one must have a plan and the discipline in his/her craft.
While I'm grateful for my soccer passion, the reality is that if I wasn't disciplined and aggressive with my career, I wouldn't be able to make a living out of covering a soccer league that isn't as popular as the the European ones.
And the last thing I've learned from Colt is that he owns a Liverpool jersey.
If you're curious to know why, please contact Colt. 
To follow Colt Cabana: @ColtCabana  www.welovecolt.com

Cesar Diaz is an Editor for 5 Points Press & LatinoSports.com. Bringing his unorthodox approach to covering American Soccer into the mix, he's also a columnist for USSoccerPlayers.com; your source for American Soccer news brought to you by members of the U.S. National Team. Easily accessible, you may reach Cesar at cesar@latinosports.com and at Twitter at @CoveringSoccer.