UFC on Versus 5 Results: Live Commentary and Analysis of the Sunday Spectacular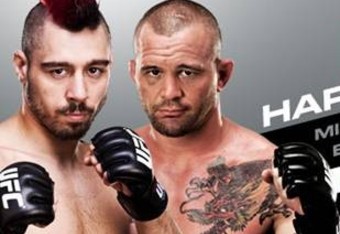 Last time that "The Outlaw" Dan Hardy was in the cage with a heavy-handed fighter, it was this past March against a returning Anthony "Rumble" Johnson in a bout that was supposed to guarantee an abandoned wrestling game and lots of "getting dropped" being involved.
Instead, it proved to be just another case of a strong Wrestler neutralizing the striking of Hardy and pinning him down for three rounds with a neck crank involved.
Now, Hardy has one last shot for victory, but standing in the way of his victory is a man who was surprisingly overwhelmed by an unorthodox newcomer in his last outing, yet has lost a step when it comes to delivering a show that few will want to forget.
Yes, Brian Ebersole beat him at UFC 127, but "Mr. Fight-Bonus" himself, Chris "Lights Out" Lytle did not lose his reputation of being the guy most fans turn to when they want a Welterweight MMA fight that is guaranteed to deliver nonstop action.
On top of a card that features a dream fight between Jim Miller and Ben "Smooth" Henderson, an expertly mapped-out Fight of the Decade contender-on-paper between Donald "Cowboy" Cerrone and Charles "Do Bronx" Oliveira, and a promising Muay Thai showcase between Amir Sadollah and Duane "Bang" Ludwig, it will be the automatic Fight of The Decade contender between Dan Hardy and Chris Lytle that takes center stage in front of a live-wire crowd in Milwaukee, Wisconsin.
All this and more as your pound-for-pound No. 1 source of all things in the combat sports world brings you live up-to-the-minute coverage of UFC Live on Versus 6: Hardy vs. Lytle!
Hardy is trying to push forward with a hook--he is definitely NOT giving this fight to Lytle.
His main issue is that Lytle still has a bulletproof semi where his chin is supposed to be.
Lytle hits a good kick to the body and Hardy is pushing forward but he goes in for a takedown and gets caught in a guillotine.
Can he find it?
YES HE CAN!!
Hardy taps, and The Bonus Hunter just the sweetest frosting on this cake--he has submitted Dan Hardy and his UFC career ends on a decisive victory!
My God, what a fight!
Winner by R3 Guillotine Choke: Chris Lytle!
If there was any way for both men to go out, this was it--two of the most ballsy and most electric fighters in the UFC Welterweight division put on what will be arguably one of the greatest Welterweight fights in the sport's history, whether it's a Fight of The Year candidate or not.
In my book, this is right up there with Garcia-Jung 1 or Griffin-Bonnar 1, and I'm not just saying that as a Chris Lytle fan.
As far as stand-and-bang bouts go, this was one of the best anyone will see circa 2011.
Ladies and gentlemen, that'll do it for us here at UFC on Versus 5, but keep it locked to Bleacher Report MMA for your coverage of UFC 134!
Hardy and Lytle are encouraging insomnia in the second round already, but this time Lytle gets tagged.
The fight is back and forth and late into round Hardy seems hurt.
Hardy with a rare takedown attempt but the fight stays standing.
So far, this is tough to score--should this be a 1-1 fight right now?
I feel ignorant if I ignore the fact that Hardy did hurt him, but the round ends with the same back and forth shots and I want to say maybe 19-19.
Maybe Hardy got hit with harder shots though, so perhaps 20-18 Lytle.
Great respect shown tonight, and HERE WE GO!
Lytle lands first, but he better relax, because Hardy will explode on the chin.
They're landing short shots and checking each other but Lytle backs Hardy up and Hardy returns the favor.
Nobody holding back or trying for takedown here for sure, but if you want to point a winner out in this pick-'em bout, Lytle really is landing more of his shots.
They end round 1 swinging, and this is 10-9 for Lytle.
So many storylines in this bout--if Hardy loses, there's no "prelim spot" to talk about for Hardy, there's no jump to Lightweight, and there's no move to Middleweight.
If Hardy loses, he's d-o-n-e with the UFC.
Of course, Lytle does not want to go out on an "L".
I believe "Lights Out" is playing right now for Lytle, but I can't tell.
It's POD, I know that much, but it is "Lights Out".
Arguable the greatest UFC Welterweight to have never been the UFC Welterweight CHampion is in the gray-ish trunks.
"England Belongs To Me" plays, signalling the now-orange-haired Hardy, who is conspicuous by the red shorts.
Hardy has six inches on Lytle for reach, but will that be a factor?
We will find out right NOW!
Bendo is on his knees pleading Dana White to put his teammates on, and I don't see why not, but Henderson gets a big win here tonight.
Should he get Melvin Guillard next, or should he get Clay Guida next?
Either way, I would like to see Jim Miller against another major name as well.
Hardy vs. Lytle--The Bonus Hunter's farewell fight is coming up next on UFC on Versus 5!
Bendo is push kicking and jabbing Bendo--keeping him at bay--and Miller really needs to pour on the hailstorm now.
He drops Bendo but Henderson takes him down, and a friend of mine just texted me saying he wants two more rounds.
I don't object!
Miller almost gets cranked more than choked but Bendo wasin good position for a rear naked choke.
The rest of the fight is Bendo battering Miller's face, but neither man has lost any support from me as far as title shots go.
Unquestionable that Ben Henderson--as he always says--can do all things through Christ his Savior, and through Him he and Miller put on probably the greatest MMA bout in the history of the 155-lb. division!
Insomniacs. this was your fight!
At the end of three very entertaining rounds, I believe this is 3-0 for Bendo, but Miller is not done with the upper echelon just yet.
A potential Fight of The Decade, this might have been!
Both guys bring it out in round two and Bendo gets Miller down, but Miller going for Mission Control, but he transitions into a failed leg lock attempt.
Bendo busts Miller open but Miller still goes for an Achilles Hold and a heel-hook, both mind-blowingly unsuccessful.
Miller is trying for a Kimura, but he's against the cage with Bendo giving him no exhalation room for completion of the Kimura, and the round ends with some nasty ground and pound.
Jim Miller's seven-fight win streak vs. Ben Henderson's dreams of being a major UFC Lightweight contender...which will prevail?
Miller will have one inch of reach on Henderson.
White trunks for Miller, black trunks for Bendo, and they tag each other a little bit.
Jab by Bendo but Miller tries to pin Bendo against the cage.
Miller has a tight flying arm triangle but Bendo, the freak of nature he is, survives the hold and gets on top.
Bendo with the head kick after the front face lock.but nothing comes from it except good control from the top.
Miller makes Bendo work for the ground and pound and this round is over!
Is this 10-9 because Miller did attempt to finish with that Arm Triangle?
Let's ask the judges after the fight.
Honestly speaking, I would consider the winner of next weekend's UFC 134 bout between Thiago Tavares and Spencer Fisher for Oliveira's next opponent.
Cerrone came in with both guns fully loaded, and I thought it would go three rounds, but not every Fight of The Night contender can go the distance.
Truthfully, I believe only one FOTN contender went the distance so far, and that was "Beefcake Benavidez" vs. Eddie Wineland.
A beautiful tribute to the birthplace of MMA and one of the hotbeds for combat sports airs.
The pound-for-pound greatest fighter in MMA, period--the incomparable Anderson Silva--fights against the last man to beat him in the last six years in the most successful Japanese fighter in MMA today, Yushin "Thunder" Okami.
I've said it before and I'll say again as we get set for Jim Miller's bout with Ben Henderson up next: Jim Miller might have to literally kill Ben Henderson in order to get anywhere close to beating Ben Henderson--regardless of whether he gets the next crack at either Frankie Edgar or Gray Maynard.
This fight is mapped out expertly:
Round 1: Rocky II
Round 2: Kung Fu Theatre
Round 3: The Matrix
Charles Oliveira said that's how it's mapped out right now, "Cowboy" Donald Cerrone says he knows Oliveira isn't going to dance around for three round and that this is a surefire "Fight of The Night".
The reach is even at 73-inches, and Cerrone has infernos in his eyes.
Mario Yamasaki is our ref and it is ON!
Footwork shown and the striking is not on standby so far as Cerrone connects with a knee and takes a leg kick from Oliveira.
It'll be tough to top the Dollaway-Hamman fight, but Cerrone lands a kick that poked Oliveira's junk, it seems.
Oliveira lands a few kicks but Cerrone lands some of his own and he DROPS Oliveira!
One left uppercut to the solar plexis and Cerrone leaves no room for recovery as Yamasaki steps in to stop the swarm!
Big win for Cerrone against the young prospect, and if he's not ready for a higher mid-tier fighter, an upper echelon Lightweight, or at the very least, the winner of Miller-Henderson tonight, then I know not if Cerrone will ever be ready, in all honesty.
For those who missed the second and third rounds, Duane's counterpunching and one big takedown was the downfall of Sadollah as Ludwig wins the unanimous decision.
I had a few technical difficulties before (thank you lagging), but we are back on and running.
Mike Goldberg has made it public that world renowned trainer and incomparable mentor to some of the strikers of today, the one and only Shawn Tompkins, has just passed away.
Please keep Shawn and his family in your prayers and also attempt to grant his family some privacy for the time being.
The show will go on with Donald Cerrone and Charles Oliveira up next and a preview for UFC 134 next Saturday.
Sadollah has five inches of reach on Ludwig. It should show its teeth early on in this bout.
Rob Hinds our official, and Arianny Celeste is in my dreams tonight.
Ludwig in the red trunk and Sadollah in the gray trunks, and both men going into a strike fest early.
Ludwig controlling Sadollah thus far but Sadollah throws a knee once he has his back to the cage.
Ludwig lands a left hook but not getting much off in the way of shot that drop Sadollah.
No matter though because he is doing damage, and the round is over.
I have to say right now it's 1-0 Ludwig.
In case you guys can't tell, we're on live right now, and I apologize once more for the delays
Five time Fight Of The Night winner, two-time Submission of The Night Winner, and onetime KO of The Night Winner--that's Chris "The Bonus-Hunter" Lytle for you, and win or lose, Lytle will go down in the books as my favorite Welterweight to have never held a title.
I like Lytle for the same reason people like Nick Diaz--even when he faces defeat, he never cures insomnia, and it will be an honor to give you the coverage of his last fight in the Octagon against "The Outlaw" Dan Hardy tonight!
Up next, Amir Sadollah and Duane Ludwig collide, followed by Donald Cerrone vs. Charles Oliveira and Jim Miller vs. Benson "Smooth" Henderson!
"Duane Bang" is talented in the standup, but he's not as well-rounded as Amir in my opinion and if the fight hits the ground, Sadollah will send Ludwig's hopes of a UFC welterweight title run down under.
The first couple of minutes is what you could call "proof that this card had Fight of The Night potential"
CB has eaten tough shots, he's hit Hamman hard, but Hamman is on top and delivering some short forearms and elbows on Dollaway, but somehow CB Dollaway is hanging on for now.
CB warned to protect himself but he survives and I don't see how Herb Dean doesn't --he's against the cage now as I was typing.
Brutal blows to Dollaway and Herb Dean stops it.
Winner in round 2 by brutal mid-round TKO: Jared Hamman!
Remind me to become a fan of this guy the next time he fights. The guy just put on the bout that I think just jacked "Fight of The Night" so far.
Do what you gotta do, and we'll see you in twenty for UFC on Versus 5!
Fun night of fights so far and if anyone else is interested, Benavidez won all three rounds on the judges' scorecards.
Jared Hamman vs CB Dollaway up next, as we are winding down to what should be a great night of UFC action--as should be obvious by how late I've been getting these updates up.
My apologies, folks.
Jared Hamman is a former Light Heavyweight fighter, but he's moving the way Donald Cerrone would right now.
CB Dollaway is out next, in the white trunks, and with Ryan Bader in tow.
The Messenger is in the black trunks, and the message he's looking to send to Dollaway is "you're going to get you ass whooped"
Looks like Hamman caught Dollaway early with a body shot, but Dollaway recovers and gets a takedown.
The choke attempts begin.
CB gets an Arm Triangle but will he get the tap?
No, he can't, and now Hamman loses Dollaway from inside the guard.
Now back to his feet is Hamman.
Hamman is on top but I can't say he's doing much in the early going.
Scramble by both for control and Dollaway lands some hard shots to end a close round!
Benavidez charges Wineland early and flies with authority with a knee, but he's left keeping Wineland guessing for sure.
Interesting of note: Benavidez is no southpaw, but he is standing as such.
Another takedown stuffed by Benavidez and I can tell I'm not the only one in favor of a 125-lb. weight class as it seems the crowd is electric due to a fight ending for the first time tonight.
For anyone wondering, I gave "The Beefcake" all three rounds, not out of bias as I did pick Benavidez to win.
Naturally dominant, Benavidez looked.
Eddie Wineland and Joseph Benavidez are finally up next, and Wineland is out first!
Wineland is in the black trunks and Benavidez is walking down to "Stranglehold", as the unofficial UFC Flyweight Champion is in the green trunks.
Benavidez and Wineland want a staredown but they won't get it.
Fight begins and the fight stays on the feet, and Wineland gets cut open late before getting rocked.
I'd say the footwork and the technical striking of Benavidez has done enough to take this round. Wineland is trying to land some strong shots but he can't get anything off.
Round 2 is all the more closer as Benavidez gets pinned against the cage but fights his way out of it.
The bout goes back to the calculating striking bout, and Benavidez is jockeying for the takedown right now.
It seems quite clear that, despite a takedown attempt, Wineland seems a bit outmatched here.
BNice takedown ends the round, but Benavidez can't do much with it to end the round.
Ed Herman knocked Tim Credeur out on my birthday, but the question is if he can get any wickedness off in the form of a KO over Kyle Noke.
Greg Jackson in the corner of Noke, as we would expect. One must wonder if Noke limps, if we will see Jackson say "Hit him with your groin!"
Herman always will be remembered for his bout with Kendall Grove at the TUF 3 Finale, but he will look to make his own name for something else once again tonight.
Herman is in the white trunks and Noke is in the dark trunks.
Herman gets the fight to the ground first but Noke gets on top and inside Herman's guard where he nearly gets caught in two Triangle Chokes, but the second one leads to a tight armbar attempt.
Noke and Herman keep it on the ground for a little while longer, but Herman gets the leg of Noke, who tries to roll out but is forced to tap!
Watch this fight if you aren't right now--the heel hook Herman connects with here is NASTY!
This fight is taking an awful long time to come up--unless Rogan is on a pee break.
The second round has been all Markes, with some wearing down against the cage and multiple takedowns, followed by some short forearms.
Arm triangle attempt opens up and the way this fight is going, Vemola needs to defend the takedowns and try to wear Markes down.
More of the same as round one and round two, but this time, the two are not against the cage.
Vemola is trapped in side control, and I don't think Markes is getting a submission here, and the round ends with Markes on top once again.
Crowd boos as another decision is in the books with all three judges seeing all three rounds for the newcomer, Ronny Markes!
Everything seems virtually identical, statwise.
Markes trains with Nova Uniao, but we'll see how much it helps him here.
The two wild bulls charge early and Markes pins Vemola against the cage but they head back to the center of the cage.
Markes takes Vemola down against the cage and we're in for a wear-down bout.
Vemola gets a guillotine choke but no tap as the round ends.
Round two underway, and I am impressed with Hettes early on.
Too many submission attempts to count but this one is definitely Hettes' round unless...
Nevermind, rear naked choke and Caceres cannot escape without tapping once more.
Your winner: Jimy Hettes by rear naked choke.
Bruce Leeroy is smiling as we all would expect, but after a bunch of transitions and eventually getting trapped in that Rear Naked Choke, one might think Caceres might have to revamp his game before trying for the UFC once again.
Unless Dana White liked Caceres' performance before the submission, I don't see how he stays in the UFC after that.
One commercial later, my pick for KO of The Night is next as Karlos Vemola faces Ronny Markes!
Round one underway!
Herb Dean, the best in the biz--or some would say--is our ref, and quick inside leg kicks from Hettes.
Another great scramble for a strong grappling hold and Caceres escapes a nice leg lock attempt.
Hettes gets Caceres down and forces Caceres to work for submissions.
Hettes is committing to the leg lock but transitions eventually to the top position and could cause a 10-9 round from Hettes.
Caceres is making this kid work for his subs and the round ends with a 10-9 going to whoever you picked to win.
Cole Miller walks us through the submission win with a hint that his hand might have gotten hurt.
Alex Caceres looks to score his first UFC win at the expense of Jimy Hettes up next!
Hettes is out first, skipping to the ring a little bit in the red trunks.
I can't tell, but is that Kris McCray with him?
Nah, couldn't be.
Hettes is undefeated in MMA but he's still getting a good test in Caceres.
The always confident Alec Caceres, Shaolin hat and all, is in the white trunks.
He bumps the fist of Hettes on his way to his corner and this one is just about underway.
Caceres has two inches on Hettes, but the question is if he can school "The Kid" on the ground.
Second round begins and O'Brien is pushing forward early, but it goes back to the slow pitter-patter style.
O'Brien throws but a counter-left straight connects, and a TJ O'Brien takedown backfires as Cole Miller locks in a guillotine.
Can he get it with one hand?
He has the body triangle in deep as well as the choke and this one is history as Miller gets the tap!
This article is
What is the duplicate article?
Why is this article offensive?
Where is this article plagiarized from?
Why is this article poorly edited?