Browns vs. Packers Saturday Night Preseason: Reaction to Game's Big Stories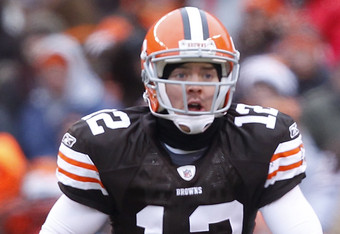 Matt Sullivan/Getty Images
Get ready, Browns fans! At long last, it's the moment we've all been waiting for since January: the first preseason game of the 2011 season.
That also means it's time for our first in-game live blog of 2011. I'll be posting updates here periodically throughout the game as things unfold on the field between the Cleveland Browns (0-0) and the Green Bay Packers (0-0).
Browns starters will play one quarter tonight, so we'll have 15 minutes to get our first glimpse of the season at Colt McCoy, Peyton Hillis and the other stars we've missed so much this offseason.
Second stringers will get the next two quarters, and the last quarter will go to those players further down the depth chart who need to impress tonight in order to make the team.
Notable injured players who won't see action tonight are WR Mohamed Massaquoi and RB Montario Hardesty. LB Chris Gocong, S Eric Hagg and S Usama Young all suffered minor injuries at practice this week and may not play tonight, though there's been no official word on it yet.
Check back here for live updates throughout the game as we ring in the start of the 2011 football season and track all the action as it happens. Go Browns!
Browns vs Packers Saturday Night Preseason: Browns 27, Packers 17 FINAL!
Game one of the 2011 preseason is officially in the books, and the Browns come away with a decisive victory over the 2010 Super Bowl Champion Packers for rookie head coach Pat Shurmur. Time for some winners and losers...
Winners:
Colt McCoy: McCoy absolutely killed it in his 2011 debut, looking every bit the team leader and cool-headed field commander that we all hoped he would be. McCoy was nearly perfect at 9/10 for 135 yds, 1 TD, and a 152.1 rating. You can start apologizing any time, Colt Haters.
2011 Draft Picks: There were some flubs, but for the most part we saw good things from the Browns most recent crop of draft picks. Skrine was impressive, Little held his own, and Sheard and Marecic did alright.
The West Coast Offense: Looks like the transition to the new traditional WCO may yet be a smooth one. We cannot, of course, make that call for certain based on one preseason game, but fundamentally speaking, it really looks like the right fit for this team.
Losers:
Sheldon Brown: Normally I really like veteran CB Sheldon Brown, but this game was nothing short of disastrous for him. He looked tired. He looked confused. He looked...like Eric Wright. Yikes. Brown appeared to not be paying attention on every play except the one on which he drew a penalty. Brown needs to be careful; granted it's only game one of the preseason, but there are a lot of young and talented DBs currently with the Browns who are gunning for his job.
Backup QBs: Seneca Wallace started out alright, but things took a nose dive in the second half for him. He wasn't awful overall, but he wasn't exactly solid either. And Jarrett Brown actually looked pretty bad, although I'm not sure he had enough playing time to where this should set off any huge alarms just yet.
Colt McCoy Doubters: You all got awfully quiet tonight, didn't you? Still room on the bandwagon, I'd hop on before you get left behind.
Mike Holmgren's Outfit: Enough said.
***
See you all next week, when the Browns take on the Detroit Lions at 7:30 on August 19th at home.
Browns vs Packers Saturday Night Preseason: First Challenge is in the books!
Head Coach Pat Shurmur has just thrown his first challenge flag. His aim looked better than Jarrett Brown's, who entered the game and proceeded to immediately throw a pick to the Packers Josh Gordy. Good eye by Shurmur, as it turns out, as the referees overturned the catch he challenged.
Browns D did a nice job of stuffing the Packers in the Red Zone after that, forcing them to go for it on fourth down and nearly sacking Harrell before he completed a wobbly dump pass.
Green Bay was forced to give it up on downs, proving the defense did their job but giving the Browns not so-stellar field position inside the five on the takeover. Potential redemption time for Jarrett Brown.
Weather Update: The Browns and the Packers may get lucky on the coming storm with just under five minutes left to play and no rain just yet. Better hurry it up though, we've got a Wizard of Oz - like sky swirling over Cleveland Stadium.
Browns vs Packers Saturday Night Preseason: T-Minus Fourth Quarter to go!
May have spoken too soon on backup QB Seneca Wallace, who appears to have take the express elevator down the tubes. Still, even with a lackluster 11 of 17 for 99 yards and an INT, no major damage was done. But I definitely think he gave Jarrett Brown some motivation to give it his all in the fourth quarter.
Speaking of third string QBs,the Browns D has done a nice job of rendering Graham Harrell ineffective thus far. He's 4/10 with 59 yards and that fumble that was returned for a touchdown by Titus Brown.
And here's a gem from Twitter, courtesy of @NotReallyBernie: "If it looks like I'm sweating like my daughter in church it's just cuz I'm nervous for Ken Dorsey when he goes in."
Yep, this Bernie Faux-sar is definitely someone every Cleveland fan with a sense of humor should follow.
Browns vs Packers Saturday Night Preseason: Browns Regular Season Schedule
Why yes, I'm happy to save you a Google search...
Sunday, September 11 vs. Cincinnati Bengals, 1:00PM
Sunday, September 18 at Indianapolis Colts, 1:00PM
Sunday, September 25 vs. Miami Dolphins, 1:00PM
Sunday, October 2 vs. Tennessee Titans, 1:00PM
Sunday, October 9 Bye Week
Sunday, October 16 at Oakland Raiders, 4:05PM
Sunday, October 23 vs. Seattle Seahawks, 1:00PM
Sunday, October 30 at San Francisco 49ers, 4:15PM
Sunday, November 6 at Houston Texans, 1:00PM
Sunday, November 13 vs. St. Louis Rams, 1:00PM
Sunday, November 20 vs. Jacksonville Jaguars, 1:00PM
Sunday, November 27 at Cincinnati Bengals, 1:00PM
Sunday, December 4 vs. Baltimore Ravens, 1:00PM
Thursday, December 8 at Pittsburgh Steelers, 8:20PM
Sunday, December 18 at Arizona Cardinals, 4:15PM
Saturday, December 24 at Baltimore Ravens, 1:00PM
Sunday, January 1 vs. Pittsburgh Steelers, 1:00PM
Browns vs Packers Saturday Night Preseason: Rolling on through the third quarter
QB Seneca Wallace continues his solid performance, and newly acquired RB Brandon Jackson looks good with 8 rushes for 28 yards. He's no Peyton Hillis, but he won't need to be for the Browns ground game to work this season.
Titus Brown's fumble return will help make the case for him to make the team. He was looking like a roster bubble guy prior to this. His recovery and runback for a TD was largely the result of being in the right place at the right time, but hey, six points is six points, and he gave the Browns a nice solid 24-17 lead. Most of the credit should go to LB Brian Smith though, who generated the sack that forced the fumble.
And a little something said earlier on in the game from the Aaron Rodgers hater watching with me who shall remain nameless: "You don't know how much you really miss Shaun Rogers until you see a quarterback you wish his fat a$$ would fall on."
And thus the number of Reasons to Miss Shaun Rogers now stands at a grand total of 1.
Browns vs Packers Saturday Night Preseason: Miscellaneous Second Quarter Observations
Second String QB Seneca Wallace's performance is speaking volumes so far, and mostly what it's saying is, "No, Jarrett Brown, you cannot have my job."
Not much in the way of passing yardage, and overall a lackluster drive down the field which ended in a punt, but that's why Colt McCoy is the starter and Wallace is the #2 guy in town. Still, he made no significant errors and had a nice 11-yard sneak, which was the longest run by anyone on the team thus far in the game.
Everyone should be praying that TE Evan Moore can stay healthy this season. Never a guy with questionable skills but ever a guy with questionable health, Moore has shown in his performance today exactly why we need him to stay off the IR.
Not too terribly much yardage racked up yet, but he seems to be involved in every play. He's also been open and accidentally ignored several times by both McCoy and Wallace.
DE Marcus Benard has been hounding the QB with serious aggression. After all the conversations we've had this offseason about how badly the Browns needed a legitimate pass rush threat, it's comforting to see that we may have already found one without having to pay out to a marquee free agent. Here's hoping Benard keeps going in for the kill.
The Browns caught a really bad break when Spencer Havner caught a tipped pass in the end zone for the go-ahead TD. It would have been nice to take a lead into the half, but down 17-14 at halftime to the 2010 Super Bowl Champion Packers really isn't a bad place to be.
On the Packers side of things, I'll tip my hat to Matt Flynn, one of the best backup QBs in the NFL.
Browns vs Packers Saturday Night Preseason: Rookie Sightings
Buster Skrine is showing why he's a threat to swipe a starting CB job, breaking up a pass by Matt Flynn in the second with serious authority. Already, you can tell this guy plays bigger than his size, which measurement-wise is almost Gerald McNeil-esque. He had a nice 26-yard kick return at the start of the game as well.
FB Marecic has largely been a non-factor so far. Just one carry for no gain, and a fumble (which was luckily recovered by the Browns).
WR Greg Little hasn't seen much action come his way yet, but he did have one catch for 12 yards, and looked pretty good showing a little yardage after catch, which is supposed to be his bread and butter.
Browns vs Packers Saturday Night Preseason: Thoughts on McCoy's Inaugural 2011 Performance
Really can't argue with anything Colt McCoy did in his first outing of 2011. Playing into the second quarter to finish the drive that was in progress when the clock ran out on the first quarter, McCoy again systematically drove his offense down the field and set up Peyton Hillis' three-yard run for the score.
This early on, it's tough to say the offense we were all so nervous about is truly "fixed", but after watching these two drives, it's even tougher to say it isn't.
McCoy's night is now likely over. He was 9 of 10 for 135 yards and 1 TD, and spread the ball around well to six different targets. His rating was a gaudy 152.1, besting his counterpart Aaron Rodgers, who finished with a 142.7 rating.
Gratuitous Non-Football Observation: Somebody needs to get Mike Holmgren a stylist. The neon orange, ill-fitting top looks like a cross between a prison uniform and what I imagine retired Browns player Al Bubba Baker wears to sleep.
Browns vs Packers Saturday Night Preseason: More On the Defense
Holy, D'Qwell, Batman! Wow, D'Qwell Jackson is showing just how badly he wants to be an impact LB for this team. Three tackles and counting in the quarter.
I wonder if Sheldon Brown is still struggling a little banged up from practice this week. Between the TD allowed and the penalty, it looks like he's really having a rough outing. It's very unusual to see major mistakes by Brown, especially mental ones, as he's an intelligent player with great veteran presence on the field.
Browns vs Packers Saturday Night Preseason: Browns Defense Looks a Little Bewildered.
The touchdown drive by Green Bay to tie the game at 7-all made the Browns defense look a bit, well, lost. The Packers looked to be pushing the Browns secondary, and it worked. On the touchdown, it looked as though the Browns defense was duped by Aaron Rodgers' hard count, and CB Sheldon Brown never saw the TD pass to WR Greg Jennings coming until well after he was safely in the end zone for the score.
Lucky for the Browns, that's probably the last we'll see of Aaron Rodgers tonight. Second string QB Matt Flynn will take over on Green Bay's next possession.
Browns vs Packers Saturday Night Preseason: Early Observations
Weather update: Looks good for now, but forecasts are calling for rain later on during the game. Anybody remember the mud bowl game vs. St Louis last year during the preseason? It was very, very ugly.
WR Jordan Norwood took the first punt return of the game and had a solid 22 yard run. If he can keep that up, it will increase the number of opportunities he'll get this season at WR as well.
Just one rookie out on the field for the Browns on offense; that's FB Owen Marecic, looking to prove he's ready to be a starter right out of the gate.
QB Colt McCoy looks fantastic so far: pinpoint accuracy, a calm and commanding presence, and a perfect strike to Josh Cribbs for a 27 yard TD! Midway through the first quarter of the first preseason game, the Browns have their first lead of the season at 7-0.
Browns vs Packers Saturday Night Preseason: It's go time!
We'll be underway in Cleveland in about five minutes for the first preseason game of the year.
For those wondering, here's the rest of the Cleveland preseason schedule:
Aug. 19: The Detroit Lions at the Browns, 7:30 p.m.
Aug. 25: The Browns at the Philadelphia Eagles, 7:30 p.m.
Sept. 1: The Browns at the Chicago Bears, 8 p.m.
Injury Update: LB Chris Gocong joins WR Mohamed Massaquoi and RB Montario Hardesty as inactive for tonight's game.
This article is
What is the duplicate article?
Why is this article offensive?
Where is this article plagiarized from?
Why is this article poorly edited?

Cleveland Browns: Like this team?