Boxing Divisional Rankings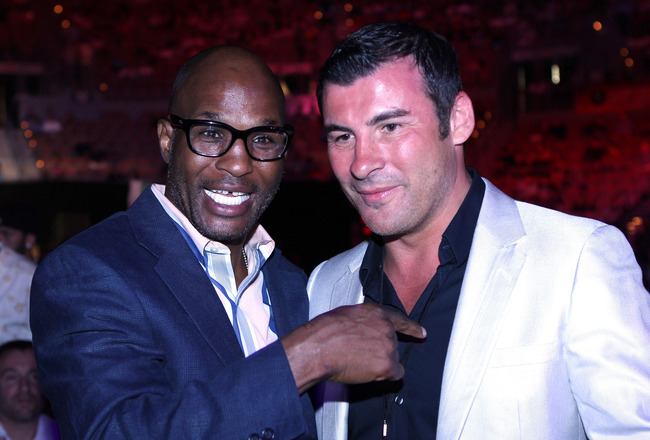 The current undisputed champ at 175 with the old undisputed champ at 168
Scott Heavey/Getty Images
Rankings can be as subjective as your favorite color. Sometimes there's hard evidence; most of the time, because the best don't fight the best in this sport as much as we'd like, there's not. There are only six legitimate champions among the 17 weight classes in Wladimir Klitschko (heavyweight), Bernard Hopkins (light-heavyweight), Sergio Martinez (middleweight), Juan Manuel Marquez (lightweight), Pongsakkek Wonjongkam (flyweight) and Giovanni Segura (junior-flyweight).
Marquez fought last against Likar Ramos in a junior-welterweight bout and next fights Manny Pacquiao in a welterweight fight (at a catchweight). Assuming he will return to lightweight (which is not a safe assumption), I'm keeping Marquez as the No. 1 fighter there.
That's not the only movement from 135 to 140. Humberto Soto and Michael Katsidis are leaving the division, Robert Guerrero's cancelled fight against Marcos Maidana was at 140 and Brandon Rios has stated his intentions to move up. Because Rios has nothing scheduled and his last fight was at 135, I am keeping him ranked at lightweight. The other three are now junior-welterweights, and if they warrant a ranking, it will be in that division. The same philosophy will apply in every other weight class.
One other note, I'm not doing a full ranking of all 17 of the divisions. Below bantamweight, I'm basically doing a pound-for-pound of the fighters from 115 down to the minimum. Some of the thinner divisions (122 and 130 come to mind) will only have five fighters ranked. I am not denoting between champions and contenders. The champion will of course occupy the No. 1 spot when that applies. When it doesn't, the best fighter will occupy the top spot. Here it goes.
Junior Bantamweight: 115 Lbs. and Below

One of the front-runners for Fight of the Year

1) Giovanni Segura (28-1-1), Junior-Flyweight
2) Ponsaklek Wonjongkam (80-3-1), Flyweight
3) Hernan Marquez (31-2), Flyweight
4) Omar Navarez (35-0-2), Junior-Bantamweight
5) Hugo Cazares (34-6-2), Junior-Bantamweight
6) Roman Gonzalez (29-0), Junior-Flyweight
7) Adrian Hernandez (21-1), Junior-Flyweight
8) Luis Concepcion (23-2), Flyweight
9) Ivan Calderon (34-2-1), Junior-Flyweight
10) Brian Viloria, (29-3) Flyweight
Notes

Segura is the most fearsome puncher south of Nonito Donaire. He brutally stopped the previously undefeated Calderon to claim his title last year and did it again in even more emphatic fashion to open his 2011 campaign. Calderon stays on my top 10 because he is one of the finest practitioners of the sweet science in recent times and Segura packs unusually thunderous power for a fighter at these weights. As Segura likely moves up to 112, it remains to be seen how effective Calderon can still be at 108 or 105.
Wonjongkam could easily claim to be the best fighter down here, but in recent years, his competition has ranged from horrendous to laughable.
Marquez showed that he is one tough hombre in the bloodiest fight of the year, when he came off the canvas to stop previously undefeated Luis Concepcion on Concepcion's home turf of Panama in April. Concepcion may have lost the war, but he showed plenty of heart and firepower of his own.
Sergio Martinez and Lucas Matthysse have convinced me not to doubt fighters from Argentina, so perhaps I rank Narvaez a bit higher than the next man. He steps up in weight to face a ridiculously difficult foe in his next fight, Nonito Donaire, a guy who makes legitimate bantamweights look small. The outlook is not good, but Narvaez has earned his ranking as one of the best fighters at junior-bantam.
Gonzalez has the look of a potential superstar, a man with the talent to rule the lower weights for years.
Bantamweight (118 Lbs)
1) Nonito Donaire (26-1)
2) Joseph Agbeko (28-3)
3) Abner Mares (22-0-1)
4) Anselmo Moreno (31-1-1)
5) Vic DarchiInyan (36-3-1)
Notes
Aside from Russell Mora's much-maligned refereeing and Abner Mares' astonishing number of low blows, Showtime's bantamweight final made one other thing very clear about the bantamweight landscape: Donaire is head and shoulders the best fighter in the division.
Moreno is a skilled boxer who, outside of two strong showings against Volodymyr Sydorenko, hasn't faced the toughest opposition in his career. Until he gets in with the divisional elite, Moreno's resume leaves more questions than answers.
Darchinyan is one of the true characters in the sport. He's obviously a tough guy and a strong fighter, but while he was a dominant flyweight for years, he's taken two tough losses from Mares and Agbeko since moving up to 118. And that's not mentioning the vicious lights-out shot he took from Nonito Donaire that ended his flyweight reign and propelled Donaire to super-stardom.
Darchinyan recently gave Yohnny Perez a nice beating, but Perez looked positively dreadful in the ring that night. Because of his entertaining personality, good power and a dearth of other options, Darchinyan will most likely get another shot at one of the top bantamweights sometime next year.
Featherweight and Junior Featherweight
Featherweight (126 lbs.)
1) Yuriorkis Gamboa (20-0)
2) Orlando Salido (36-11-2)
3) Chris John (45-0-2)
4) Juan Manuel Lopez (30-1)
5) Daniel Ponce de Leon (41-3)
6) Johnny Gonzalez (49-7)
7) Mikey Garcia (26-0)
8) Celestino Caballero (34-4)
9) Jonathan Barros (33-1-1)
10) Hozumi Hasegawa (29-4)
Notes
Gamboa is one of boxing's brightest young stars, a mini-Mike Tyson with terrifying speed and power. He is undoubtedly the cream of the featherweight crop and a fast-rising pound-for-pound sensation.
Salido is one of the most underrated, toughest guys in the sport. While he's fighting the widely regarded two best fighters in the division, Gamboa and Lopez, John is defending his title in Indonesia against inexperienced fighters with blown-up records, like Yaud Dordan. John has gotten so much mileage out of his win over Juan Manuel Marquez, he should be in line for several free flights, and perhaps he can use one of them to come stateside and take on his best divisional rivals, Gamboa, at the top of the list. Despite that, he makes good money fighting at home, and there's nothing on the horizon to suggest a unification happening anytime soon.
Lopez showed too much heart against Salido, opting to stand toe-to-toe against a powerful opponent who refused to stop coming. Lopez's perfect record was lost in the process, but he can bounce back. A rematch is in the works for sometime next year. Lopez is taking a tune-up in the fall.
Junior-Featherweight (122 lbs.)
1) Toshiaki Nishioka (38-4-3)
2) Guillermo Rigondeaux (8-0)
3) Jorge Arce (57-6-2)
4) Rafael Marquez (40-6)
5) Rico Ramos (20-0)
Notes
This is actually a surprisingly decent division when you look at it. Nishioka is an underrated, very solid Japanese boxer. Rigondeaux is the immensely talented Cuban two-time Olympic gold medalist. Arce and Marquez are both veteran Mexican warriors seeking glory in the twilight of their careers. Ramos is an undefeated American contender, coming off an impressive knockout of Akifumi Shimoda in his HBO debut in July.
Nishioka, who hasn't lost in almost a decade and has defended his belt six times since 2009, takes on Marquez on October 1.
Lightweight and Junior-Lightweight
Lightweight (135 lbs.)
1) Juan Manuel Marquez (53-5-1)
2) Brandon Rios (28-0-1)
3) Miguel Vazquez (29-3)
4) Miguel Acosta (28-4-2)
5) Urbando Antillon (28-3)
6) Antonio Demarco (25-2-1)
7) Kevin Mitchell (32-1)
8) Paulus Mores (27-1)
9) Jorge Linares (31-1)
10) Vicenete Escobedo (23-3)
Notes
There has been a mass exodus from the lightweight division over the last couple of months. Humberto Soto, Robert Guerrero, Michael Katsidis and current champion Marquez have all moved up in weight. Aside from Marquez, who is heading up to fight Manny Pacquiao, they all plan on staying in the junior-welterweight division.
Rios is on a tear right now, having shredded Antillon in a three-round bloodbath in July and previously defeating the tough Acosta in a come from behind act back in February. Rios has vanquished every credible opponent left in the division, except Marquez and Vazquez, a cruelly underrated, technically proficient boxer who has only lost to Saul Alvarez and Tim Bradley at higher weights.
Aside from those two, Rios might as well move up to 140 to find any type of worthy challenge. He plans to do so by next year.
Antillon's face-first unrelenting style was tailor-made for the younger, stronger, overall better Brandon Rios. I still think Antillon gives anyone else in the division a rough time. If he were ever to move up in weight, an Antillon-Katsidis fight would be well worth the investment.
Junior-Lightweight (130 lbs.)
1) Ricky Burns (32-2)
2) Mzonke Fana (30-4)
3) Jorge Solis (40-3-2)
4) Roman Martinez (24-1-1)
5) Takashi Uchiyama (17-0)
Notes
In all fairness, this is one of the weakest divisions in the sport. The best hope is that someday, maybe 130 is where Yuriorkis Gamboa, Juan Manuel Lopez and others might take their talents. Of all the fighters in this division, the guy I think has the most potential to be great is Adrian Broner, not currently ranked. And by the time he does reach his peak, he'll probably be a lightweight or higher.
Junior-Welterweight (140 Lbs.)
1) Amir Khan (26-1)
2) Tim Bradley (27-0)
3) Marcos Maidana (30-2)
4) Lucas Matthysse (28-2)
5) Robert Guerrero (29-1-1)
6) Devon Alexander (22-1)
7) Lamont Peterson (29-1-1)
8) Erik Morales (51-7)
9) Humberto Soto (56-7-2)
10) Zab Judah (41-7)
Notes
Amir Khan has clearly earned the top spot in the division, beating four top-10 ranked contenders in his last four fights in Judah, Paul McCloskey, Maidana and Paully Malignaggi. In that same time, Bradley has fought once in the division, the infamous debacle in Detroit against Alexander in January.
Maidana was supposed to fight Guerrero this weekend in one of the most anticipated clashes of the summer until Guerrero suffered an injury in training and will be out of action for six months. I haven't been this disappointed since the amazing Randi exposed James Hydrick.
Guerrero's return is hazy now. He's having surgery to repair a torn tendon in his rotator cuff. This ranking is about where I think he would be heading into the Maidana fight.
Matthysse is ranked ahead of the men who "beat" him because, frankly, I think he's a better fighter. I'm not disputing the decision loss to Alexander; it was a very close fight. Against Judah, I thought Matthysse had more of a beef.
In either case, if there's one guy from that group who could potentially tangle with the top two, it's not Alexander or Judah. They had their chance, and we all painfully witnessed how that turned out. That said, I had to be honest, and I still might favor Judah over the likes of Kendall Holt, Mike Alvarado, Danny Garcia, etc. This is one of the deepest divisions in the sport with so many intriguing, exciting match-ups. Amir Khan and Devon Alexander will be gone by next year. No matter. Bam-Bam Rios should be arriving soon, Guerrero will hopefully heal up, and if that Andriy Kotelnik guy ever turns up, he's pretty good too.
Welterweight (147 Lbs.)
1) Flanny Pacweather (94-3-2)
3) Victor Ortiz (29-2-2)
4) Andre Berto (27-1)
5) Jan Zaveck (31-1)
6) Mike Jones (25-0)
7) Kell Brook (24-0)
8) Seluck Aydin (22-0)
9) Vyacheslav Senchenko (31-0)
10) Sebastian Lujan (38-5-2)
Notes
There is a two-headed monster at the top of the welterweight division. It's known as Manny Pacquiao and Floyd Mayweather.
Mayweather was bounced from a lot of ranking lists after a year of inactivity back in May. He's now scheduled to fight on September 17 against Ortiz, the consensus No. 2 guy on everyone's list, and he's a solid 6-to-1 favorite to win that fight. What does that tell you?
Pacquiao himself hasn't fought a true welterweight fight in over a year. It's not a pound-for-pound; it's a divisional ranking. We know these two guys are the class of the division and really, the entire sport. Who's the best welterweight? Impossible to say, but if Mayweather does uphold the odds and wipe out Ortiz, he should clearly be ranked as the No. 1 fighter here. Until then, I refuse to take sides.
I expect my Slovenian brother Zaveck to give Berto a tough go on September 3. Berto is an interesting case...slightly overrated going into the Ortiz fight and now arguably underrated in the aftermath. Perception is one thing. Zaveck will provide a reliable truth serum.
Amir Khan could be making waves here by the next spring. Talent-wise, he's right up there with the top three.
Junior-Middleweight (154 Lbs)
1) Miguel Cotto (36-2)
2) Saul Alvarez (37-0-1)
3) Cornelius Bundrage (31-4)
4) Erislandy Lara (15-1-1)
5) Alfredo Anguilo (20-1)
6) Sergei Dzinzurik (37-1)
7) Austin Trout (23-0)
8) Vanes Martirosyan (30-0)
9) Carlos Molina (19-4-2)
10) Paul Williams (40-2)
Notes
Cotto is widely considered the best fighter in the division, but I don't expect that to be the case much longer. He should get past Antonio Margarito in their December rematch, but it's another fight where Cotto will likely take a few to give a few. Eventually, the punishment will catch up, and a younger, bigger guy (say...Canelo Alvarez) will hand the brave Puerto Rican his third loss. Until then, on respect alone, he retains the top spot.
Trout is an intriguing case. I am rooting for him to land a big fight.
Dzinzurik was pasted by Sergio Martinez in March in a foray up to the middleweight division. Martinez is one of the best fighters in the world. I'm curious as to how he'd fare against the likes of Alvarez, Lara, Martirosyan or Molina.
Williams got a "gift" decision against Lara that incensed even the most hardcore P-Will fans. Despite the outrage, he was aggressive all night and courageous as always. Lara has to be given some credit. He's a tricky fighter. I'd like to see one more sample before completely dismissing Williams' prospects. A fight against Molina would be a good gage.
Middleweight and Super-Middleweight
Middleweight (160 lbs.)
1) Sergio Martinez (47-2-2)
2-10) The Rest
Notes
These two divisions are pretty top-heavy, so I lazily decided to combine this into one section. Put a gun to my head and I'll tell you that Felix Sturm, Matthew Macklin, Daniel Geale, Dmitry Pirog, Andy Lee and even Julio Cesar Chavez Jr. are all Top 10 contenders to Martinez's undisputed middleweight crown. But not one of those fighters is anywhere close to Martinez in skills or pedigree, nor would any one of them stand a significantly better chance against him than his last victim, Sergei Dzinzurik.
This division has by far the widest gap between the man at the top, and as I put it above, "the rest." Nonito Donaire boasts a similar supremacy at bantamweight, but the guys beneath him are a tad more talented and capable than this lot; no offense.
Super-Middleweight (168 lbs.)
1) Andre Ward (24-0)
2) Carl Froch (28-1)
3) Mikkel Kessler (44-2)
4) Lucian Bute (29-0)
5) Glen Johnson (51-15-2)
Notes
Thankfully, the Super 6 final is matching the two best fighters in the division, as Ward and Froch face off on October 29. Though Froch suffered his first loss to Kessler, he rebounded with convincing wins over a then still respectable Arthur Abraham and the always tough Johnson. Kessler took a year off with an eye injury.
Meanwhile, the phenom that is Lucian Bute has been surging up the eye test rankings outside of the Super 6 tournament against significantly weaker competition. For that reason, I have Kessler still ahead of him. His only recent loss was to Ward in a good fight (albeit one-sided), and he came back to beat Froch. If anyone wants a more in-depth, comprehensive ranking at 168...just so happened I did one not too long ago where I more thoroughly defend my indefensible choice of Kessler over Bute.
http://bleacherreport.com/articles/787810-boxing-rankings-super-middleweight-top-10
Light Heavyweight (175 Lbs)
1) Bernard Hopkins (52-5-2)
2) Jean Pascal (26-2-1)
3) Tavoris Cloud (23-0)
4) Chad Dawson (30-1)
5) Zsolt Erdei (33-0)
6) Nathan Cleverly (22-0)
7) Ismayl Sillakh (16-0)
8) Adrian Diaconu (27-3)
9) Beibut Shumenov (12-1)
10) Gabriel Campillo (21-3)
Notes
Hopkins claimed the legitimate crown when he beat Pascal in their rematch on May 21, also becoming the oldest man to win a championship in the history of the sport. The crafty, wily Hopkins will use all his dirty tricks and his honest ones when he defends against Dawson on October 15. Dawson has all the physical tools to be great, but he shrunk in his biggest moment against Pascal last year. Chances can be scarce in this sport. Dawson has to take advantage of this one.
Cloud against Pascal is a potentially great fight that has been batted around as a possibility for late this year or early next. Cloud is a rugged puncher with a unique, patient style. Pascal is more limited but just as powerful and more experienced. A great barometer of the division.
Sillakh has the look of a special fighter. He was brilliant in a mild upset of highly touted Cuban prospect Yordanis Despaigne earlier this year. He backed that up with an easy stoppage of Hamza Wandera on the Dennis Lebedev-Roy Jones under-card. It will be very interesting to watch him develop.
Heavyweight and Cruiserweight
Heavyweights (over 200 lbs.)
1) Wladimir Klitschko (56-3)
2) Vitali Klitschko (42-2)
3) Tomasz Adamek (44-1)
4) Alexander Povetkin (21-0)
5) Chris Arreola (33-2)
6) David Haye (25-2)
7) Ruslan Chagev (27-1-1)
8) Tony Thompson (36-2)
9) Eddie Chambers (36-2)
10) Robert Helenius (15-0)
Notes
No surprises here, with the Klitschko brothers at the top and everyone else well behind. Adamek is a worthy challenger for Vitali on September 10, but the vast gulf in size and technique will probably be too much for him to overcome.
I've got Arreola a bit higher than most, but give me the big guy against any of the people behind him and I'm confident. He's a real fighter.
David Haye, for all of his blustery proclamations, laid the biggest goose egg of the year this side of Devon Alexander and Shane Mosley. But in a relatively weak division, he's still probably good enough to beat half the guys on this list. He may retire. If not, I would welcome a Haye vs. Arreola fight. Pretty boy vs. well, not exactly pretty boy.
Helenius and Povetkin are talented, undefeated fighters. I'm dubious whether either can crack the dominance of the brothers anytime soon.
Thompson is fighting Chambers on October 28, a good fight that will probably just end up serving the Klitschko brothers their next morsel. Wladimir has already beaten both. Vitali will get his turn next.
Hey, eventually these guys have to either lose or retire and a new heavyweight champion will emerge right? Anyone?
Cruiserweight (200 lbs.)
1) Steve Cunningham (24-2)
2) Marco Huck (33-1)
3) Dennis Lebedev (22-1)
4) Antonio Tarver (29-6)
5) Krzysztof Wlodarczyk (45-2-1)
Tarver spiced up the division when he went down under and snatched the IBO belt from Danny Green on a quality stoppage last month. He becomes the biggest name in an often overlooked division.
But Cunningham is the best fighter, a skilled boxer unafraid to go to war. Cunningham stopped Huck a few years ago in the 12th round of a fairly one-sided affair. Huck has since racked up a string of wins and jumped back to the front of the pecking order. Whether it's Cunningham-Huck II or Cunnigham-Tarver, there's interesting fights to be made here. Because of the low profile of the fighters, meaning low cost, this might be the division Showtime looks at for another Super 6.
Downside of cruiserweight: Roy Jones is still trying to fight here.
Keep Reading