Worst Hockey Team Names in NHL History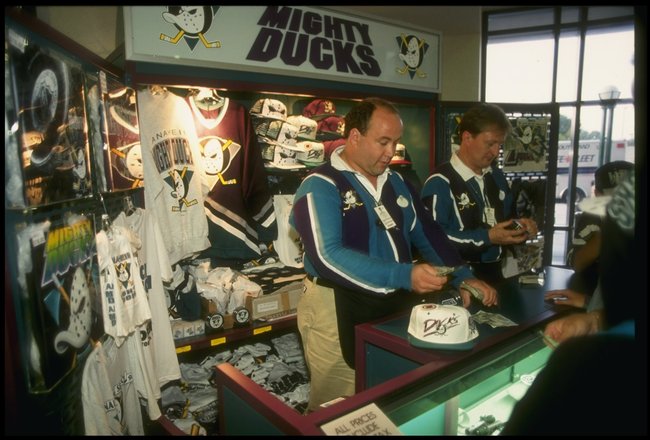 J.D. Cuban/Getty Images
With the relocation of the Atlanta Thrashers to Winnipeg, a hot topic was figuring out what the team's name would be.
After considering a few names, the franchise stuck to what had worked before and announced the team would be named the Winnipeg Jets.
This smart decision by True North stands out from a number of poor choices in hockey history.
A number of strange, inappropriate, or silly nicknames have been used for hockey teams in popular North American leagues.
No. 22: Mighty Ducks of Anaheim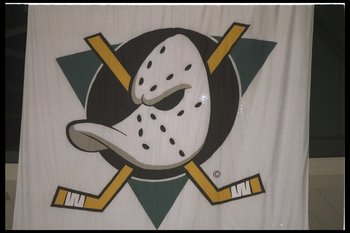 J.D. Cuban/Getty Images
The name might not seem ridiculous just yet, but in time it's going to be difficult explaining the Anaheim Ducks originally had "Mighty" in their name and shared the likeness of a children's movie.
No. 21: Kentucky Thoroughblades
This AHL team existed from 1996-2001. Two relocations later, they are now the Worcester Sharks.
The name is taken from the term "thoroughbred" which describes the breed of horses popularly used for racing.
The name is creative, but really doesn't make sense; did the team wear pure-bred ice skates?
No. 20: Quebec Nordiques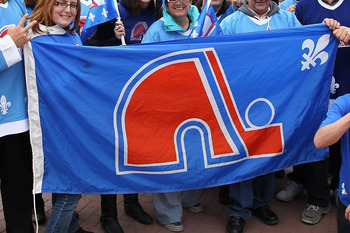 Bruce Bennett/Getty Images
For English-speakers, "Nordiques" is weird enough.
The translation doesn't help make the nickname seem any more normal; it means "Northmen."
No. 19: Philadelphia Quakers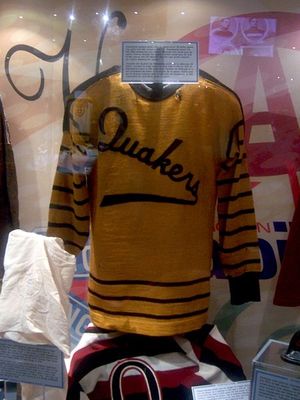 http://images.wikia.com/icehockey/images/b/bb/Philadelphia_quakers_jersey.jpg
Named after a religious community, this NHL team only played one season from 1930-31.
The name had a meaning behind it, but who really wants to cheer for a team called the "Quakers?"
No. 18: Kootenay Ice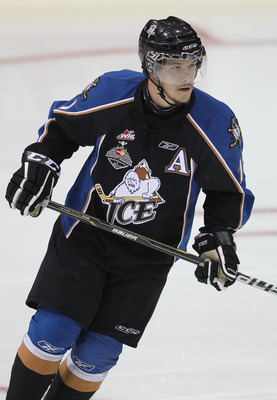 Claus Andersen/Getty Images
"Kootenay Ice" sounds a bit like a cheap alcoholic beverage. The WHL team originated in Edmonton, and founders could not come up with a more original team name than "Ice."
No. 17: Montreal Wanderers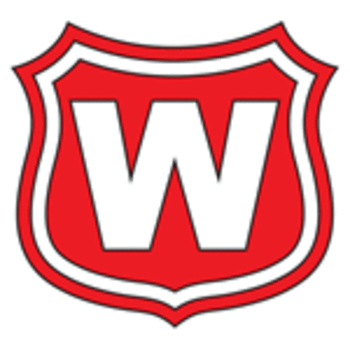 http://authentichockey.com/images/categories/MontrealWanderers_150.gif
The team only played six games in the NHL before disbanding.
Nothing exemplifies a group of men focused on winning than a name like "Wanderers."
No. 16: Danville Dashers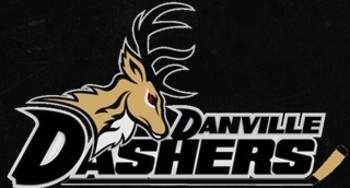 http://fhldanville.pointstreaksites.com/img/site_images/749/header.jpg
This Federal Hockey League member was named after one of Santa's reindeer.
No. 15: Everett Silvertips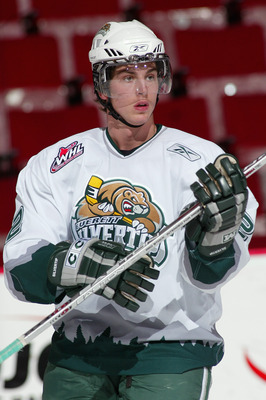 Chris Relke/Getty Images
"Silvertip" is a type of bear, but without the logo it sounds questionable for those unfamiliar with the animal.
No. 14: Quebec Citadelles
The Citadelles were an AHL hockey team that played in Quebec from 1999-2002 before merging with the Hamilton Bulldogs.
The name referred to a military landmark in the city. The logo was a goat.
A goat.
No. 13: Lewiston Maineiacs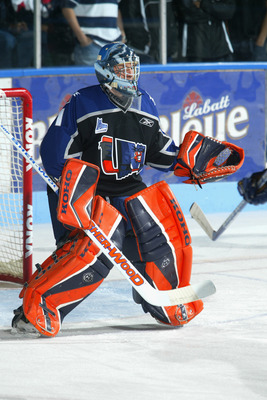 Phillip MacCallum/Getty Images
This recently-folded QMJHL team not only utilized a terrible pun, but made it obvious by re-spelling maniacs so that the team's location was included.
No. 12: California Golden Seals
The oldest roots of the Dallas Stars are not found in Minnesota, but in San Francisco.
The San Francisco Seals were a team in the Western Hockey League before being renamed the California Seals and joining the NHL. After being renamed the Oakland Seals (which is where the NHL team played), the team underwent yet another name change in 1970.
A new owner redesigned the look of the uniforms and added "Golden" to the name.
A golden seal. What?
The team would eventually move to Cleveland before finally merging with the Minnesota North Stars in 1978.
No. 11: Columbus Cottonmouths
Once a member of the Central Hockey League and East Coast Hockey League, this Columbus franchise now plays in the Southern Professional Hockey League.
Though named after a snake, the team carries an obvious and unavoidable connection to the term descriptive of a dry mouth.
No. 10: Odessa Jackalopes
This member of the North American Hockey League has a name that doesn't sound too bad until its meaning is discovered.
A "jackalope" is a mythical animal that is basically a rabbit with antlers. Scary.
No. 9: Texas Wildcatters
This ECHL team represents oil drillers who create wells in spots where oil is not expected to be found.
Oddly specific, but nevertheless an awkward name.
No. 8: Quad City Mallards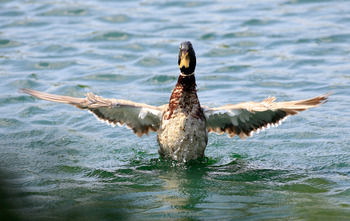 Sam Greenwood/Getty Images
Another team named after a duck, only this one doesn't flow as well as Anaheim's.
No. 7: Laval Voisins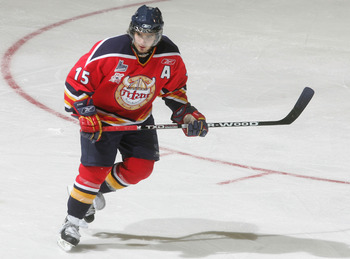 Mike Dembeck/Getty Images
QMJHL's Acadie-Bathurst Titan were called the Laval Voisins from 1979-1985.
"Voisins" means "neighbors."
No. 6: Baltimore Skipjacks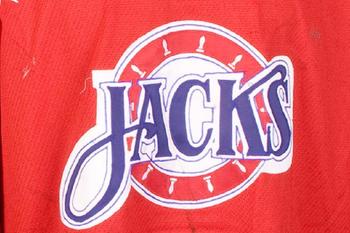 http://www.americanmemorabilia.com/pics/59179_01_lg.jpg
The Portland Pirates of the AHL were previously a Baltimore team named after nothing quite specific.
"Skipjack" could refer to either a type of fish or a type of boat.
No. 5: Hamilton Fincups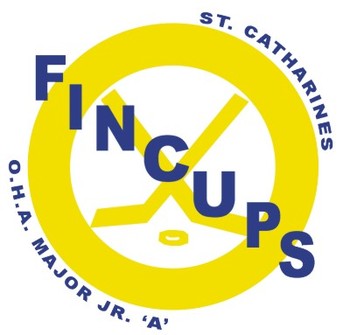 http://www.cyohockey.on.ca/history/logo_fincups.jpg
The OHL's Erie Otters went by this name in the mid-1970's.
Like the toy manufacturer Mattel, "Fincup" is a combination of names. Finochio and Cupido were the last names of the team's owners.
No. 4: Greenvile Grrrowl
This former ECHL team seriously used three "R's" in the nickname.
No. 3: Victoria Salmon Kings
The now-defunct ECHL team missed the concept that nothing about salmon is scary.
Not even their kings.
No. 2: Guelph Bitmore Mad Hatters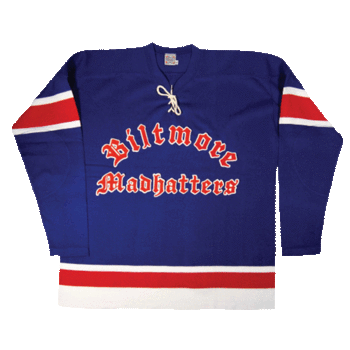 http://cdn.ebbets.com/images/uploads/MADHS-550.gif
This OHL namesake was the result of advertisement.
The Guelph-located team was sponsored by the Biltmore Hat company, but that still doesn't explain what exactly a "Mad Hatter" is.
A person mad at hats?
An angry hat?
Someone who throws hats at mad people?
Anyone have a better guess?
No. 1: Macon Whoopee
Tell the kids it was named after the Whooping crane, the pie, or the cushion that creates fart noises, but the pun obviously had another meaning.
Keep Reading