Arsenal FC: Newcastle Game Highlights the Flaws of Manager Arsene Wenger
August 13, 2011
Shaun Botterill/Getty Images
Arsenal got off to a very poor start at St. James' Park against an ordinary Newcastle United side on the opening day of the new season.
The infamous thug Joey Barton is in the news for all the wrong reasons and his role in sending Arsenal's debutant Gervinho off remains the talking point of an otherwise dull game.
Once again, the manager can criticize the referee and overlook the weaknesses of his own team but I am not going to do that here. I am leaving that for Arsene Wenger.
The manager continued where he left off last season and by the end of the game he had an exasperated look on his face.
One could be forgiven for thinking it was the back end of last season from the annoyed look on the manager's face. The last time I checked all the water bottles were safe!
This result is not surprising given the uncertainty surrounding the club involving two of their finest players. I didn't predict a win for Arsenal, but got it spot on with my prediction that Arsenal would keep a clean sheet.
Since I had watched the Benfica game, it was also easier to predict how a midfield of Alex Song- Aaron Ramsey-Tomas Rosicky would play. Against Benfica, it was awful but today it was slightly better than awful! An improvement if you ask me.
Shaun Botterill/Getty Images
What's worth a look again is the way Arsenal played. The Gunners missed Cesc Fabregas and Samir Nasri and with the potential departure of said duo, it's imperative for Arsenal to find the right replacement for Fabregas.
If Arsenal stick with the current midfield (irrespective of the return of Jack Wilshere), it's more or less certain that come May, Arsenal would find themselves out of top four.
While I am certain Wenger is working behind the scenes to find the right replacement, I am not sure the players being linked are good enough. Simply a replacement wouldn't do.
It takes a special player to replace a class act like Fabregas; if it means breaking the club's transfer record, so be it.
Wenger can't be so irresponsible and reckless for long and it's safe to say that he has failed in the summer transfer market and unless something dramatic happens in the next two weeks, Arsenal will drop out of the top four come the end of the season.
I don't want to sound negative but whether you like it or not, that's the sad reality. I know pundits predicted that fate for Arsenal for a good part of last five years, but given the improvements at the other club and Arsenal getting weaker season after season, it finally looks like the Gunners are going down marked by the departure of talismanic captain Fabregas.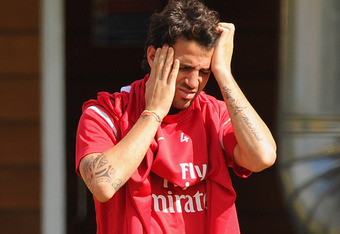 Michael Regan/Getty Images
The Merseyside Reds are the ones most likely to take Arsenal's slot in the top four after the spending spree under Kenny Dalglish.
Liverpool, though, shared the spoils with Sunderland in their opening fixture and played miles better than the Arsenal side on display at Newcastle and it mustn't be forgotten that the Reds have a very good team compared to Arsenal.
It was very much the strongest first 11 of Arsenal on display at St. James' Park and there's not a lot to come back from the treatment table except Wilshere so there's a real need to delve into the transfer market. It's a now or never situation.
It's also baffling to note that Wenger has already ruled out a move for Valencia wing wizard Juan Mata—this is a player who had been expected to join up with the Gunners this summer. I hope the Newcastle game changes his mind!
There's hardly anything positive at Arsenal now and I blame the manager for this predicament. Fabregas' departure was very much on the wall since Barca made their first bid. So it baffles me why Wenger has left it this late to sign a replacement. Still not quite sure he will buy a replacement!
If anyone is banking on Aaron Ramsey to deliver, then it must be said that on the basis of the preseason he's simply not ready to take on the mantle from Fabregas at least not yet.
Coming to Tomas Rosicky, who played as the midfield maestro against Newcastle, he's well past his prime and his performance today showed just that if you didn't know it already.
His forward passes miss the red and white shirt far too often and is poor in front of the goal with his shots nine out of ten times missing the target.
I am sure a team like Arsenal that thrive on attacking football in a fluid 4-3-3 formation would want a better playmaker than Rosicky. This position is very crucial in Arsenal's current system and need a top player to play this role.
The lack of creativity and guile underlined the need to spend big money on a creative attacking midfielder sooner rather than later. Such players don't come on a cheap. You get what you pay for, and this is one position Arsenal simply can't afford to do with a bargain-basement player.
A Mata or a Marek Hamsik has to be brought in (at least someone of that quality) if not the season is in danger of falling apart in the first month itself with challenging games against Udinese, Liverpool and Manchester United coming up in the next few weeks.
At this moment, I am not so sure about Arsenal's chances against a fast counter attacking side like Udinese who has an incredibly talented striker Antonio Di Natale leading the line.
Di Natale is one of the best finishers of his generation and with Wenger and Robin van Persie suspended Arsenal's chances look bleak. Dare I mention the consequences of failing to make it into the Champions League main.
Top class signings are the need of the hour. Wenger has to act now.
I heard him say Thomas Vermaelen is like a new signing. I can't help but think why this parsimonious manager never learns from his mistakes.
If he's banking on the likes of Emmanuel Frimpong, Alex Oxlade Chamberlain and Ryo Miyaichi to deliver then it would be better he resigned now and passed on the windfall from the sale of Fabregas and Nasri to someone who knows how to spend cash on quality players.
Because at the moment, Arsenal lack quality and bringing in quality has to be the priority, not quantity.
Arsenal need another CB as well. Today's game might convince that his defence led by new signing Vermaelen (!) doesn't need any further additions, as the back four looked very solid and Kieran Gibbs played some impressive stuff.
However, it's still early days and just an injury away from mediocrity.
And Arsenal can't afford to take any chances anymore with the defence so a quality CB must be signed before the transfer window slams shut.
Gary Cahill is the obvious choice. You get what you pay for and these days, you have to pay a bit more for the English players than what you would normally do.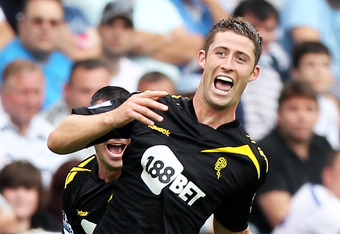 Michael Steele/Getty Images
If you want ready-made players who are accustomed to the English top tier, then you have to pay over the odds.
Once in a while when the situation demands, even the most miserly person has to give in to save his job and more importantly for the good of the club which remains the priority and at the moment I do question the priorities of Wenger as he has been contradicting himself a lot over the last two months.
While I admit that £17 million is a tad bit on the higher side, I am sure that nobody would regret the decision to meet his release clause if Wenger were to sign him.
Serious fans of football will know how well he has played in the Premier League over the last couple of seasons and was rightly rewarded with an England cap not so long ago.
To justify his price, Cahill scored an amazing goal against QPR today. He played as an additional midfielder and it goes without saying how much a player of that calibre would help Arsenal both defensively and offensively.
Cahill's scorcher against QPR today highlights his quality on the ball and I don't think anyone could question his defensive pedigree.
Arsenal also need an established creative midfielder like I said above.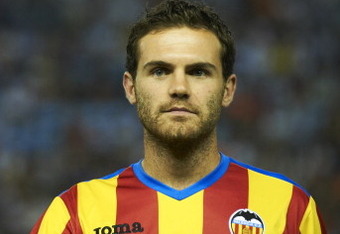 Manuel Queimadelos Alonso/Getty Images
It's a must and Arsenal should look to spend even upwards of £20m to find the right man, as this signing will decide the fate of Arsenal come May, since the position left vacant by Fabregas' departure is the heart and soul of this current Arsenal system.
Mata is valued upwards of £20m and Cahill's price is fixed at £17m. So it wouldn't take more than £40m to sign these two players and potentially a sum of £60m will be added to the already-heavy coffers of Arsenal with the imminent departure of Fabregas and Nasri.
And there shouldn't be any problem for Wenger to spend a little less than 3/4th of that sum on the aforementioned duo which would make Arsenal significantly better.
Arsenal could also target another striker just to be on the safer side because of van Persie's injury record.
It looks easier on the paper and sounds so simple but Wenger has a history of not spending on established talents and again the indications are that he's targeting players that no one has ever heard of.
This trend has to stop for once as Arsenal are about to lose two outstanding players, and you can't replace them with unknown players and expect to challenge the likes of Manchester United, Manchester City, Chelsea and Liverpool.
The first game of the new season clearly gave a picture of how pathetic Arsenal's summer has been and has also shot the warning signs as to what is in store if Arsenal lose both Fabregas and Nasri, which is just a question of when.
What Wenger can and has to do now is accept the fact that he's been wrong this summer (for that matter, the last couple of summers) and make amends by spending the cash wisely on established players rather than scouring Ukraine and Russia for obscure gems.
If not I don't think anybody would shed tears when they see the back of this great manager who once upon a time pioneered an era of cultured football to complement the sturdy nature of English football.