5 2011 NFL Offensive Rookie of the Year Contenders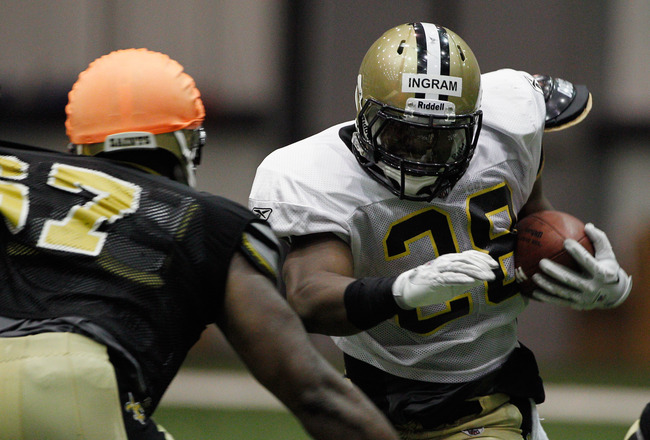 Chris Graythen/Getty Images
The 2011 NFL draft saw four quarterbacks taken in the first 12 picks including 2010 Heisman Trophy winner Cam Newton who was the first player taken.
Jake Locker, the likely No. 1 overall pick in 2010, was taken eighth by the Titans after returning to Washington for a disappointing senior campaign.
The other two quarterbacks were Blaine Gabbert (10th, Jaguars) and Christian Ponder (12th, Vikings).
AJ Green was the first receiver off the board when the Bengals selected him fourth overall, but Julio Jones didn't have to wait long because the Atlanta Falcons moved up in the first round to take him two picks later.
Like Locker, 2009 Heisman Trophy winner Mark Ingram returned for his senior season and was injured. Perhaps because of the injury, Ingram fell to the Saints who picked him 28th overall.
Don't feel too bad for Ingram, though. It could be worse than playing with Drew Brees and Co.
With the "retirement" of Carson Palmer, the Bengals selected TCU's Andy Dalton early in the second round to pair with Green in an effort to reshape the offense in Cincinnati.
All told, there were plenty of promising offensive skill players taken in the early rounds of this past draft. I didn't even mention the steal the Patriots got in Ryan Mallett with the 74th pick.
So, which ones of these talented rookies have the best shot at making some noise in the league this season and being named the 2011 NFL Offensive Rookie of the Year?
Let's start with possibly the most unlikely name out of the players I've mentioned so far.
5. Andy Dalton, Cincinnati Bengals
Noel Vasquez/Getty Images
OK, I know that upon seeing the words, "Andy Dalton, Cincinnati Bengals," the first inclination is to write this slide (and the entire article) off as a complete joke.
However, hear me out on this one.
Given, Dalton looked absolutely pathetic in the Bengals' preseason game against the Lions. I will also concede the fact that he's the only player on this list taken outside of the first round and that better quarterbacks were left off this list.
So, why does Andy Dalton make the list when guys like Blaine Gabbert, Jake Locker and Christian Ponder get snubbed?
It's simple, really. Andy Dalton is the outright starter in Cincinnati while the other quarterbacks are solidly in a backup role on their respective teams. Therefore, Dalton will have more of an opportunity to either succeed or fail than the others.
It's going to be hard for Jake Locker to win any awards this season sitting behind Matt Hasselbeck or for Ponder to do so while wearing a headset in Minnesota.
Let's not forget that the Bengals do have Cedric Benson, Jermaine Gresham, Jordan Shipley and fellow rookie AJ Green. It's not like they completely lack talent at all of the offensive skill positions.
Let's also remember that the game versus the Lions was Dalton's first taste of NFL football and that the Lions defense is pretty good.
People might underestimate Andy Dalton, but that's probably nothing new for the former TCU Horned Frog.
4. Cam Newton, Carolina Panthers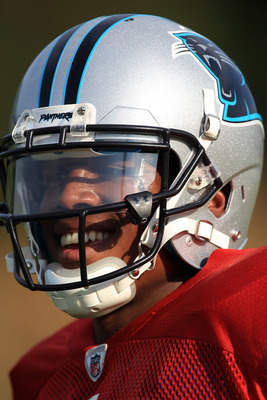 Streeter Lecka/Getty Images
Yes, Cam Newton was selected first overall in the 2011 NFL draft.
Yes, he is probably the most athletic quarterback in this year's rookie class.
So, why is he just fourth on this list?
The simple answer is because I'm not completely sold on him and because Jimmy Clausen is still listed as the starting quarterback for the Panthers.
Having said that, Newton will likely see more action than the other quarterbacks taken in the first round because of the lack of an established veteran starter in Carolina.
If Clausen struggles (which he will) and the Panthers find it hard to win games (which they will), they will have a very quick trigger finger when it comes to giving Newton his shot.
That's what the fans want anyway.
Cam comes in slightly ahead of Dalton because he has better weapons around him such as Steve Smith, Greg Olsen, Jeremy Shockey, DeAngelo Williams and Jonathan Stewart.
3. AJ Green, Cincinnati Bengals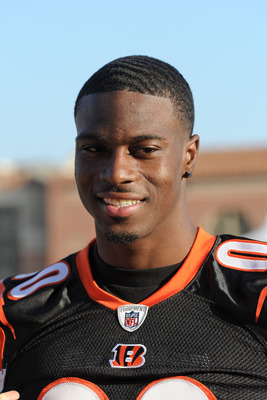 Noel Vasquez/Getty Images
By all accounts, AJ Green has everything you're looking for in a receiver.
He has good size at 6'4" and 211 pounds. He also ran the 40-yard dash in a respectable 4.48 seconds. On top of that, he catches everything thrown his way.
I read reports of him wowing teammates, coaches and spectators during the Bengals' first few days of training camp.
He and quarterback Andy Dalton seem to be building a rapport with one another, and quarterbacks coach James Urban used the term "wow factor" when speaking about Green.
He's even impressed All-Pro cornerback Leon Hall.
The Bengals' top corner commented that Cincinnati hadn't "had many come in here as talented as he is."
That's coming from a guy who went up against guys like Ochocinco and T.O. every day in practice.
So far Green is showing why many NFL analysts dubbed him the most NFL-ready wideout in this year's class.
Green might be sitting on top of this list if he were on a team with an established veteran signal caller. In a very real way, Green and Dalton's success or failure this season will depend on one another.
2. Mark Ingram, New Orleans Saints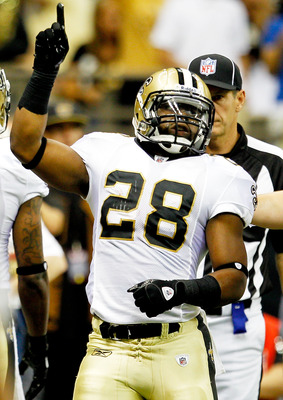 Sean Gardner/Getty Images
Unlike Andy Dalton, AJ Green and Cam Newton, Mark Ingram will not have to carry a huge load in New Orleans.
The Saints already have an offensive system in place, a franchise quarterback, accomplished receivers and three established rushers in the backfield.
However, even with Ivory, Thomas and Sproles ahead of him on the depth chart, Ingram still has a good chance at seeing his share of playing time.
Chris Ivory led the team in carries with just 137 in 2010.
Pierre Thomas was second on the team with 83 carries, and he has never started more than six games in a season.
Darren Sproles started just three games for San Diego last season and had just 50 carries and no touchdowns last season.
The bottom line is that none of the guys in front of him have proven they can withstand the wears and tears of an NFL season.
The Saints have also shown that they are willing to employ the "running back by committee" approach in the running game.
This leads one to believe Ingram will be given a chance to prove he can be an important part of the Saints offense, especially if Thomas, Ivory or Sproles goes down.
Waiting to come out another year might have been the best choice Mark Ingram has ever made.
Now it's Cam Newton who is the prized Heisman Trophy-winning high draft pick with all the pressure on him to carry a franchise.
1. Julio Jones, Atlanta Falcons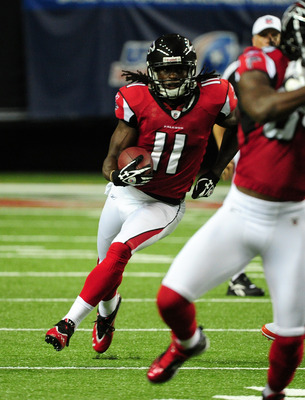 Scott Cunningham/Getty Images
The Falcons traded up in the draft to get their man. They needed someone to play opposite of Roddy White, and Julio Jones was that someone.
Jones is 6'3" and weighs in at 223. That is 12 pounds heavier than AJ Green, but he recorded a slightly faster time in the 40-yard dash (4.43).
He has great hands and has the ability to rack up the YAC (yards after catch).
Jones should find himself free underneath a lot since opposing defenses will be honed in on White and Tony Gonzalez. However, he also has the ability to stretch the field himself.
He also has the advantage of being on the receiving end of passes from Matt Ryan. This gives him a distinct edge over Green when it comes to the numbers he might be able to put up in 2011.
I almost forgot to mention Michael Turner. Defenses have to account for him as well.
The bottom like is that the Falcons are going to be loaded when it comes to offensive weapons.
Since Gonzalez, White and Turner are all proven threats, Jones will have the luxury of facing single coverage more times than not.
He's in the best position out of all of the top offensive rookies, and he has the best chance to have a positive impact in his first year
That's why he is my pick for the most likely to be named the NFL Offensive Rookie of the Year this season.
The Best of the Rest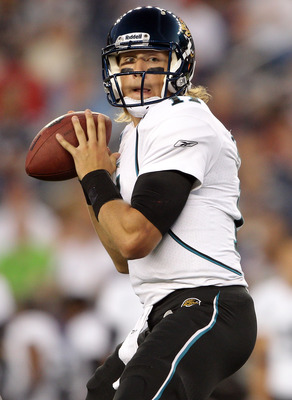 Elsa/Getty Images
Quarterbacks Jake Locker, Blaine Gabbert and Christian Ponder missed making the list because they will probably all be used in a backup role in 2011. Out of the three, Gabbert has the best chance of seeing the most snaps in 2011.
Jonathan Baldwin of the Chiefs will be a solid option for Kansas City in the future, but he is solidly behind Dwayne Bowe, Jamaal Charles and possibly Steve Breaston when it comes to touches in 2011.
Colin Kaepernick will start the season behind Alex Smith in San Fransisco. Even if he does eventually become the starter for the 49ers in 2011, I have serious doubts as to how effective he can be.
I really like Mikel Leshoure, but he'll have to sit out 2011 with a torn Achilles tendon.
Keep Reading