NBA Trade Speculation: Unlikely Landing Destination for Top Rumored Players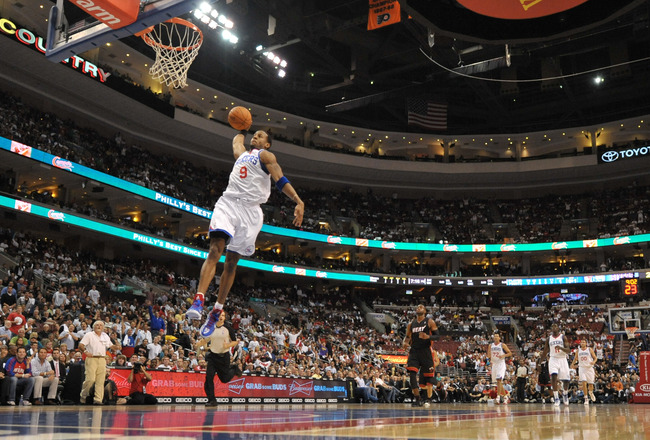 Drew Hallowell/Getty Images
Big names like Dwight Howard, Chris Paul, Andre Iguodala and Josh Smith could be on the move this offseason, assuming the NBA lockout comes to an end before the start of the 2011-12 regular season (and I know that's a bold assumption).
Each one of these players has been linked to several trade rumors over the last few months. Every once in a while, it's fun to stray from the rumors that have been reported and speculate about some more unlikely scenarios.
Here are some highly unlikely deals that would still result in great fits for the top rumored trade targets...
Andy Bailey is on Twitter. Follow @_Andy_Bailey
Dwight Howard: Miami Heat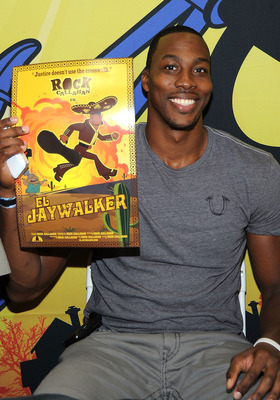 Frazer Harrison/Getty Images
Miami Gets: Dwight Howard
Orlando Gets: LeBron James
I've actually been talking about this scenario ever since Jeff Van Gundy suggested it right after Miami lost to Dallas in the finals.
It's unlikely because I don't think Pat Riley will seriously entertain any notion of moving LeBron James (who even those with anti-LeBron sentiments have to admit is the world's most talented player).
That said, Howard may actually be a better fit for the Heat than LeBron. Dwyane Wade and Dwight Howard would complement each other much better than Wade and LeBron do. Their styles are more compatible.
A frontcourt of Howard and Bosh would be unstoppable, and LeBron's absence would create an opening for a shooter like James Jones or Mike Miller in the starting lineup (the outside shooting of either would create more space around the rim for Howard and Wade).
Of course, Miami would be losing their defensive leader but acquiring the three-time Defensive Player of the Year might actually make them better on that end.
Chris Paul: Charlotte Bobcats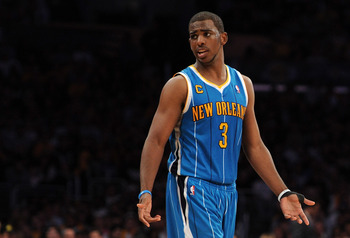 Harry How/Getty Images
Andre Iguodala: Oklahoma City Thunder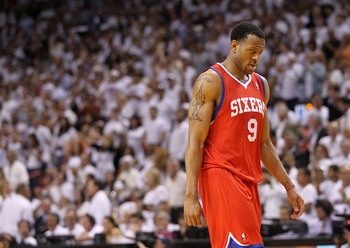 Mike Ehrmann/Getty Images
Oklahoma City Gets: Andre Iguodala
Philadelphia Gets: Kendrick Perkins, Nate Robinson, Thabo Sefolosha and draft picks
Philadelphia is said to be interested in acquiring some size from whoever they end up dealing Iguodala to. If Chris Kaman is healthy, Los Angeles has a great shot at landing him (and either that or Golden State is the best fit).
I think Oklahoma City should consider going after Iguodala as well. Kendrick Perkins is the most overrated player in the league, but he still has value around the NBA (blows my mind, but it's true).
Sefolosha would replace a little bit of what Iguodala does defensively, and Nate Robinson is what he always is—a wild card.
As for Iguodala in Oklahoma City, he'd be a great fit there. Russell Westbrook is listed as a point guard, but clearly has the mentality of a shooting guard. Plugging a shooting guard who is more of a point forward into the lineup would help solve the Westbrook problem.
Iguodala doesn't care about scoring a ton of points. He's a great passer and is willing to do whatever his team needs to get wins.
His defense would be a step up from Sefolosha's as well.
Oklahoma City could go with Westbrook, Iguodala, Kevin Durant, Serge Ibaka and Nick Collison as their starting lineup and be serious contenders for a Western Conference championship.
Josh Smith: Los Angeles Clippers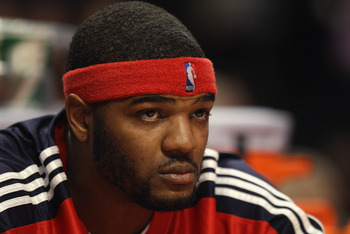 Jonathan Daniel/Getty Images
Los Angeles Gets: Josh Smith
Atlanta Gets: Chris Kaman and Al-Farouq Aminu
In order to be able to slide Al Horford over to his natural power forward position, Atlanta has been looking for a true center for a while. Chris Kaman is a seven-footer who was an All-Star just two seasons ago.
Smith would make one of the league's most exciting teams even more dynamic. Obviously, he'd be a significant upgrade over their current situation at small forward. He would improve the team's defense, rebounding and versatility (with his ability to play both forward positions).
Plus, the punishment rims would take from Smith; Blake Griffin and DeAndre Jordan would be immense.
Monta Ellis: Orlando Magic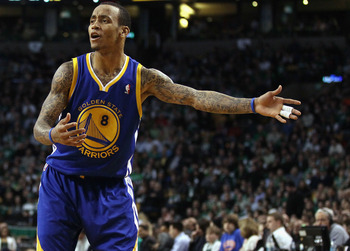 Elsa/Getty Images
Orlando Gets: Monta Ellis, Andris Biedrins, Ekpe Udoh, Klay Thompson, Jeremy Tyler and draft picks
Golden State Gets: Dwight Howard and J.J. Redick
This deal's actually a lot cooler on Golden State's end. It would yield a sweet point guard/center duo. Stephen Curry is on the verge of superstardom, and Howard is obviously already there. A starting five of Curry, Redick, Dorrell Wright, David Lee and Howard would be very scary.
Jonathan Givony of DraftExpress reported that a deal very similar to this has already been offered. Apparently, Orlando turned that down. Perhaps, sweetening the deal with Klay Thompson and Jeremy Tyler would help.
More on the NBA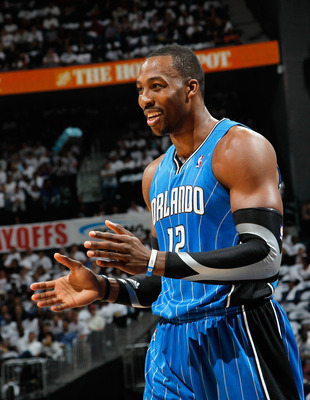 Kevin C. Cox/Getty Images
Keep Reading