Miami Dolphins: The Good, the Bad, and the Ugly from Victory over Atlanta
August 13, 2011
Scott Cunningham/Getty Images
The Miami Dolphins may have defeated the Atlanta Falcons 28-23 on Friday night, but that is far from the most important thing to take away.
I do not get too excited or too down over a preseason game, but I always look for players who stick out at me.
First, let's take a look at some of the good from Friday's game.
WR/KR Phillip Livas
It may be just one preseason game, but Livas made a strong case to try and make this team as a return specialist with his exciting 75 yard punt return for a touchdown.
At just 5'7", his size makes it very unlikely he could hold up in the NFL. He probably cannot contribute anything as a wide receiver either so he really needs to impress in order to have a roster spot held, just for a return man.
However, I look forward to seeing him return kicks over the next few weeks.
MLB A.J. Edds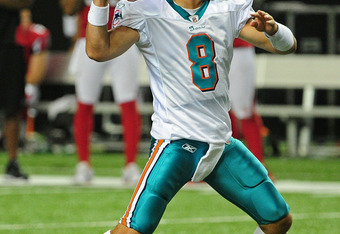 Scott Cunningham/Getty Images
Karlos Dansby and Kevin Burnett have the starting MLB positions locked down, but it is a relief to know that the Dolphins appear to have some depth behind them.
Edds finished with seven total tackles and a sack. He also looked strong in coverage.
CB Jimmy Wilson
I talked about being excited to watch Wilson in my last article and he did not disappoint. He finished with five tackles, a sack, and a forced fumble.
The key for me going forward is to see Wilson go up against better competition. The Falcons second team offense did not look very good, so it is important to see if Wilson can have the same contributions against first-stringers.
Quarterback Matt Moore, Wide Receiver Clyde Gates, and Wide Receiver Roberto Wallace
These three guys showed some surprising flashes. However, I do want to see them play against better competition before I get too excited about them.
It is difficult to get good reads on QBs and WRs in just one preseason game, but I am going to keep an eye on these guys for the rest of camp.

Now the bad...
Quarterback Chad Henne
I did not want to do this, but he is on here for his second INT. His first INT was thrown a little behind, but Fasano should have caught that ball. The second INT was a bad stare down of the WR.
The good news is that staring down a WR is something that can be fixed. However, Henne put himself firmly on the hot seat with his performance.
The First Team Pass Rush
There was no Jason Taylor, but the Dolphins pass rush was non-existent against Matt Ryan.
In the preseason, it is mostly just one-on-one play and the Dolphins pass rushers could not get off blocks. That is a concern that hopefully improves over the next three preseason games.
And the ugly...
The Offensive Line
The pass protection was decent but the run blocking was horrible. Nothing has improved from 2010 in which the Dolphins run blocking was a train wreck.
Yes there was no Jake Long, but Long does not play guard and that is where the biggest concerns lie.
I think the Dolphins will be bringing in some linemen to look at to try and improve this unit.
Tight End Anthony Fasano
I have bashed this guy a lot and he did nothing on Friday to try and change my mind.
He has stone hands and he cannot block.
I wanted the Dolphins to get Zach Miller, but his contract he got from Seattle was too expensive. Now, the Dolphins are stuck with the TEs they have. Look for rookie Charles Clay to possibly get more looks at TE now.
There is nothing settled from just one preseason game, but now we know what to be watching going forward: re-evaluating the QB depth chart, the OL mess, what to do at the TE position, and can the young guys continue to shine?