Arsenal FC: 15 Bold Predictions for Arsene Wenger's Team This Season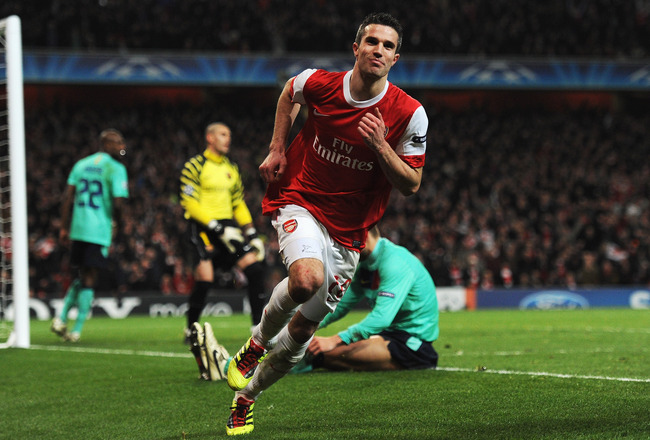 Jasper Juinen/Getty Images
It's here. The season is officially upon us, and we're in for an exciting nine months of football.
Expectation, worry, and criticism have all been apparent in the offseason, but for Arsenal, it's been mostly criticism. This is due to their lack of activity in the transfer market, as rather than strengthening the squad Arsenal have seemed to focus just on keeping key players Cesc Fabregas and Samir Nasri at the Emirates.
The Gunners have made two major transfers in Gervinho and Alex Oxlade-Chamberlain. Although these moves added more depth to the attack, fans of the North London outfit wanted Arsene Wenger to strengthen the defense rather than the attack.
Criticism of Arsenal has also come because of some unsatisfactory preseason results. However, the Gunners have showed that when they have their best players in, they can play at a perfect tempo, and usually score a goal or two.
I think Arsenal will do a lot better than people expect them to this season, as they usually thrive as the underdogs. Here are 15 bold predictions for the Gunners in their 2011-12 campaign.
Laurent Koscielny Will Start to Shape Up as a Reliable Centreback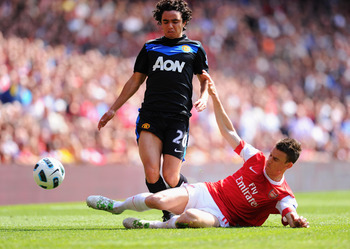 Mike Hewitt/Getty Images
Last summer, Laurent Koscielny was supposed to be the answer to Arsenal's centreback problem. But here we are, a year later, with the same exact problem.
However, Arsenal's centreback situation might not be as bad as many think it is. Sure, I agree that we do desperately need a strong presence in the back line to accompany Thomas Vermaelen, but in the preseason Koscielny has shown that he's looking to become that presence.
The Frenchman has showed that at his best he can be a master of anticipation, and has intercepted a number of dangerous through balls, including the infamous ones of Juan Riquelme in Arsenal's friendly against Boca Juniors.
Koscielny rose to the occasion in Arsenal's 1-0 win over Manchester United last season, and was arguably the Gunners' best performer in that particular fixture. If he can consistently perform like that, week in and week out, then Koscielny could start to shape up as a reliable centreback for Arsenal, and a good signing by Wenger.
Aaron Ramsey Will Win the PFA Young Player of the Year Award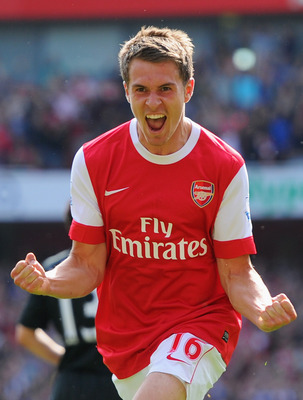 Mike Hewitt/Getty Images
Aaron Ramsey picked up right where he left off after returning from injury, and in one of his first matches back in the squad he scored the winner against Manchester United.
The Welshman has been one of Arsenal's best performers this preseason, with two goals and an assist to his name. His pass to Theo Walcott in the Gunners' friendly against Malaysia XI was brilliant, and really showed his ability to control a match with his superb vision of the pitch.
Ramsey has also proved himself as one of the few Arsenal players willing to take a shot from a distance, as displayed in his goal against Boca Juniors. Not only is he not afraid to shoot from outside of the 18-yard box, but he's also quite good at it, and has a surprisingly strong, accurate shot.
He may not be able to replace Cesc Fabregas just yet, as his performances can vary from being the hub of the midfield to lacking any creative spark. However, he has the potential to replace the Arsenal skipper, and over time can develop into his successor.
My prediction is that Ramsey will be the next Jack Wilshere. He'll have a lot of pressure on his shoulders to be one of Arsenal's main playmakers, but I think 2011-12 will be Ramsey's breakout season, resulting in him winning the PFA Young Player of the Year award.
The Wilshere-Ramsey Partnership Will Step Up in the Absence of Fabregas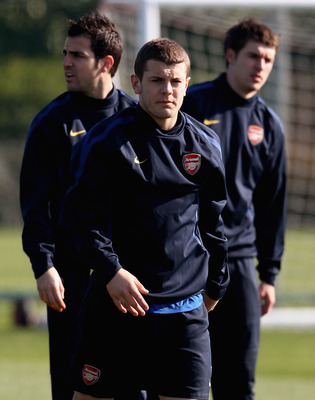 Scott Heavey/Getty Images
This prediction goes hand in hand with the previous one.
Because of the inevitable transfer of Cesc Fabregas to Barcelona, Arsenal will be looking to fill the void that the Spaniard's departure will surely create in the midfield. Wenger will have his best scouts searching high and low in Europe for a replacement for Cesc, but he may have his long-term replacements for the skipper right in North London, and he knows it.
Aaron Ramsey and Jack Wilshere are two of the best young prospects in Britain, and it's strange that the two players are so good at the young ages of 19 and 20. The partnership of this playmaking pair has been anticipated for a long time by Arsenal fans, and the departure of Fabregas may give them a chance to shine.
I predict that Wilshere and Ramsey will prove that they truly are the future of Arsenal, and the two will step up in the absence of the Spanish playmaker.
Theo Walcott Will Score 15+ Goals in All Competitions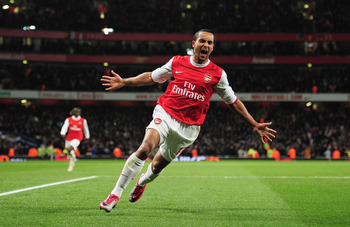 Shaun Botterill/Getty Images
In Arsenal's 2010-11 campaign, Theo Walcott had by far the best season of his career. He received tons of praise for his gameplay, with Lionel Messi describing him as "one of the most dangerous players I have ever played against."
Scoring 13 goals in all competitions, Walcott's pace is his main asset as he attacks open pace, beating the offside trap and often scoring. These attributes resulted in the English international netting 13 goals in all competitions, including decisive strikes against Chelsea and Tottenham.
Many are doubting that Walcott can perform at his best without Nasri and/or Fabregas in midfield, and it's true that at times he relies on them, especially Fabregas. But with Arsenal in the market for a new creative midfielder, as well as Wilshere and Ramsey capable of providing Walcott with ammunition, the former Southampton striker should be just fine.
If Walcott can capitalize on his blistering pace even more, then he'll surely score more than 15 goals this season, and could become a key player in Arsenal's bid for silverware.
Carling Cup Matches Will See Miyaichi and Chamberlain Develop into Wing Wizards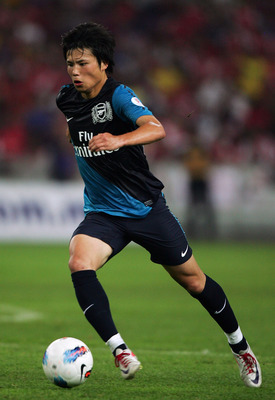 Stanley Chou/Getty Images
Last week was a big one for Arsenal's youth development, as Wenger signed winger Alex Oxlade-Chamberlain from Southampton shortly after gaining a work permit for January signing Ryo Miyaichi.
Ryo Miyaichi's loan spell to Feyenoord was hugely successful as he was instantly the Dutch outfit's best player. He proved his blistering pace and dribbling abilities, even being dubbed as the "Japanese Ronaldo."
At only 18 years old Miyaichi was a classic Arsene Wenger transfer, and his preseason performances have shown that he can be a promising prospect for the future. He often dribbles opposing defenders with ease, making Arsenal fans excited to see him in action in a competitive match.
Alex Oxlade-Chamberlain is also a classic Wenger transfer, at the even younger age of 17. He's drawn comparisons to current Arsenal player Theo Walcott, as both have traveled through the same path in their football careers. The two also have similar playing styles, as they both rely on pace as their main asset.
Miyaichi and Chamberlain are sure to see some playing time in FA Cup and Carling Cup matches, and I think that the two will develop into some of Arsenal's best young prodigious wingers.
Kieran Gibbs Will Get Injured and Arsenal Will Have a Midseason Left-Back Crisis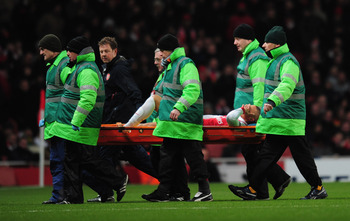 Shaun Botterill/Getty Images
Since the departure of Gael Clichy, it's been surprising how uninterested Arsene Wenger is in signing a new left-back, as he seems to be content with young Kieran Gibbs.
Plenty of Arsenal fans, including myself, have a problem with Gibbs playing an entire Premiership season, especially because the youngster tends to get himself injured quite a bit. If he's injured, all Arsenal have is Armand Traore, who seems to be decent when attacking but his defending is shaky.
And really, it's the same deal with Kieran Gibbs. Although the young English international looked solid against Newcastle, he won't be able to produce that defensive display week in week out. However, that's not to say he won't develop into a world-class left-back for Arsenal. Remember, both Clichy and Cole started in the squad at young ages and went on to become vital members of the Arsenal defense, so I think Gibbs will follow that same path.
But for now, Gibbs is very injury prone and I'd bet on the fact that he'll get injured this season. Providing this happens, Arsenal will have yet another crisis, this time concerning the left-back position. Let's just hope Wenger uses the January transfer window to fix it this time.
Gervinho Will Take the Premiership by the Horns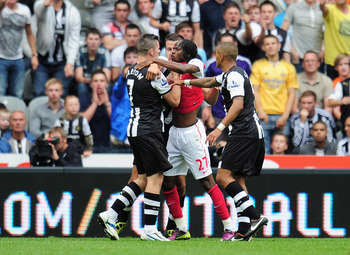 Shaun Botterill/Getty Images
For just £10.5 million, Gervinho is proving himself to be a brilliant signing by Arsene Wenger. Forget about the red card on his Premier League debut, none of that would've happened if Joey Barton just minded his own business and wasn't such a hypocrite.
But think about Gervinho before his sending off. His runs up the wing were perfectly timed, and although they usually resulted in a poorly placed cross, the Ivorian still looked very dangerous on his debut, adding an edge to Arsenal's attacks.
Once he's back from suspension, Gervinho is sure to terrorize Premier League defenders with his pace and dribbling. My prediction is that he'll rack up more than 10 assists and goals, becoming one of the signings of the summer.
Fabregas' Departure Will Let Someone Else Shine as an Excellent Captain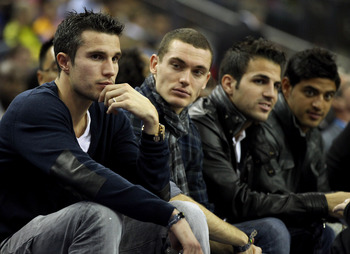 Bryn Lennon/Getty Images
Although Fabregas is one of the best playmakers in the world, he isn't (or wasn't) the best captain at Arsenal. Apparently he leads with his actions rather than words, but the Gunners clearly need a presence in midfield with a never-say-die attitude to "rally the troops"; a captain who really wants to be there.
With the inevitable departure of Fabregas, it's looking like Robin van Persie will be the wearer of the armband this season. But in my opinion, Wenger should try playing Vermaelen as captain once or twice. He's got the right mentality to keep the squad fighting until the final whistle, and at centreback he's perfect for keeping Arsenal's shaky backline motivated.
Another captain nomination is the centreback that Wenger is likely to sign. Whether it's Chris Samba, Gary Cahill, or Phil Jagielka, all of the defenders Wenger has his eye on are solid leaders.
All in all, one of the few pros of Fabregas' transfer is that a new leader can rise at the Emirates, and whether it's van Persie, Vermaelen, or Samba/Cahill/Jagielka, it'll mean a better mentality will be instilled in the North London outfit.
Alex Song Will Be in the PFA Team of the Year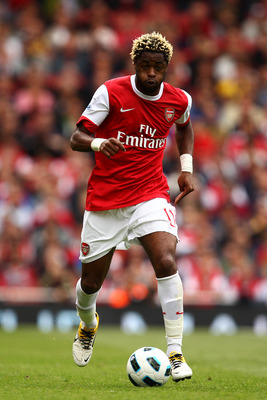 Richard Heathcote/Getty Images
This prediction is one of the bolder ones on this list, but I strongly believe that Alex Song has what it takes to get this personal achievement.
Although Song plays as a defensive midfielder, he likes to keep his passes positive, and usually those passes are successful. Against Newcastle, he sent a superb through ball to Robin van Persie, a pass which had just enough pace to get past Coloccini, but not too much so that it went straight to the keeper. In the end, van Persie couldn't reach the ball, but the commentator noted that the pass was perfect and van Persie didn't fully commit to his run.
Out of Arsenal's central midfield trio, Alex Song is the spine, and he does his job brilliantly. His tackles can either stop opposing counter attacks or spark new ones, and his ability to quickly switch from being a defensive midfielder to a more attacking one is a valuable asset to the squad.
Alex Song is arguably Arsenal's most improved player, and at the end of the season I think his development will be rewarded with a spot in the PFA Team of the Year.
Robin Van Persie Will Score 25+ Goals in All Competitions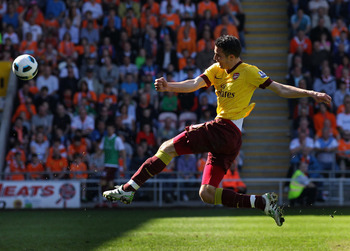 Alex Livesey/Getty Images
At first, this prediction may seem pretty bold. But the more you think about it, the more you'll realize that it's one of the least bold predictions on this list.
In Arsenal's 2010-11 campaign, Robin van Persie missed out for the first half of the season due to injury, something that he's fairly familiar with by now. But in the second half of the season, van Persie netted 22 goals in all competitions, with 18 league goals in 17 appearances.
In the Premier League Golden Boot race, he came from behind to end up scoring more goals than Andy Carroll, Peter Odemwingie, and Darren Bent. So if van Persie could manage 22 goals in half a season, just imagine what he could do in a full season.
But unfortunately, the Dutchman has a habit of getting himself injured quite a bit, and it's likely that he'll get injured again at some point this season. However, I've got a feeling that van Persie's proneness to injury could be getting better.
Every time he's gotten a minor injury in a match since his return, he was able to shake it off within a week, which is something van Persie wasn't able to do before. He's going to be hitting his peak soon, so with that could come "the Flying Dutchman" finally putting himself up there with the other world-class strikers of the world without his form being disrupted by injury.
I predict that if van Persie can stay fit for most of the season, he'll easily be able to notch up over 25 goals in all competitions.
Arsenal Will Beat Every Other Top-Six Club at the Emirates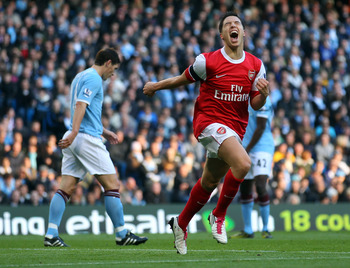 Clive Rose/Getty Images
Last season, Arsenal beat a handful of world-class clubs at Emirates Stadium, which surprised many. Not to mention the Barcelona victory, but in the league the Gunners took down Chelsea with a 3-1 battering as well as Manchester United in an impressive 1-0 win.
But the lower half of the top six was where Arsenal failed to impress at the Emirates. After dominating the entire match, Arsenal was held to a 0-0 draw against Manchester City, who decided to "park the bus" and settle for a point. The Gunners' embarrassing 3-2 loss to Tottenham earlier in the season was also a match in which they failed to win, and against Liverpool Arsenal could only manage a last-minute 1-1 draw.
But this season, I predict Arsenal will gain the maximum amount of points from all of these clubs in home matches. If they can beat the big boys, Chelsea and United, then they have what it takes to beat the other three, starting with Liverpool this Saturday. For some reason, Arsenal just rose to the occasion in matches against other powerhouse clubs this season, but it was the bottom-half clubs that they couldn't grab many points from.
The Emirates might not be Anfield or the Britannia, but I predict the Gunners can pull off home wins against their top six rivals in 2011-12.
Arsenal's Wing Depth Will Bolster Their Title Bid, but They Won't Win the EPL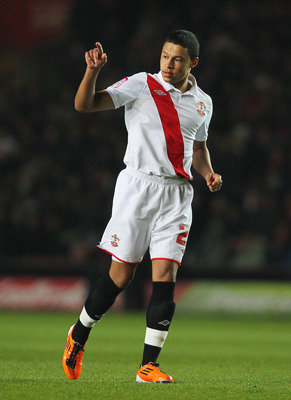 Clive Rose/Getty Images
After bringing in Gervinho, Oxlade-Chamberlain, and gaining a work permit for Miyaichi, Arsenal now have plenty of depth in terms of wingers. Theo Walcott and Andrei Arshavin are already excellent wingers in the squad, while Chamakh and Nasri can also play in a wide role if needed.
But while Arsenal have newfound depth on the wings, they still lack depth in defense and central midfield. Arsene Wenger is still likely to bring in a centreback, which should patch the back line up, but after Cesc Fabregas' departure it'll be hard to replace the Spaniard's creativity in central midfield. I'm assuming Wenger will bring in a new midfielder in Hazard or Mata, but just one of those still doesn't add that much depth to a central midfield with a hole created by Fabregas.
My prediction is that Arsenal's wing depth will help them provide a much stronger title bid than people expect, but in the end they won't be able to win the title.
Arsenal Will Get Knocked out of the UCL in the Semifinals by the Eventual Winner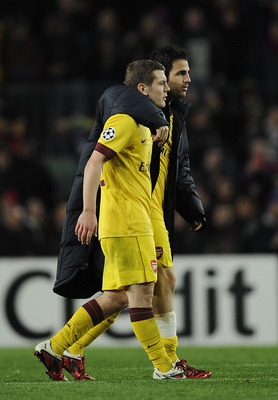 David Ramos/Getty Images
For the past two seasons, Arsenal were knocked out of the Champions League by the best football club in the world: Barcelona. Both times the Gunners were beaten by the Catalans in early stages of the tournament; in 2010 it was the quarterfinal and in 2011 it was the round of 16.
So Arsenal fans begin to think: what if? What if for once Arsenal didn't get unlucky by getting an almost impossible draw twice in a row, and actually progressed to a respectable stage in the tournament?
I predict the Gunners will get a break this season, and will draw to a club that's not a favourite to win the tournament, but at the same time not a club that's completely a walk in the park. I'm talking about a team like Shakhtar Donetsk, or Borussia Dortmund; a team that will provide a challenge for Arsenal but won't knock them out.
In the end, my prediction is that Arsenal will reach the semifinal and draw to a club that will ultimately go on to win the Champions League—realistically, that club will be Barcelona.
Yes, that means it'll be the third time in a row Arsenal get knocked out by Barca, but at least this time they'll get a good cup run before exiting the tournament.
Contrary to Everyone's Belief, Arsenal Will Finish in the Top Four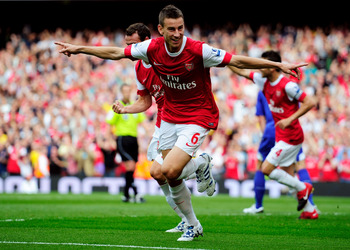 Jamie McDonald/Getty Images
Arsenal have been a consistent top-four finisher for 15 years, and it's ridiculous that people think that's about to change just because Fabregas left and Liverpool bought a couple of expensive players.
Arsenal thrive as the underdogs, just like they did against Barcelona, just like they did against Manchester United, and just like they did when they went undefeated after everyone laughed at Wenger for saying he would do so.
Arsenal have the quality to launch a strong title bid, one which should secure them a top-four finish and Champions League football for a 17th consecutive season.
Anyone who's writing off Arsenal is making a mistake. Arsenal will continue to be a powerhouse in English football for a long time, and will surprise everyone this season by overachieving.
Arsenal Will Win the FA Cup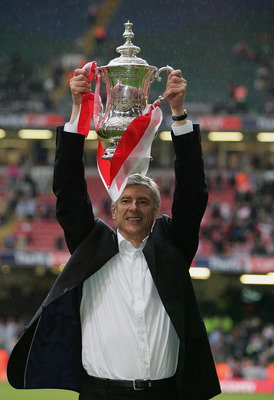 Ross Kinnaird/Getty Images
This is the big one.
Yes, I predict Arsenal will finally end their trophy drought with an FA Cup victory. It's bold, but the FA Cup is a trophy that the Gunners can realistically win. Many top English clubs aren't taking it as seriously anymore, using it as a place to help youngsters break into the first team, but with Arsenal desperate for silverware they've got a very good chance.
But in order to win it, Arsene Wenger has to field his best squad every FA Cup match. Last season the Gunners often drew against lower league clubs in the cup because Wenger fielded reserve players, leading to replays, which ultimately meant that Arsenal suffered from fixture congestion. They ended up playing way too many matches then they should've been in the winter months, so Arsenal suffered from fatigue and injury.
If Arsenal can take this competition seriously and play the best players available, then the Gunners may finally end their trophy drought and make their fans proud.
Keep Reading

Arsenal: Like this team?