Washington Redskins: Jim Haslett's Fire Zone Schemes Taking Shape
August 13, 2011
Larry French/Getty Images
Jim Haslett's revamped 3-4 defense helped the Washington Redskins overcome the Pittsburgh Steelers, 16-7.
The opening preseason game offered an interesting examination of how close Haslett is to helping the Redskins emulate the Steelers model of defense. Particularly, how well Haslett's group can execute his package of fire zone blitzes.
The early signs are encouraging as the new-look unit stifled the Pittsburgh offense and swarmed in for three sacks. 
Haslett's crew has undergone a significant overhaul this offseason. Finding more suitable pieces for the 3-4 scheme has been a priority.
The new faces made a positive first impression. Top draft pick Ryan Kerrigan looked decent in his first foray at outside linebacker. The former Purdue standout had an early tackle for loss.
Second-round pick Jarvis Jenkins was stout and solid after replacing Adam Carriker. Jenkins and Carriker could be ticketed for one of the Redskins' more intriguing positional battles in preseason.
Free agent linemen Barry Cofield and Stephen Bowen performed their functions expertly and the line already appears much stronger than last season.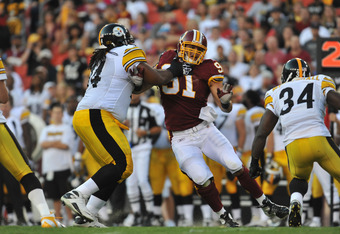 Larry French/Getty Images
Bowen demonstrated his pass rush prowess when he dropped Byron Leftwich for a 10-yard sack in the first period.
But Haslett's fire zone calls provide the most encouragement.  Cornerback Kevin Barnes' first quarter takedown of Ben Roethlisberger is a prime example of how Haslett's schemes are maturing.
The Redskins aligned in a 3-2-6 nickel front. London Fletcher charged through the middle as the sacrificial blitzer. Barnes looped around from the slot position and notched the sack.
Later in the game, fifth-round rookie Dejon Gomes came on a safety blitz and felled Steelers third-stringer Dennis Dixon. The play revealed Haslett's greater degree of confidence in calling these kinds of zone pressures in the Redskins' second year running the 3-4.
The Redskins still have a lot to do improve on last season's 31st defensive ranking. But their impressive showing against the Steelers at least shows the attacking intent of the defensive staff.
Now that Haslett has more players to match his system, Redskins fans can look forward to plenty of aggressive play calling in 2011.