ATP Montreal 2011 Semifinals: Mardy Fish vs Janko Tipsarevic Preview
August 13, 2011
Matthew Stockman/Getty Images
Mardy Fish and Janko Tipsarevic are the survivors from a half of the draw in Montreal that once included Rafael Nadal and Andy Murray. Fish and Tipsarevic will now meet on Saturday in one of the semifinals from the Rogers Cup, with a spot in the championship match at stake.
When it comes to making the semifinals in a Masters Series tournament, Fish is a more experienced player than Tipsarevic. The American has won matches of this magnitude before, although his success this deep in Masters-level events is still few and far between.
Most recently, the top-ranked American made the championship final of a Masters Series 1000 event at last season's Cincinnati Masters, and that relatively recent experience should help the American deal with pressure on Saturday.
With Tipsarevic, it can be argued that he is playing in the biggest match of his career on Saturday, although he does have other career highlights. Besides succeeding in Davis Cup play, Tipsy has been to Wimbledon's second week on a couple of occasions.
Perhaps those fourth-round All England Club matches could be viewed as being bigger than the Roger's Cup semifinals, although Tipsy's ranking-points payday will be a career best in Montreal. He is guaranteed at least 360 points at the Rogers Cup, a total that trumps the 180 he received from falling in Wimbledon's fourth round twice a few years back.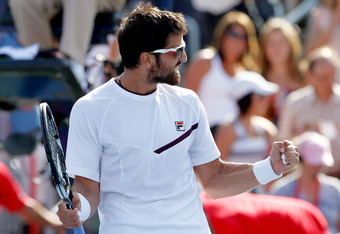 Matthew Stockman/Getty Images
Fish and Tipsarevic have met on tour four times in the past, with the American generally getting the better of the Serb.
Fish is 3-1 against Tipsy, a head-to-head record that includes a win in their most recent match from ATP Beijing in 2010 (hard court).

Their match on Saturday is intriguing, because both players are currently playing the best tennis of their careers right now. Fish is in the top ten at a career-high ranking of eighth, while Tipsarevic will achieve a new career-high ranking when Monday's update comes along.

The match features two players, neither of which was favored to do this well pre-tournament, but both of which are currently at the peak of their powers.

Most will consider the winner of this match to be the likely runner-up for the tournament, as neither player appears to have what it takes to defeat Novak Djokovic in the final, or even Jo-Wilfried Tsonga—two other players who are peaking as well.

However, you do have to like Fish's chances of making the championship match more than Tipsarevic's, as Fish has experience winning matches of this magnitude, Fish has been more consistent on tour lately, and his three straight wins against the Serb will give him the confidence.

This match is scheduled to be played at Montreal on Saturday at 3 p.m. ET.