U.S. Open Tennis: 8 Guys, You Don't Want to See Early in Your Section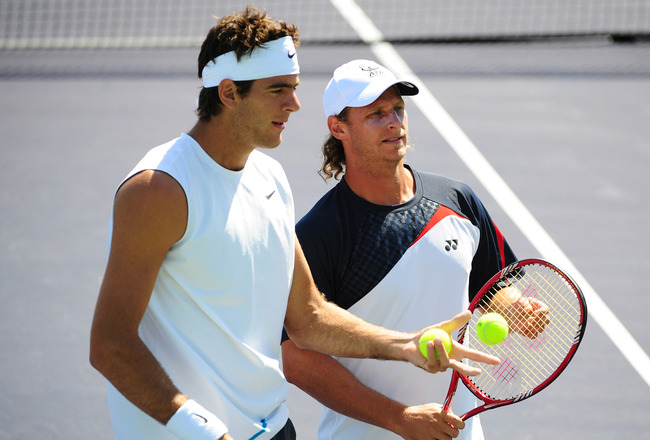 Robert Laberge/Getty Images
Some of the top players say they don't look at their draws, and just go out and play their next match. How much stock you put in that is all up to you, but don't you think they have to take a glance?
Even if they're just taking a glance don't you think they're looking for guys they would rather not face?
I would be, and there are plenty of guys out there that the top guys would love to see in another section of the draw.
So far this summer we've seen some guys make some good runs, and have pretty big upsets. Going into the U.S. Open this trend could definitely continue.
I see eight guys who could be those potential "why do they have to be in my section" kind of guys.
Criteria for these guys is that they can't be ranked in the top 16 (so that a third round match is a potential against the top guys).
Fernando Gonzalez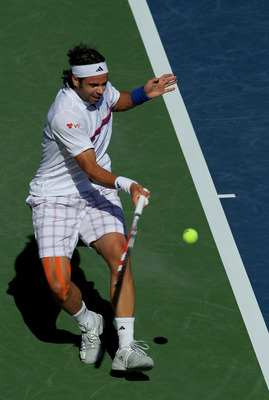 Stephen Dunn/Getty Images
Current Rank: 295
What is Gonzo doing on the list?
I know you might be thinking that, but he's a very dangerous opponent.
He had hip surgery last year and missed a significant amount of time, which is why his ranking is so low. In 2011 he's only played six ATP matches and has gone 3-3.
However, he played pretty well at Wimbledon reaching the third round, eventually losing to semifinalist Jo-Wilfried Tsonga.
He'll need to qualify or get a wildcard to be in the U.S. Open field, but if he does his big forehand will scare anyone he faces.
David Nalbandian
Matthew Stockman/Getty Images
Current Rank: 66
Nalbandian has seen a big slide in his ranking this summer due to not matching performances of last summer.
He is well past his prime, but we saw what he could do in the summer of 2010 when he's on.
Due to more injuries (shocker) this year, Nalbandian has only been able to amass a record of 13-8 and struggle to get his game in form.
When Nalbandian is on, his ground-strokes are on par with the top players on tour. When he's off, he can lose badly to players who he should beat on a regular basis.
Even though the 2011 summer has been unkind to Nalbandian any of the top guys must look out because if he's on it could be a short stay.
Bernard Tomic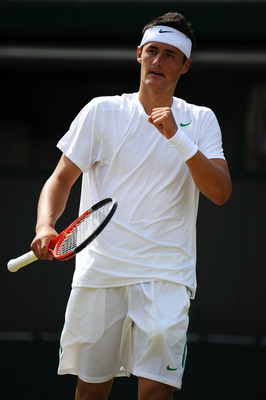 Clive Mason/Getty Images
Current Rank: 61
Bernard Tomic is one of the young rising stars on the ATP tour.
We saw his talent on display at Wimbledon this year where he shocked the field and reached the quarter-finals.
His 2011 results are modest at best, going 9-8, but it was that run at Wimbledon that started to get everyone talking.
If you just look at Tomic you would think this guy has nothing scary that can hurt his opponents. The problem is that he has a very unique style.
His opponents can get rattled because at one point Tomic will be playing defense and just getting balls back, and the next he's hitting huge winners all over the place.
A guy with no predictability scares his opponents, and I'm sure the top guys would love to stay away from him in New York.
Ernests Gulbis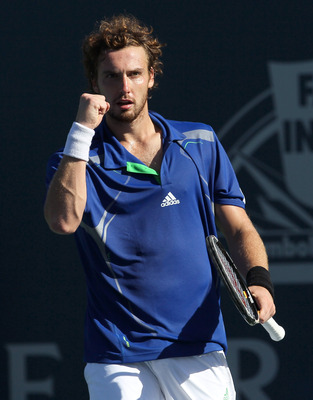 Stephen Dunn/Getty Images
Current Rank: 48
Gulbis has been playing very well this summer.
He won the Farmers Classic in LA by beating Juan Martin Del Potro in the quarters and then beating Mardy Fish in the final.
Everyone knows he possesses some huge weapons, especially his serve and backhand when he's on. That's the problem for Gulbis he goes wayward way to often.
Before winning in LA Gulbis had lost five straight first round matches, not good for a man with his talent.
He only owns a 13-17 record in grand slams (including 0-3 this year), but his skills are good enough to beat anyone on a given day.
Marcos Baghdatis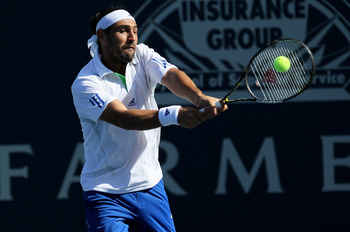 Stephen Dunn/Getty Images
Current Rank: 40
Marcos Baghdatis has been on a roller coaster ever since breaking on the scene in 2006.
Even when he's down though, he's a dangerous opponent and his opponents know that.
Despite his small stature Baghdatis loves to take risks, always going after his first serve and hitting ground-strokes with little margin. When these risks pay off he's very hard to beat.
Baghdatis only holds a 2-5 record at the U.S. Open, but he played one of the most memorable matches in the past decade there (2006 vs. Andre Agassi).
That match vs. Agassi made him a crowd favorite in New York (he's a crowd favorite wherever he goes). That and his go for it attitude make him a dangerous opponent to any of the top guys.
Kevin Anderson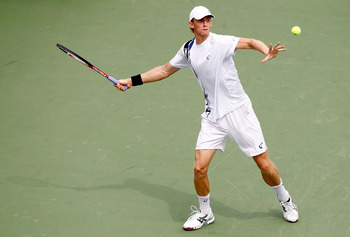 Matthew Stockman/Getty Images
Current Rank: 35
This guy would have had a spot on my list even without the win over Andy Murray last week in Montreal.
Anderson has finally reached his potential in 2011 after some disappointing first few years to begin his career.
He has a solid 29-19 record in 2011 including a title in Johannesburg.
Anderson is 6'8" and has a good serve (it could be better) along with a forehand he loves to hit.
His problem is inconsistency, but its starting to come together, and Murray experienced it first hand. I'm sure other guys would love to not have the same experience.
John Isner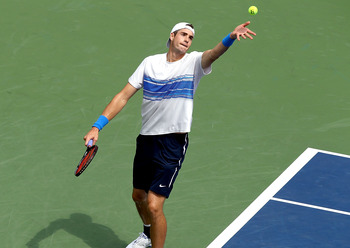 Matthew Stockman/Getty Images
Current Rank: 27
Isner is finally back to his 2010 form here in the summer of 2011.
After a great 2010, Isner had high expectations for 2011, but couldn't get going at the start of the year dropping to the 50's in the rankings.
The summer swing in the U.S. has seen big John regain form and win a title. He now has 23-17 2011 record.
For some reason the serve and forehand weren't clicking early in the season. He's found those two parts of his game now and is even showing a better backhand.
Fitness is still an issue for John, but if he can keep points short, he can scare and beat anyone.
Juan Martin Del Potro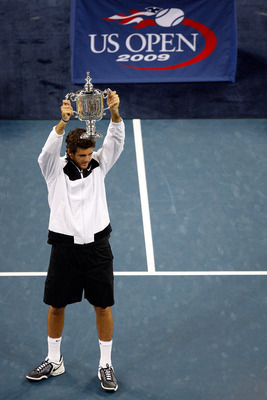 Jared Wickerham/Getty Images
Current Rank: 19
This is an obvious choice because he's already won a U.S. Open.
Del Potro isn't yet back to the form that won him that 2009 U.S. Open, but he's getting ever so close.
He has a 37-11 record in 2011 with two titles after missing almost all of 2010 with that terrible wrist injury that led to surgery.
Before the injury Del Potro had some of the biggest ground-strokes off both sides, and his serve was also a huge weapon.
Those weapons are still coming back to him even late now in the 2011 season, and if they're on he can beat anybody in impressive fashion.
Keep Reading