NBA Champion and Shooting Star: Jason Terry
August 12, 2011
The Shooting Stars Basketball Camp presented by AJ Bramlett took place Aug. 4-6 at Tony Hillerman Middle School in Albuquerque, NM. Bramlett, a 6'10", former local basketball star and 1997 NCAA basketball champion, with the University of Arizona, unveiled special guests Jason Terry (Dallas Mavericks 2011 championship team member) and actor Eric Martinez, at the camp.
Boys and girls ages 7 to 17 took part in the camp, and Albuquerque Youth Basketball League's (AYBL) presence was recognized through new President Alan Armijo. Contributing training was provided by Adam Halpern of Southwest Sports Institute (SWSI) and other sponsors included Kim Jew Sports and Marty Saiz Insurance Agency.
Halpern said, "I'm here to help the kids with fundamentals and fitness at any level."
Stephanie Garcia had two kids enrolled in the $80 per person camp. "This camp does a lot for kids by working with them in small groups and it is taught by knowledgeable coaches such as AJ." Her sons are Julian, 11, and Marcus, 8.
David Castro, general manager of Fuzzy's Tacos and Wing Stop in Albuquerque, was on hand for the camp, with food in tow. He donated 1,500 wings for the camp and served 250 people. "It is important for the youth to gain focused athletic experience," he said of the camp.  "They are also having fun."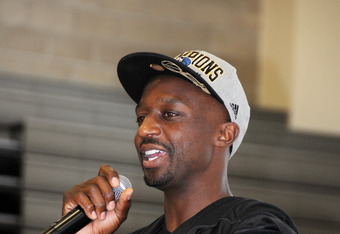 Fun and fundamentals are the reason the camp exists. According to Bramlett, "SWSI teamed with us last year and it was successful, and so we teamed with AYBL and put together a grassroots camp where kids can gain fundamentals and build their game. This is a great facility and I am gracious to all."
Camp hit a zenith when newly crowned NBA Champion Terry came out. "AJ and I are good friends and I came to give him support and give back to the fans," he said. "These kids came out to have fun, but they picked up fundamentals and made new friends. It is always good to come to Albuquerque because AJ is a legend around here and I wanted to see him in person again."
Terry said that though the looming NBA lockout exists, he and his Maverick teammates are ready to defend their title in 2012. This basketball season...shoot for the stars!