Dolphins vs. Falcons Friday Preseason: Live Reaction to Game's Biggest Stories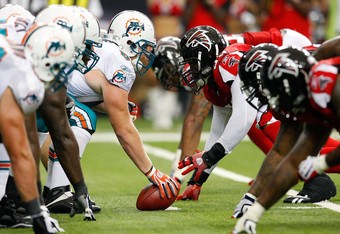 Kevin C. Cox/Getty Images
Tonight, it's back to football for the Miami Dolphins (0-0) and the Atlanta Falcons (0-0).
At the end of the 2007 season, both teams found themselves in the same position: good and terrible.
They both went after the services of Bill Parcells as a personnel guru—the Dolphins won out.
But since then, Atlanta has been the more successful team and, going into tonight's game, the Falcons are a team with their eyes on their first Vince Lombardi trophy as the defending NFC South Champions, posting the best record in the NFC last season at 13-3. However, they saw their season come to a premature end at the hands of the eventual Super Bowl Champion Green Bay Packers.
To help improve their chances, Atlanta traded five draft picks for University of Alabama wideout Julio Jones. Alongside Roddy White, the running back tandem of Michael Turner and Oregon State rookie Jaquizz Rodgers, and tight end Tony Gonzalez, the Falcons hope they have the offense they need around fourth-year quarterback Matt Ryan to get over the hump and get to Indianapolis.
On the flip side, you have the Miami Dolphins. They won the Parcells sweepstakes, but then midway through the season saw him walk away. Now it's up to Sparano and Ireland alone, and the two are probably on the hottest of seats in the NFL this season.
The Dolphins acquired Reggie Bush during the offseason and drafted Daniel Thomas in the second round to offset the offseason losses of Reggie Bush and Ricky Williams; however, the key will be the play at quarterback.
While the starting job is Chad Henne's to lose at this point, due to a great camp combined with the lack of a blockbuster deal for a QB, the Dolphins' fate this season depends largely on him.
If Henne delivers, the Dolphins are a playoff team. If he falters, then Sparano and Ireland are unemployed come January 2nd.
A lot of questions for both teams will begin the process of answering tonight. So sit back, grab a cold beverage, and enjoy tonight's game.
Now, as a reminder, in Miami the game will be televised on WFOR CBS4. In Atlanta the game will be televised on WCGL CBS Atlanta. Viewers in West Palm Beach can watch the game on WTVX CW West Palm, and in Ft. Myers-Naples you can watch the game on WBBH NBC2. Finally the game will also be televised in Orlando on WRDQ Central Florida's 27.
You can catch a replay of the game tomorrow afternoon at 1 p.m. on NFL Network. Of course, check your local cable or satellite listings for the channel placement of these stations.
And check back here throughout the course of the game and leave any comments you feel necessary. Not only will I give you some of my quick takes on both the Falcons and Dolphins, but also provide updates on tonight's Cubs-Braves game, especially on Braves second baseman Dan Uggla's attempt to extend his hitting streak to 32 games.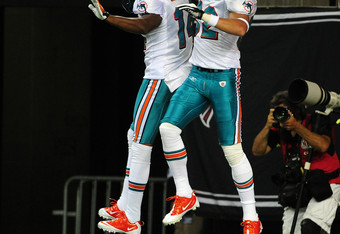 After a scary punt return to the Miami 44 followed by an interception to end any shot Atlanta had to win, the Dolphins now take the victory formation and will come out of Atlanta with the pre-season victory by the score of 28-23.
What impressed me the most about Atlanta was their first team offense. They managed to work highly touted first round pick Julio Jones into their already well-oiled machine.
The Falcons first team defense also came up big with two turnovers that started two of those early Atlanta scoring drives in the first quarter.
Right now if I were to pick a top-5 in the NFC, it would be in no particular order Atlanta, followed by Green Bay, New Orleans, Philadelphia and then Chicago.
Now onto the Dolphins.
Chad Henne's play early was what could be described as, well, Chad Henne.
His first pass attempt was picked off, however this was due to Anthony Fasano being a bit indecisive and not taking care to catch the ball before running up the field.
However Henne takes some blame too: he threw it to the wrong place.
Henne would then have a miscommunication with Hartline. Henne wanted to go deep, Hartline however continued his routes. While its good that Dolphins offensive coordinator Brian Daboll is giving Henne more freedom than Henning had, communication between his receivers is key.
The next drive was a one play drive where Chad Henne threw a pick to Brent Grimes on a throw intended for Davone Bess. This was another miscommunication, and for that, the blame goes to Henne.
But on Henne's final drive he showed resiliancy, coming back to show he has some moves in the pocket, then even ran for a first down on 3rd down and eight.
This was followed a few plays later by a 44 yard touchdown pass to Brian Hartline.
Henne could best be described as inconsistent, going 4/8 for 77 yards two touchdown and two interceptions. But I can't really judge Henne until I see him play with the entire first team (meaning Marshall and Bush.)
But its safe to say that Matt Moore's pretty impressive performance might just create a quarterback controversy.
I've been saying the job is Henne's to lose, but when your numbers look like Henne, and the guy playing behind you looks like this (11/18 123 yards 2 touchdowns 1 interception) well, you might just lose it.
Don't be too surprised if you see Moore take some first team snaps this week at practice as well as on Thursday night vs. Carolina.
On defense I was disappointed in the first team, but got the feeling that if they prepared for Atlanta, the results would be better. While the first drive was what we expect the Dolphins 1st team defense to deliver, the rest of the time they were on the field they were outclassed by a top tier offense. Not something you want to see when your defense is expected to be top tier.
However against Atlanta's 2nd team offense, the Dolphins 2nd team defense was impressive, especially Jimmy Wilson, whom I haven't mentioned in this blog. But now I would.
Wilson was all over the field. The Dolphins played him at corner and he succeeded. Then they tried him at both safety positions and he succeded. This guy is just born to be a football player, and it looks like the Dolphins picked up a steal in the 7th round.
Clyde Gates was also very good. He showed he's not just a speed guy, but he's also not afraid to catch balls down the middle. I'd also like to see him play more with the first team.
Then finally I'll go with Phillip Livas. His speed is ridiculous as he showed during his 75 yard punt return for a touchdown. If for no other reason they keep Livas, it should be for his speed.
Well that will do it from Atlanta and Miami. Our last baseball update (for a game that ended about a half hour ago) the Braves defeated the Cubs 10-4.
Thanks for joining me on this live blog.
PS. If you didn't watch the game, but would like to watch it while looking at the blog as a reference, NFL Network will replay the game at 1pm tomorrow afternoon.
This article is
What is the duplicate article?
Why is this article offensive?
Where is this article plagiarized from?
Why is this article poorly edited?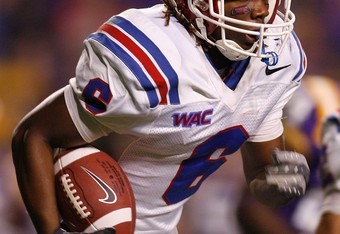 The Dolphins now have more of a cushion as Phillip Livas returned a punt 75 yards for a touchdown to put Miami up 28-20.
Now both teams have entered the time in the game where they want to just get it over with. The Falcons went 3-and-out again with Quarterback Adam Froman (not to be confused with his father Abe, the Sausage King of Chicago), leading to another punt by the Falcons. This punt return however was snuffed out by Atlanta's special teams.
The Dolphins announce team (which by the way has made plenty more mistakes than Moore and Henne combined) is now talking about Reggie Bush's appearance on the CBS reality show "Same Name." Apparently the premise is a famous person trades places with a non-famous person with the same name, with Reggie Bush trading places with a farmer from Illinois who's named Reggie Bush. Yes, it was as bad as it sounded.
Meanwhile Atlanta just got the ball back thanks to a great punt return by Dominique Franks. The Falcons then moved the ball down to the 15. Atlanta then settled for a 33 yard field goal.
Well with 3:32 remaining, Miami is up by five and will most likely go into protect the ball and protect the lead mode. Next (and last) update coming after the game.
This article is
What is the duplicate article?
Why is this article offensive?
Where is this article plagiarized from?
Why is this article poorly edited?
The third quarter started much like the first for Miami: with an interception off of a deflection caused by their own receiver.
This time the offending receiver was Roberto Wallace, who tipped it right into the hands of Falcons safety Rafael Bush. Bush would return the interception nine yards to Atlanta's 24 yard line.
The Falcons would then drive down the field 62 yards before stalling at the Dolphins 14. Then Atlanta's Matt Bryan hit a 24 yard field goal.
The Dolphins followed this up with a good return by undrafted free agent Phillip Rivas, who gained 32 yards on the kick off return.
Matt Moore went on to lead the Dolphins 65 yards down the field for a touchdown, his second of the game. Right now he's 11/18 for 123 yards 2 touchdowns and one interception that could've been prevented by Roberto Wallace. (This can't be good for Chad Henne.)
Included on that drive was a 4th and 7 conversion: a 17 yard pass to Roberto Wallace. Last year I blasted the Dolphins for not taking more gambles, this year I see this, so far, so good.
Dolphins now lead 21-20, next update coming in the 4th quarter.
This article is
What is the duplicate article?
Why is this article offensive?
Where is this article plagiarized from?
Why is this article poorly edited?
To end the first half, the Dolphins worked on their 2 minute drill, however after gaining a first down, the Dolphins would be forced to punt after a long incompletion by Moore intended for Clyde Gates (he was hit as he threw) followed by a 5 yard pass to Roberto Wallace, an incompletion while being flushed from the pocket, and a punt by Brandon Fields.
Atlanta gets the ball back at their 18 following an Atlanta penalty. However after a promising drive, Falcons quarterback John Parker Wilson fumbles the ball as he's hit.
After the forced fumble by rookie Jimmy Wilson, the Dolphins took a shot at the end zone and succeeded, with Matt Moore completing a beautiful 28 yard pass to Roberto Wallace for a touchdown, making it a 17-14 game, which is how we'll be headed into halftime.
Matt Ryan finished his night for Atlanta 6/10 throwing for 90 yards and a touchdown with a quarterback rating of 122.9.
Based off of tonight, Falcons fans better hope that Ryan remains healthy. John Parker Wilson as of now is 7/13 passing for 58 yards has no touchdowns but an interception and a fumble.
Meanwhile on the Dolphins side, well, there might be a quarterback controversy beginning, as Henne finished 4/8 for 77 yards, one touchdown and two interceptions and a QB rating of 83.9. However I liked how he finished up his time on the field, especially his movement in the pocket.
Matt Moore made some noise, going 5/10 with 67 yards and one touchdown with no turnovers.
I can't make a judgement on Henne though until I see him in in-game action along side Brandon Marshall and Reggie Bush. Plus it doesn't help that Sparano looked at this game as a scrimmage as he has noted.
Meanwhile for Atlanta, all I can say is so far, I'm looking at a true Super Bowl contender.
Meanwhile before I go, a quick look at baseball: His name is Dan Uggla and he's extended his hitting streak to 32 games with 2 home runs, one in the second, the other in the fifth. Atlanta leads Chicago right now 8-1 in the bottom of the sixth.
Next update will come after the beginning of the 3rd quarter.
This article is
What is the duplicate article?
Why is this article offensive?
Where is this article plagiarized from?
Why is this article poorly edited?
Matt Moore just made a beautiful throw to Roberto Wallace for a 27 yard catch. Had nice zip on the ball and showed a little bit why the Dolphins decided to sign him.
He then attempted a long pass play to Gates. It was overthrown and I feel confident in saying that Henne would've made that throw.
The Dolphins need to see Gates in the offense more.
Meanwhile Atlanta has reverted into the show nothing offense and defense. With their 2nd teamers in the game on both sides, its the best thing. For Atlanta they know that they have a long season ahead, no need to show too much or risk injury in pre-season game number one.
Miami is now into their 2-minute offense using Matt Moore and the second team.
Next update at Halftime, with stats, analysis, and an update from Cubs-Braves.
This article is
What is the duplicate article?
Why is this article offensive?
Where is this article plagiarized from?
Why is this article poorly edited?
After Henne's 8 yard run for the first down and end of the first quarter, the Dolphins continued on offense with a false start penalty against Left Tackle Lydon Murtha.
This was followed by Murtha getting chewed out by Chad Henne for committing a false start penalty coming out of the end of quarter break.
After that, on first and 15 a hand off to Daniel Thomas gained 3 yards.
This was followed by a circus catch for three yards by Davone Bess.
Then on 3rd down and 9, Henne checked down to Daniel Thomas, who proceeded to gain 25 yards.
Then on first and 10 from the Atlanta 44, Henne threw a perfect deep ball to Brian Hartline for a touchdown.
Now the Falcons' lead is cut down to 10.
This is followed by a drive by the Falcons' 2nd team offense.
Its a good drive that goes 58 yards, but in the end Dolphins CB Benny Sapp comes up with the interception.
The Dolphins then send in Matt Moore and their 2nd team offense, who proceeds to go 3-and-out.
Fields winds up punting the ball 51 yards to the Falcons 11.
More updates to come as the game goes on.
Don't be shy readers, leave a comment. Dolphins fans feel free to complain about Henne, and Falcons fans feel free to talk about how great you guys are going to be this year.
This article is
What is the duplicate article?
Why is this article offensive?
Where is this article plagiarized from?
Why is this article poorly edited?
The Falcons managed to get a field goal off of Henne's 2nd interception making it a 17-0 game.
Tony Sparano did say he was going to prepare for this game like it was a scrimmage. Except I was at the scrimmage on Sunday, and they looked nothing like this.
Meanwhile Atlanta looks like a well-oiled machine. I'd keep an eye on the Falcons this season. They might not have the glamour and all-stars of the Eagles, but they have a Super Bowl team.
At least that's what the Dolphins hope because so far this is terrible.
Meanwhile while so far I look wrong about Henne's improvement, he managed to pick up the first first down for the Dolphins with his feet, running up the middle on a 3rd and 8.
And with that, the first quarter came to an end.
Falcons still lead 17-0 and it will more than likely hold up, however how the Dolphins play from here on out will say a lot about this team.
This article is
What is the duplicate article?
Why is this article offensive?
Where is this article plagiarized from?
Why is this article poorly edited?
A little less than 12 minutes into the first quarter, and the Falcons are looking like the team that clinched home field advantage in the NFC South.
Atlanta leads 14-0 with 3:31 left after a 20 yard touchdown pass from Matt Ryan to Harry Douglas.
This followed a drive that Atlanta began from their own 16 yard line after a 56 yard punt from Brandon Fields.
Its the second scoring drive for Atlanta. The first one was a 56 yard drive lead primarily by Atlanta's running game.
Meanwhile on the other end, the Dolphins have sputtered on offense.
Henne's first play of the pre-season was an interception on a pass intended to Tight End Anthony Fasano.
Correction: Fasano had his hands on the ball, however while trying to take control of it and turn around to gain more yards, the ball bounced up and landed into the hands of John Abraham.
The next Dolphins drive saw a 5 yard pass to Bess, followed by a hand-off for no gain by Daniel Thomas, than a mis-communication between Henne and Hartline that lead to an overthrow.
Now with 3:22 left, Henne just threw his 2nd interception, and the Falcons bring in their second unit offense.
Meanwhile on the other side of Atlanta, Dan Uggla has extended his hitting streak to 32 with a 2 run home run, putting the Braves ahead of the Cubs 2-0.
More updates coming up.
This article is
What is the duplicate article?
Why is this article offensive?
Where is this article plagiarized from?
Why is this article poorly edited?
A quick look at injuries and other inactives for today's pre-season game:
For Miami, Jake Long, Garrett Chisolm, and Will Allen will not be inactive tonight. Reggie Bush, Jason Taylor and Brandon Marshall will be dressed, however they won't be expected to play.
For Atlanta they will be missing Defensive End Ray Edwards, who underwent surgery during the lockout.
Meanwhile since I know I'm going to see comments citing these numbers from Dolphins fans, Let me get them out of the way now:
Ryan Mallett(who the Dolphins could've drafted): 12/19 164 yards 1 Touchdown 0 Interceptions 108.2 QB Rating
Kyle Orton (Highly Coveted quarterback a lot of Dolphins fans want): 2/6 37 yards 0 Touchdowns 0 Interceptions 55.6 QB Rating.
Tim Tebow (Suggested by Sun-Sentinel for the Dolphins to trade for): 6/7 91 yards 0 touchdowns 0 interceptions 118.8 QB Rating, 2 rushes 15 yards.
Vince Young (Many feel the Dolphins should've signed him, including myself): 3/5 45 yards 0 touchdowns 0 interceptions 89.6 yards.
Now the Dolphins are getting ready to kick off, meanwhile Braves vs. Cubs is being delayed. See you after both teams first offensive series. Meanwhile check out these links.
This article is
What is the duplicate article?
Why is this article offensive?
Where is this article plagiarized from?
Why is this article poorly edited?

Miami Dolphins: Like this team?