2011 NFL Predictions: Why the Sky Won't Fall on the New York Giants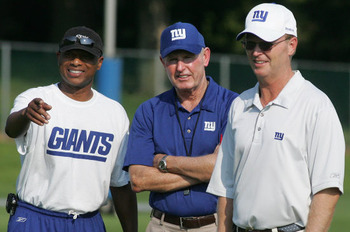 Jerry Reese, Tom Coughlin and John Mara have oversaw the worst off-season in recent memory.
Ask any Giants fan this week and they will convince you that the New York Giants are destined to be a 4-12 football team this season.
Why has a team that won the Super Bowl four short years ago fallen this far in fans' minds?
The reasons are many.
They have watched Big Blue stink it up down the stretch, only to miss the playoffs in each of the last three years.
The Giants have become slapping boys for the Philadelphia Eagles, with six straight losses to their arch-rivals in the NFC East, including a gut-wrenching 38-31 loss to Philly in December, highlighted by DeSean Jackson's incredible punt return for a touchdown with no time remaining on the clock in the fourth quarter.
The Giants have also become the second-class citizens in New York. Losing the name Giants Stadium on the side of the building was bad enough, but now nobody wants to talk about the Giants, instead opting to go gaga about Rex Ryan and the Jets.
But most importantly, in a year where teams are signing free agents from left to right, the Giants have done virtually nothing in this post-lockout era.
The Giants watched the Eagles become a monster team with the additions of Cullen Jenkins, Nnamdi Asomugha, Jason Babin, Ronnie Brown, and now former Giants receiver Steve Smith among others.
The Eagles are building a solid team. The Cowboys are healthy, and in an NFC with strong competition in the NFC North and South respectively, the final playoff spot will be hard to grab this season.
Yet, the Giants don't seem too concerned about adding to their payroll. Jerry Reese insists that Big Blue is in salary cap hell, part of the reason they didn't bring back tight end Kevin Boss and Smith, while cutting veteran lineman Shaun O'Hara and Rich Seubert.
They even watched their Super Bowl hero, Plaxico Burress leave for the Jets.
Then there is the disturbing Osi Umenyiora situation. Umenyiora wants more money, and a new deal. The Giants won't give it to him, and even gave the lineman the opportunity to seek a trade.The Giants pulled Umenyiora's opportunity to get a trade done last week, and now he is simply a disgruntled veteran player at camp.
The Giants look like a mess on paper right now. But is all lost? Are the Giants smart for not bringing back some of their own aging free agents?
Let's take a look at this Giants team and figure out if this is a team that will sneak up on people and make it to the postseason.
First Half Scheudle Is Rather Easy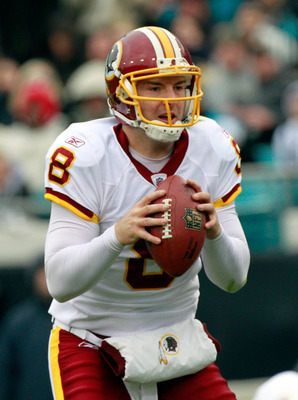 Sam Greenwood/Getty Images
This is one is pretty obvious. Just taking a look at the Giants schedule, it is hard not to imagine Big Blue being anything less than 7-2. I'm not kidding; take a look at it.
The Giants have games against the Redskins, Rams, Cardinals, Seahawks, Bills, Dolphins and 49ers in the first half of the year; all games that are very winnable.
Their toughest contests during that stretch are visits to Philadelphia and New England.
If the Giants are going to get people off their backs early in the season, then getting off to a good start is imperative.
And wouldn't you know it—The Giants get Rex Grossman, the worst quarterback in the history of the sport to start a Super Bowl, Week 1 in Washington. That game has 31-10 Giants written all over it. But as Chris Berman likes to say on NFL Primetime, "That's why they play the games."
Even though these games look easy, it doesn't mean they will be. The Giants have a propensity to allow bad teams to remain in games; look at the Tennessee Titans game last year. The Giants could have easily blown that team out of the water, but costly turnovers gave Tennessee the confidence to beat up the Giants that afternoon.
After this fairly easy stretch, the Giants get punished in the second half of the year. Matchups with the Packers, Saints, Cowboys, Jets, and Eagles will make for a tricky second half. The Giants have a history of bad finishes to a season, so a fast start becomes that much more important this season.
Steve Smith Can Be Replaced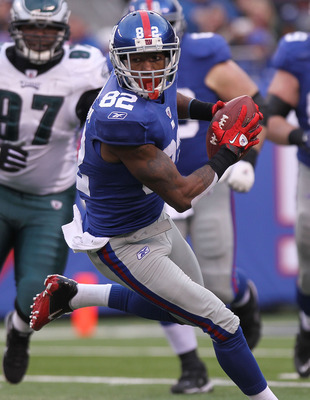 Nick Laham/Getty Images
Everyone is up in arms over the loss of Steve Smith. People are so upset, you'd think the Giants had the Steve Smith from Carolina on the team. The one that is actually a great player.
The former Giants' Smith was a decent player during his time with the Giants. Before his breakout 2009 season when he caught 100 passes, he was mostly a slot receiver for the Giants, contributing here and there.
When Smith went down with an injury last season, Mario Manningham and Hakeem Nicks stepped up and helped solidify a one-two punch that helped the Giants enjoy one of the league's top passing attacks.
And one would have to expect that the duo will only get better. Nicks had 790 yards in his '09 rookie campaign before posting 1052 yards last year. He will be Eli Manning's number one target yet again. Expect big things.
Manningham is a guy who has been getting better year after year. He accrued 822 yards and five TD's in 2009 and eclipsed that with 944 yards receiving last year.
Granted, it was nice to have Smith, but the Giants will not be hurting with these two around.
Plus, the Giants may have a solid replacement for Smith (continue to next slide).
Domenik Hixon Will Be the Giants' Number Three Receiver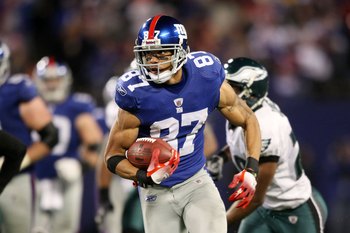 Nick Laham/Getty Images
Remember Domenik Hixon, Giants fans?
Hixon was a solid weapon for the Giants, both offensively and on special teams, before he missed all of 2010 with a knee injury. Furthermore, he is now healthy.
He had a solid year at receiver in 2008 with 596 yards, but in 2009, he saw his role reduced. With only 15 catches for 187 yards, he was relegated to special teams duties. He took advantage of it, however, amassing over 1,500 yards on punt and kick returns. This year, he might be asked to take on a new role.
With the loss of Steve Smith and Kevin Boss, Hixon could see some more playing time offensively. He got off to a great start in Carolina, hauling in five balls for 86 yards.
Another option for the Giants to look toward is Victor Cruz who impressed last preseason with 15 catches and 297 yards.
Cruz was a nice story last year, as he earned a spot on the roster, but unproductive play on special teams and an injury in October derailed Cruz's season. This year, Cruz is expected to fill in at that number three slot. He spent the past year learning the slot position and hopes to win the job this year.
By the way, and if you believe in karma, here's a tidbit: Cruz wore number 3 last year and has been switched to number 80 this year. The last time an undrafted wide receiver went from wearing a number 3 to a number 80 in this town, was when Wayne Chrebet made a similar move. Granted the suited up for different New York teams, but, hey, there's some good karma for ya.
Either way, the Giants should be fine at the slot position.
Gabe Watson, Rocky Bernard and Chris Canty Step It Up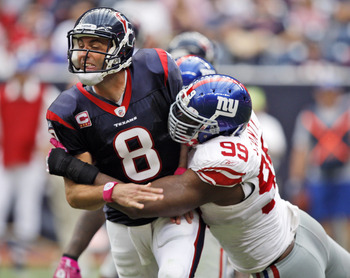 Bob Levey/Getty Images
The Giants lost a pretty productive player in Barry Coefield, who signed with the Redskins two weeks ago. Coefield was the center of the Giants defense, a force who was good against the run, and fast enough to plow through offensive lines to get to the quarterback.
With Coefield gone, the Giants are going to have to ask Chris Canty, Rocky Bernard, and Gabe Watson to live up to their pedigree.
Bernard and Canty both signed huge deals with the Giants before the 2009 season, and have not lived up to those contracts. Bernard restructured his contract to make it more cap-friendly for the Giants, but this much is clear: If the Giants defense is going to play well this year, they have to get solid play from the defensive tackles.
Canty underwhelmed last year with 38 tackles and 1.5 sacks. In Dallas, he didn't compile a lot of tackles but did get to the quarterback quite a bit, recording 10 sacks in four years for the Cowboys.
Meanwhile, Bernard has been a disaster. Compiling only 32 tackles in two years combined with Big Blue; his poor performance was the reason the Giants cut him and restructured his contract. Before becoming a Giant, this was a guy who recorded 8.5 sacks in 2005 for the Seattle Seahawks.
The Giants need Canty and Bernard to live up to their reputations this season and produce in a big way.
Also, the Giants signed Gabe Watson from the Arizona Cardinals to replace Coefield. Watson had a mediocre career in the desert, and, to this day, I am not sure why the Giants brought this guy in.
Defensive tackle could be a position of concern if these three guys don't play well again this year. One would think that at least one of them will step up their game and contribute to this team.
Jason Pierre-Paul Steps Up in Second Year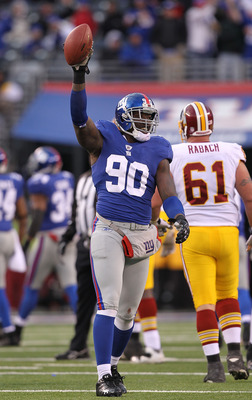 Al Bello/Getty Images
With all the unrest regarding Umenyiora and his contract, this will be a big season for second year pro Jason Pierre-Paul.
The Giants drafted Pierre-Paul last year in the hope that he would add to their great depth at defensive end and outside linebacker.
Last year, he had decent numbers for a rookie (30 tackles and 4.5 sacks) that went a unnoticed. In the Giants' preseason opener against Carolina, Paul had a coming out party with four tackles and two quarterback sacks.
This is Pierre-Paul's chance to shine on the grand stage. There is no telling how long Umenyiora will be out with a knee injury (not to mention how much longer he will be on the team). If the Giants are going to be comfortable to move on from Umenyiora in the future, then Paul has to have a monster season on the outside.
He is listed behind Umenyiora on the depth chart; working for extra snaps shouldn't be that much of a problem since the Giants usually rotate their deep corp of edge pass rushers.
Keep on eye out for Pierre-Paul, his first game against Carolina wasn't a fluke; this guy is going to have a big season.
the Giants Can Still Run the Ball with the Best of Them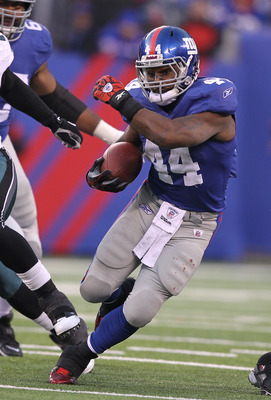 Al Bello/Getty Images
If there is one position that should garner little concern this year for the Giants, it's their running game.
Resigning Ahmad Bradshaw was a huge key for the Giants this offseason. Last year, Bradshaw ran for 1,253 yards, averaging 4.8 yards per carry in his career. This is a huge piece to the Giants plans moving forward.
Bradshaw has a nice combination of power and speed in his game that makes him a solid change-up to the all-bulk and power of Brandon Jacobs.
And speaking of Jacobs, it appears that he is past his grudge against the Giants for reducing his role last year. Jacobs willingly took a pay cut a few weeks ago to assure that the Giants signed Bradshaw to a new contract.
By restructuring his deal, Jacobs could get what he really wants, and that's a chance at free agency if he hits certain initiatives in his contract.
On the field, Jacobs had a productive year as Bradshaw's understudy. He rebounded from a terrible 2009 with a fantastic 2010, rushing for 823 yards on 147 carries with 9 touchdowns. Jacobs was huge inside the goal line, and as the season progressed, the Giants gave him more opportunities to hit people between the 20's.
The combination of Bradshaw and Jacobs is the key to the Giants season. They had the sixth ranked rushing offense in the NFL last year, and with a younger offensive line, it can only get better.
Food for thought: with Steve Smith and Kevin Boss out of town, logic would dictate that the Giants will try to rely on their ground game a lot more this season.
If Bradshaw and Jacobs have big seasons, the Giants will be right in the thick of the NFC East title chase.
Special Teams Learns How to Tackle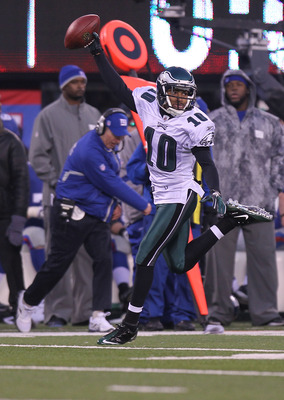 Nick Laham/Getty Images
If Tom Coughlin could run onto the field and tackle DeSean Jackson himself, I'm sure he would do it. The Giants' special teams is a bigger issue than one can imagine.
The Giants don't tackle well when it comes to kick and punt returns. The Giants gave up 14.9 yards per punt return last year, including two touchdowns. On kick returns they haven't been much better, giving up 1,515 yards on returns, a 19.7 yard average.
In their preseason opener in Carolina, the Giants still had trouble making tackles in space. On five Carolina punt returns, the Giants yielded 10 yards per return, including a 24 yard sprint. Kick returns were even worse, with the Giants allowed the Panthers to return three kick-offs for 88 yards, a 29.3 yard average.
And this is in a league that now kicks off at the 35 yard line!!!
When it comes to special teams, it's all about depth. The deeper you are with skill players who can help you, the better chance you will have a decent to good special teams unit. It's obvious that the Giants don't have a lot of good skills players on special teams, especially on the defensive side of the kick.
It will take more than preseason for Big Blue to find a group of players who can get down field and put a hat on people. If that means using some of their regulars in the secondary, so be it. The Giants have to find a way to stop people, period.
Osi Umenyiora Shuts Up and Plays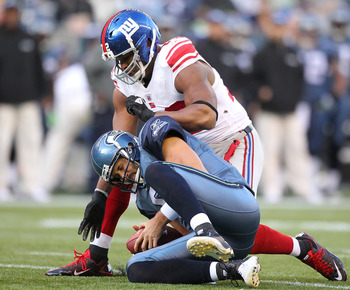 Otto Greule Jr/Getty Images
If Osi Umenyiora really wants to prove to the Giants, or to someone else, that he is a dominant NFL pass rusher, he needs to shut his trap, tighten those chin straps and wreak havoc on opposing offenses.
This is not to say that Umenyiora is not an established pass rusher; he is one of the NFL's top sack men. He had 12 sacks and 10 forced fumbles last year, and has proven time and again that he can be a disruptive force; just ask Donovan McNabb.
Yet, Umenyiora wants more money. He has two years left on his deal and is set to make $7.1 million this year, but he feels he's vastly underpaid and wants an extension or a trade to another team. The Giants will not trade Umenyiora, as of right now, and, currently, the disgruntled lineman is out with a "knee injury."
The Giants and Umenyiora are deadlocked in negotiations, and, to say the least, this is not fair to the rest of the team.
The fact that he is so concerned about this now, is both understandable from an injury standpoint and ridiculous from a team standpoint. If Umenyiora was a team player, he would play this year out and negotiate a contract next off-season, which will then be back to its regular five month football lay-off.
The Giants need Umenyiora on this football team. His speed and agility is something that is hard to find in a defensive lineman, and until they see Jason Pierre Paul step it up a notch, Umenyiroa still has a lot of value to this team.
Umenyiroa is expected back in camp on Monday and is rumored to be ready to accept playing for his contract, according to ESPN. One would hope Umenyiora realizes he can make even more money if he plays big this season. If he has a big season, it will both help the Giants on the field and help Umenyiora make more dough.
Eli Manning Takes Better Care of the Football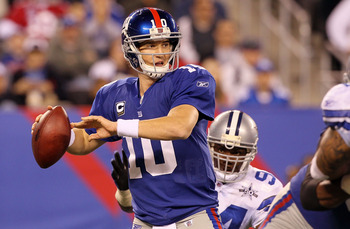 Jim McIsaac/Getty Images
When it's all said and done, the success of this New York Giants team falls at the feet of quarterback Eli Manning.
In spite of having a Super Bowl ring on his finger, there are still some Giants fans who are not convinced that this is their franchise quarterback. The other day, while listening to WFAN, some fan called up to say that the Giants should have kept Phillip Rivers!
Manning had a strange season in 2010. He was fifth in the NFL in passing yards, 4,002, and threw the most touchdowns of his NFL career, 31. However, Manning did have 25 interceptions.
Most of those picks were tipped passes, but the fact is Manning wasn't a model of consistency in 2010.
Whenever this Giants offense had some momentum in games, Manning would throw it away with a costly pick. Manning's plethora of interceptions cost the Giants in games against Tennessee, two picks in a 29-10 loss; in Philadelphia, three picks in a 27-17 loss; and four picks in a 45-17 smack-down to the Packers.
Manning has got to protect the football this season if the Giants go anywhere near the postseason. This is a guy who can put up some prolific numbers through the air, but, at times, he can be a bit of an unemotional knucklehead. That is the reputation that he has developed in New York, a reputation with which New York fans are getting tired.
The poor performance he displayed against a young and inexperienced Carolina Panthers defense was not great, then again, it was preseason.
This season is all on Manning.
So How Good or Bad Will the Giants Be in 2011?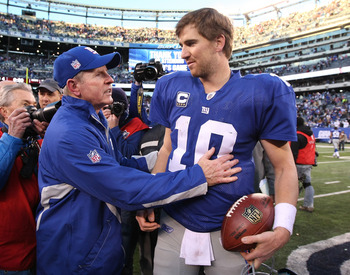 Al Bello/Getty Images
The Giants need a lot of components to work this year if this team is to make a serious playoff push. Many are upset that the team didn't add a single big name free agent, but the history of the Giants is to rely mostly on home grown players, and very rarely do they make the big splash in the market.
There is enough talent on this Giants team for them to make enough noise to make the Eagles and Cowboys sweat throughout the season. Plus I'm not a big believer that the Eagles are this monster football team. The Eagles are good, not that good -- they have to develop chemistry with all those new players first.
My prediction is that the Giants are a 10-6 or 9-7 football team yet again. Nothing spectacular, and it may not be enough for them to make it to the postseason, but if they can make the plays they missed last season, the Giants will have an excellent shot at the division title.
Keep Reading

New York Giants: Like this team?