Tiki Barber Engaged: Traci Lynn Johnson Is Rare Ray of Sunshine for Barber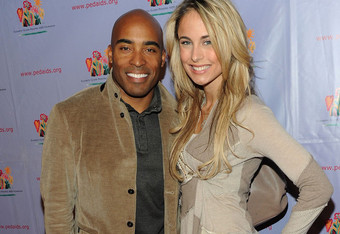 Tiki Barber doesn't have much. The former Giants running back left a fine life in the NFL, and has been regretting it ever since. It's a good thing he has Traci Lynn Johnson, until death do they part.
The SportingNews reports Tiki Barber became engaged to his girlfriend Traci Lynn Johnson over the weekend. This comes as a rare note of good news in a life filled with tumult and hardship.
The engagement brings memories of Barber leaving his former wife come flooding back to the forefront of public consciousness.
When Baber left his wife Ginny in 2009, it marked the beginning of the end for him as a lovable athlete. The move was seen as callous as Ginny was still pregnant with their twin daughters.
There is also Barber's career to ruminate over. He left the NFL in 2006 for what he thought would be greener pastures on TV, only to find little green, and not that great amount of pastures present.
Barber was initially flooded with offers, only to see the job opportunities vanish as rumors of his work ethic and performance leaked. He can kiss goodbye to any future in broadcasting, which lead him to give football one last try.
He is in the middle of a fruitless campaign to return to the NFL. A frivolous lifestyle demands an incoming paycheck, and Barber is fresh out of ideas.
So far, no team has offered him a contract, and his prospects grow more dim as the season looms closer.
As you can see, life is not all rosy for Barber. A series of bad decisions has left him as public fodder, but there is hope. There is nothing quite like the love of a good woman.
So I hope for Barber's sake that Johnson is an excellent woman. The engagement is the first sign of a good news we have had in conjunction with the former running back who exuded panache.
Everyone loved Barber. Now just one person does, Traci Lynn Johnson. That will have to do as Barber tries to rebound from five years that I assume he would rather forget.
Most recent updates:
This article is
What is the duplicate article?
Why is this article offensive?
Where is this article plagiarized from?
Why is this article poorly edited?