Mitch Chilson: The Singapore Superstar with a Point to Prove at One FC
August 12, 2011
Mitch Chilson is a name which will be very familiar to people in Singapore, but this American fighter has yet to forge anything approaching a global reputation. That could all change on September 3, when Chilson takes on Eric Kelly at ONE Fighting Championship, Asia's most prestigious mixed martial arts event.
ONE FC will be viewed by more people than potentially any other event in mixed martial arts history, and Chilson will be able to display his considerable talents to an audience which is of unprecedented proportions.
What makes this fight such an exciting opportunity for the two time Martial Combat Super Fight Champion is that it is against a man who is without doubt the No. 1 featherweight in the Philippines. Kelly is the URCC Featherweight champion and is unbeaten in his MMA career, having submitted all five of his previous professional opponents.
Chilson is one of the faces of One Fighting Championship in Singapore. Fans flocked to see him at Martial Combat last year, and his image is currently emblazoned all over almost every imaginable form of public transport as well as being highly visible in TV commercials.
It is a lot of attention to be lavished upon a fighter who maintains a perfect professional MMA record. Beating Kelly would be a form of validation for Chilson and would instantly demonstrate that there is substance behind the style and he is good enough to be considered among the finest 145 lb. fighters in the region.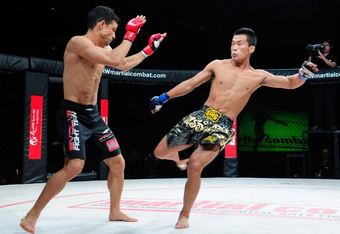 "I view this an a huge opportunity because I want to fight the best and I want to test myself against the best 145ers out there. I am looking forward to the challenge and seeing myself in adverts everyday is a constant reminder that I need to train harder and be at my absolute best," he said.
His life started to change when he knocked out Chinese stand up specialist Zhang Jing Xiong midway through the third round of an out and out war at Martial Combat 2. An uninitiated audience were instantly converted to the sport of MMA, and Chilson, who has been based in Singapore for several years, was awarded hometown hero status.
His next win was much more businesslike and came only 90 seconds into his fight with Chinese MMA veteran Guobin Xue. This time, there was no war, only an efficient performance which ended in a rear naked choke win that demonstrated just how rapidly Chilson is evolving as a mixed martial artist.
The bad news for his next opponent, who has submitted every fighter he has ever faced, is that Chilson has had almost a year to continue this evolution at the appropriately named Evolve MMA. He feels Kelly is going to find his ground game far more formidable than he has any of his previous five opponents,
"Everyday at Evolve MMA I train with some of the best BJJ black belts on the planet. I work tirelessly on understanding the ground game. When you grapple with BJJ World Champions everyday, you spend a lot if time working on your defense. If Kelly thinks he is going to be able to win with an easy submission he is in for a big surprise," he said.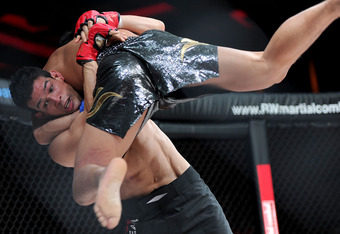 As a full time member of the Evolve MMA fight team, Chilson is constantly training and improving alongside training partners including Dream Lightweight Champion Shinya Aoki, UFC veteran Rafael Dos Anjos, BJJ Mundials Winners Leandro Issa and Zorobabel Moreira, Muay Thai champions Anuwat Kaewsamrit, Orono Wor Petchpun and Namsaknoi Yudthagarngamtorn and former boxing world champion Yodsanan Sityodtong.
Chilson is good looking and well spoken and is in many ways the perfect poster boy for a sport like mixed martial arts, which is still in its infancy in Southeast Asia. However, he is also subjected to a daily routine at Evolve MMA so intensive it will either make or break a potential world champion, and there are absolutely no signs of the former fitness instructor breaking.
"Evolve MMA is a special place because we have so many of the best fighters in one place. There are no egos or arrogance; we are just all helping each other to become better martial artists. We train, eat and teach together, and I have worked with the likes of Rich Franklin, Matt Hume and Shinya Aoki. We have coaches from all over the world brought to one place with the single goal of creating the best MMA academy in the world," he said.
In a short space of time, Evolve MMA has established itself as one of the top mixed martial arts academies in the world. It has been in the right place at the right time to benefit from the explosion of interest in MMA in Singapore and every single member of the fight team is a full time employee.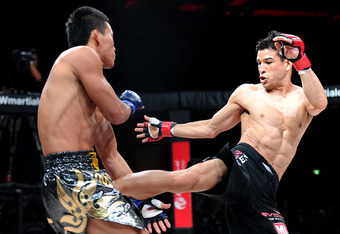 Chatri Sityodtong is the brainchild behind Evolve and will also formulate the game plan going into each fight. He has gathered together a team of elite martial artists who, other than helping to train Evolve MMA students, have absolutely no distractions from their professional fighting career.
It is this environment which has allowed Chilson to thrive, and he believes that this level of training is what will ultimately give him the edge over his more experienced opponent at One Fighting Championship's inaugural event.
"I started martial arts at the age of six and studied Karate, Kendo, Judo, Kung Fu and later Muay Thai. I joined Evolve with big dreams of becoming an MMA Champion, and Evolve made my dreams come true. As an MMA, fighter you couldn't ask for a better training camp. Everyday my confidence grows and each training session I become better," he said.
On September 3, in front of 12,000 people at the Singapore Indoor Stadium and millions more watching around the world, Chilson will have the opportunity to showcase that improvement and to demonstrate that he is a natural in the cage as well in front of the camera.
It has been described as the biggest event in the history of mixed martial arts in Asia and will be the sporting highlight of the year in Singapore, Chilson's adopted home. The odds are against him, but he will have the support of a partisan home crowd, and if Chilson can emerge victorious from his fight with the Filipino champion, the whole world will soon start believing the hype.
For more information, visit: www.onefc.com