Buccaneers vs. Chiefs: How Much Does Ronde Barber Need to Play?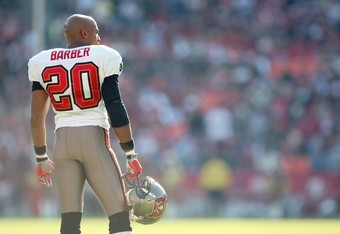 Tampa Bay CB, Ronde Barber is Entering His 15th NFL Season
Being the seasoned veteran that he is, Ronde Barber is the out-lier on a very young Tampa Bay football team.
However, at the age of 36, Barber has become the Darrell Green of the 21st century.
And for those that are unaware, Darrell Green was a corner for the Washington Redskins from 1983-2002, playing his entire 20 year career with one franchise.
He's also arguably the greatest CB to ever play the game, but definitely one the best to do so.
Well as for Ronde, he can still play at a rather high level for his age, despite losing some speed throughout the years.
At a young age, he had solidified himself as one of the more notable premier corners in pro football, and still remains one today.
All that being said, how much does he really need to play in order to continually prove himself to the critics.
For one, the Kansas City Chiefs also have a young team with an improved passing attack.
Their premier WR is Dwayne Bowe, who's coming off an excellent 2010 campaign, whereas the No. 2 appears to be another vet in Kevin Curtis.
Also, since K.C. has arguably the best (if not thee best) rushing attack in pro football, it allows for the passing game to open up with QB Matt Cassel.
Therefore, with an abundance of young CBs who need to earn a reputation is pro football, how much does Ronde need to play?
Well, at the rightful age of 36, proving that he can still play is a must, otherwise retirement is sooner than later.
In an article on bucsnation.com by the author Sander, Ronde has lost a step or two:
"While Ronde Barber is still playing at a high level, he's not the same player he used to be. He's lost some speed, which gets him into trouble when he tries to jump routes and can't recover."
However, Ronde can still contribute as well:
"In some ways, Ronde Barber is already declining, but he's still a very useful player. His instincts and intelligence allow him to compensate for his declining physical skills, and his abilities as a slot player should allow him to be in the lineup even when he can't be a cornerback on the outside anymore."
So, to see if Ronde still has all the juice, matching him up against Dwayne Bowe or Kevin Curtis mono-e-mono a few times should tell us something on a larger scale.
But regardless, you know Barber will hold his own for his age, while also being an influence on the younger players.
As long as he doesn't get burned on every single play in man coverage, and shows his usual awareness in zone, Ronde will avoid any heat from skeptics about being the so-called out-lier.
Most recent updates:
This article is
What is the duplicate article?
Why is this article offensive?
Where is this article plagiarized from?
Why is this article poorly edited?

Tampa Bay Buccaneers: Like this team?