Fantasy Football Team Preview 2011: Philadelphia Eagles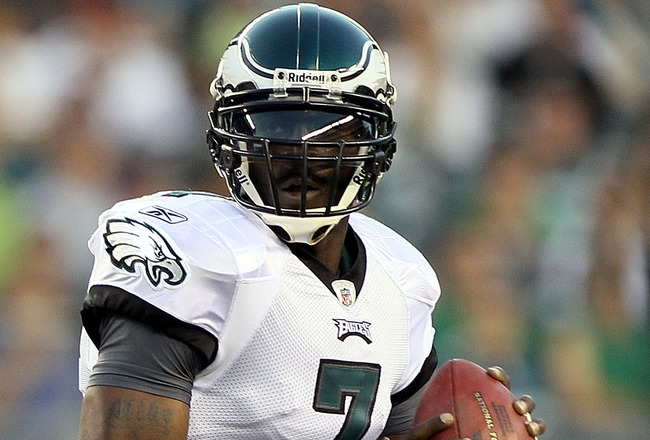 Jim McIsaac/Getty Images
2010 Recap: The Philadelphia Eagles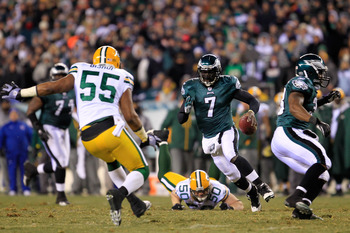 Chris Trotman/Getty Images
The Philadelphia Eagles emerged as one of the most dangerous offenses in football last season. The high flying, pass-heavy offense was given new, more athletic life with the resurgence of a once forgotten superstar and the team again came close to an NFC Championship berth.
The Eagles offense saw great success last season, ending the year with the best quarterback, seventh best running back and 11th best wide receiver in fantasy football. The Eagles defense may have been the team's biggest weakness last season.
Although ranked 11th in fantasy football, the Eagles defense was ranked near the bottom in points allowed. The Eagles on paper had a very strong defense last year, however, recording the third most interceptions and 10th most sacks.
Coaching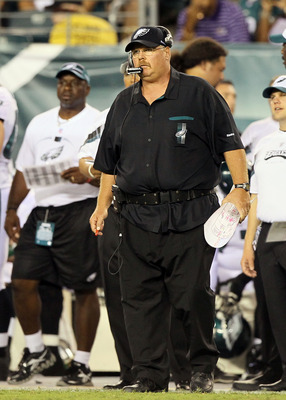 Jim McIsaac/Getty Images
Head Coach Andy Reid is entering his 12th season with the Eagles and seems poised to finally make the final push this season and get rid of that choke artist tag.
The Eagles have routinely been a contender with Reid as head coach, but it seems that all of the pieces may finally be falling in to place for the offensive minded coach.
Reid seems to be the team's offensive mastermind, but don't overlook the value of assistant head coach and offensive coordinator Marty Mornhinweg. Mornhinweg started calling the offensive plays for the Eagles in 2003 and has taken a bigger role each year since.
Last year, the Eagles went in to the season expecting Kevin Kolb to be their starter but were able to roll out a successful game plan for Michael Vick when Kolb was injured. Imagine the success they'll have now that they are set on Vick as their yearlong starter.
The decision to hire Juan Castillo as the Eagles' new defensive coordinator came as a bit of a surprise to some. Former DC Sean McDermott was fired after one season as the unit's coordinator. Castillo comes in after spending the past 12 seasons as the Eagle's offensive line coach.
It may provide the Eagles some added understanding of opposing offenses' blocking schemes, but we will believe that when we see it.
Another aspect not to be overlooked is the addition of Jim Washburn as the team's defensive line coach. Washburn is a very good D-Line coach and made the Titans unit on of the best while being the team's defensive line coach for 11 seasons.
Quarterback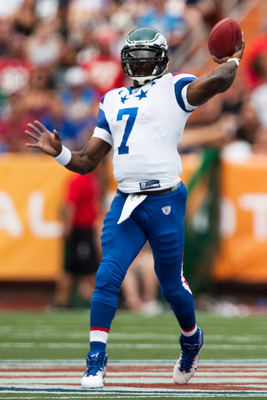 Kent Nishimura/Getty Images
He is our top rated quarterback in the Fantasy Football Rankings, and Michael Vick should make us look pretty smart this season.
We've heard the injury concerns over and over again, "Vick has never played a full season, wah!" (At least that is how we imagine you naysayers sound).
Vick never had the opportunity to play in an offense quite like this however. Say what you want about his troubled past, we think Vick has at least changed the way he acts on the practice field and in the locker room.
Although he once only relied on his athletic ability to win games, the Eagles' QB now has become a true quarterback capable of standing in the pocket and making big throws.
Sure, you can look at his career numbers and figure that he regress this season and come back to life. Although we're not sure if Vick will live up to his 2010 numbers, we definitely don't think he will go back to his Atlanta Falcon numbers either.
When in Atlanta, Vick never played with as strong of receiving corps as he will now, nor were any of his offensive coordinators as good as Andy Reid or Marty Mornhinweg.
We fully expect Vick to live up to his fantasy hype this season, and the added scheming and help on the offensive line should keep him protected better than last season.
Running Back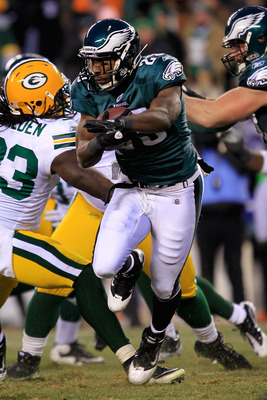 Chris Trotman/Getty Images
LeSean McCoy is being picked in the top seven in most fantasy football drafts around the league. Although he has great ability and is even more dangerous in PPR leagues, there is reason for concern as to whether he can live up to his 2010 numbers this season.
It wasn't all that long ago that Ronnie Brown was a force in fantasy football. He comes to the Eagles on a one year deal that essentially give the Eagles a proven backup while they prepare rookie Dion Lewis to be the primary backup to his fellow Pitt Alum, LeSean McCoy.
Brown isn't expected to garner more than a handful of carries per game this year, much like Jerome Harrison last season. We caution our readers not to assume the same fate for Brown. There shouldn't be any comparison between the two's running, blocking or receiving abilities.
We also feel it may be an incorrect assumption that Brown came to the Eagles primarily to be a backup.
Brown will turn 30 near the end of the season and his production has slipped recently. We don't think the former Dolphin will be fine with a reserve role, however.
We also don't think the Eagles will pass up using Brown's various skills this season. We don't think that McCoy's fantasy value will drop all that significantly, but we also aren't sure McCoy is still worthy of a first round pick.
McCoy isn't a bust candidate, but there may be better options in the first round than McCoy.
Wide Receiver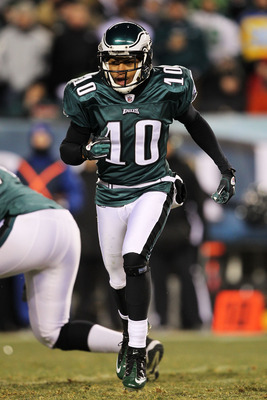 Al Bello/Getty Images
You can take your pick between Eagles starting wide receivers this year, and you will probably do all right with either. If you are in a standard points league, it will be hard to pass up DeSean Jackson in the late second, early third round.
Jackson recently ended his holdout and has returned to practice. There are some injury issues at the position meaning Jackson will get a lot of chances to build on his budding relationship with Michael Vick. Jackson did see his catch rate drop significantly last season however.
The Eagles decided to use Jackson's top tier speed and Vick's incredible arm strength to their benefit. That meant more deep passes for Jackson, and less value in PPR leagues.
Jackson is no doubt the most explosive threat at receiver for the Eagles, so there may be some concern that defenses will be keying on him making the other receivers a bit more enticing in fantasy drafts.
Jeremy Maclin would be that other receiver. If you are in a PPR league, you would want Maclin over Jackson anyway, and would benefit from the fact he typically isn't drafted until around the fourth round. There are some serious red flags for Maclin right now however.
Maclin was originally diagnosed with the Flu, then Mono now it seems like he may have the Plague. Maclin has yet to practice this offseason and is seeing a specialist in his hometown now to treat whatever ailment he is suffering from. There is no guarantee Maclin will even be ready to start the season.
One very interesting development this offseason is the recent signing of former Giant Steve Smith with the Eagles. There are conflicting reports on how Smith will start his season. Though no one is sure if he will start the season on the PUP list, there are no doubts the Eagles will want to utilize the once speedy possession receiver.
Smith was once a 100-catch receiver, so in PPR leagues he represents an incredible value. Currently going undrafted, and rightfully so, Smith is worth a look in deep leagues.
If he can come back healthy in the early season, he could be a very nice waiver-wire pickup.
Tight End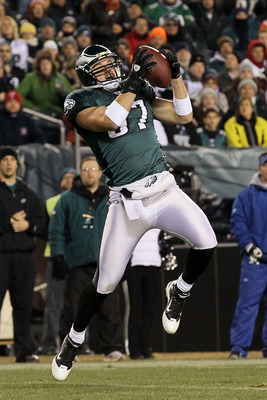 Jim McIsaac/Getty Images
Brent Celek saw an incredible drop in value with Michael Vick as his quarterback. In 2009, Celek had a breakout year with Donovan McNabb under center. It appeared that he would continue his strong play with Kevin Kolb but saw his stats drop significantly when Vick took over.
In Celek's defense, the team asked him to pass block far more often with Vick as quarterback. The offensive line had issues protecting Vick as he holds on the ball far longer than they were accustomed to when Kolb was quarterback.
We expect similar numbers for Celek this season unless the Eagles can totally fix their pass protection in only one year.
Defense & Kicker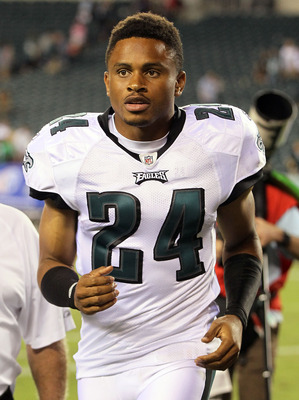 Jim McIsaac/Getty Images
Defense
The Eagles likely won't trade starting corner back Asante Samuel unless they get an earth shattering offer, which means the Eagles defense will have arguably the best secondary in football.
Samuel will be paired with Nnamdi Asomugha as the other starter and Dominique Rodgers-Cromartie coming in to take on outside threats in spread formations.
The Eagles were third in interceptions last year, and we actually expect that number to go down. Does that sound crazy? Maybe it is, but the Eagles will force opposing defenses to run the ball against them, something new defensive line coach Jim Washburn has had success stopping before.
Last year the Eagles gave up the 15th most rushing yards and will no doubt be tested again this season. The defensive line is going to be much stronger this year with the additions of Cullen Jenkins at DT and Jason Babin at DE.
Both players are more focused on pass rush however, as per the new mentality of DC Juan Castillo.
The linebacker position is the most untested position on the defense. The Eagles look like they will start fourth round pick Casey Matthews at MLB, which is nice on paper but we're hesitant to assume he is just like his brother.
The younger Matthews has a great motor and instinct but may lack the size to stop the run at the NFL level. The Eagles have a lot of competition at OLB with players like Jamar Chaney, Moises Fokou and Keenan Clayton but none is going to make a big impact on stopping the run.
Kicker
There is definitely a new contender for best kicker in fantasy, and he is a rookie. Rookie Alex Henery was one of the most accurate kickers in NCAA history and has a very strong leg to go with it.
So far he has been just as accurate in practice and is a great fantasy kicker thanks to his high scoring offense. We have no issues with Henery being the first kicker drafted.
Sleeper & Bust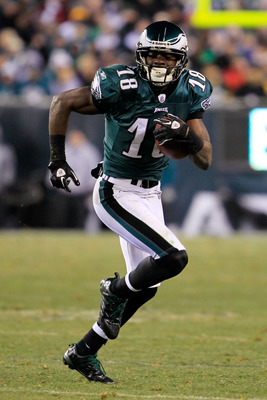 Chris Trotman/Getty Images
Sleeper Candidate(s)
Brent Celek – It's hard for us to designate a sleeper on the Eagles' offense because we every Eagle on your radar is there for good reason.
You may forget about Celek this year, and if drafted, he will certainly be drafted as a TE2. Don't forget his productive years, however. If the Eagles can improve their pass protection, Celek will be given an opportunity to be a fantasy sleeper again.
Bust Candidate
Jeremy Maclin – This is by no means set in stone, but Maclin is missing critical time with his team right now and that could throw off he and Vick's timing.
Maclin's major fantasy value is in PPR league, so if he can't jump right back in to his 2010 mold, his value will surely plummet.
Keep Reading