Baltimore Orioles Trade News: Grading the O's Deadline Deals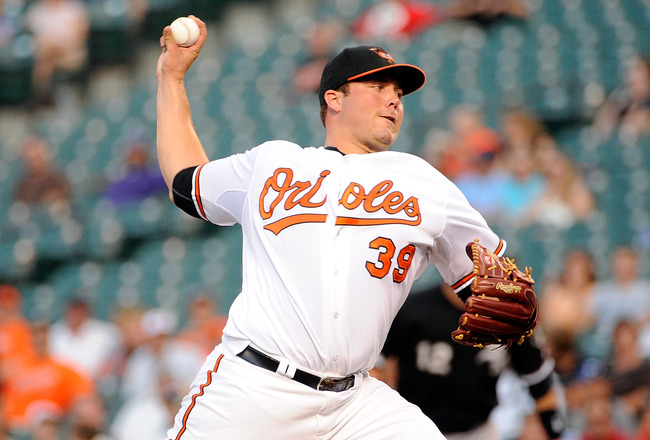 Greg Fiume/Getty Images
Currently 45-70 and 26.5 games back in the AL East, the Baltimore Orioles had no reservations about dealing some of their older talent in exchange for younger prospects.
While the Orioles have the misfortune of having to play in the hardest division in baseball, their interest in obtaining younger players shows the current rebuilding process that may take several seasons before establishing a team capable of competing with the New York Yankees and Boston Red Sox.
Baltimore decided to deal right-handed reliever Koji Uehara and Derrek Lee, while picking up Chris Davis, Tommy Hunter and Aaron Baker. Let's take a look at if and why these deals made sense for the organization.
Dealing Nick Green for Zach Phillips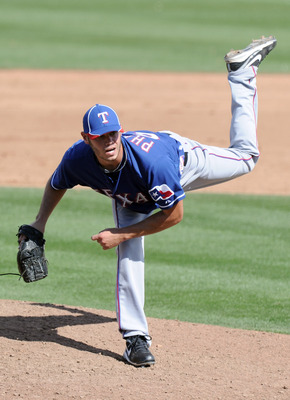 Harry How/Getty Images
Certainly not one of the more impactful trades of the year, the Baltimore Orioles dealt infielder Nick Green for left-handed pitcher Zach Phillips.
Nick Green is a veteran that has spent time on the Atlanta Braves, Tampa Bay Rays, New York Yankees, Seattle Mariners and Boston Red Sox, bouncing around between the majors and minors throughout his career. He has a career .237 average, .305 OBP, with 16 home runs and 96 RBI in 393 games.
Zach Phillips has spent his career in the minors, compiling a 32-39 record with a 4.09 ERA in seven seasons. His two seasons in Triple-A ball have been fairly impressive with a 3.71 ERA and 5-5 record.
Again, this is Baltimore's attempt at getting younger. Dealing a 32-year-old utility player for a 24-year-old left-hander who has done well at Triple-A is a great move. This is a low-risk, high-reward trade for the Orioles.
Grade: A
Dealing Derrek Lee for Aaron Baker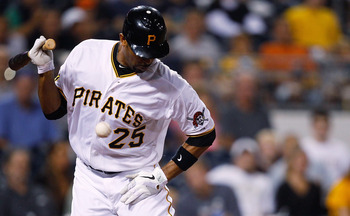 Jared Wickerham/Getty Images
On July 30, the Baltimore Orioles dealt first baseman Derrek Lee to the Pittsburgh Pirates for first baseman Aaron Baker.
Derrek Lee is a 15-year MLB veteran, playing for the San Diego Padres, Florida Marlins, Chicago Cubs, Atlanta Braves, Baltimore Orioles and, finally, the Pittsburgh Pirates.
Lee has a career average of .281 and has hit 326 home runs, but he hasn't been as effective in recent years. With Baltimore this season, Lee had just a .246 average, though he did have 12 homers.
Aaron Baker is a minor league first baseman, progressing from Low-A to High-A ball in his three seasons. In 2011, Baker has shown a lot of promise, batting .287 with a .359 OBP, 17 home runs and 81 RBI.
While Derrek Lee is a proven veteran, he obviously won't be of much use to the Orioles long term at 35 years old and towards the end of his career. He hasn't performed for Baltimore and has been quite costly for the club.
Baker, on the other hand, is just 23 years old with a good deal of potential. This is another fairly low-risk trade which makes sense for both organizations.
Grade: B
Dealing Koji Uehara for Chris Davis and Tommy Hunter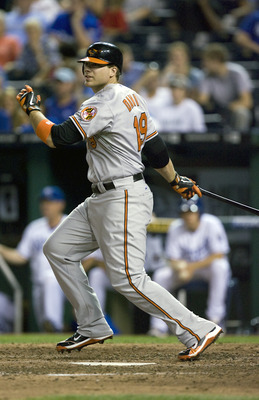 Ed Zurga/Getty Images
The Baltimore Orioles managed one more trade on July 31, dealing right-handed pitcher Koji Uehara for first baseman Chris Davis and right-handed pitcher Tommy Hunter from the Texas Rangers.
Uehara played his first season in Major League Baseball in 2009. He started 12 games for the Orioles, putting together a 2-4 record with a 4.05 ERA. The last two seasons, Uehara made the jump to the bullpen, where he has been more much effective. In 2010, Uehara had a 0.95 WHIP with a 2.86 ERA.
This year has been even more impressive for the Japanese righty, pitching 47 innings for the Orioles with a 1.72 ERA and 0.70 WHIP before getting traded.
Chris Davis made his MLB debut in 2008, showing off his ability to hit for both power and average with a .285 batting average with 17 home runs. The '09 season was a bit of a disappointment, dropping nearly 50 points off of his average, but hitting 21 homers. Last year, Davis played just 45 games and managed just a .192 average with a single home run.
This season has been an improvement for Davis, but his rookie year still has yet to be replicated. Since joining the Orioles, Davis is batting .200 with one home run and three RBI.
Tommy Hunter spent most of his time with the Texas Rangers in the starting role, but has shown his ability to come out of the bullpen effectively this season. In 15.1 innings pitched for the Rangers, Hunter had a 2.93 ERA.
Since the trade, Hunter's ERA has blown up to 4.47, as he has allowed nine earned runs in 11.2 innings.
Ultimately, Chris Davis and Tommy Hunter aren't likely to be as effective this season as Uehara was. Losing Uehara is going to be difficult on the Orioles, but at 36 years old, the organization is clearly interested in making moves to get younger.
Hunter put together a good season in 2010, and at 25 years old, he's a good pick-up for a team looking to the future. Chris Davis is also 25 and while he hasn't come close to his 2008 season, that potential makes him an interesting addition.
Grade: B
Keep Reading

Baltimore Orioles: Like this team?