Pittsburgh Steelers : 10 Things to Watch for in the Preseason Opener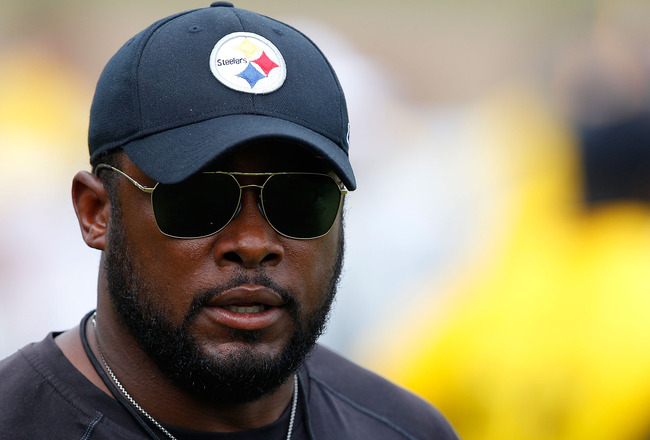 Jared Wickerham/Getty Images
The Pittsburgh Steelers kick off their 2011 preseason schedule against the Washington Redskins Friday night.
Many people were excited to see the debut of camp favorite Baron Batch, but that will not happen after tearing his ACL on Wednesday.
While that may have dampened the mood, there is still plenty to be excited about come Friday night.
The Steelers have a lot of young talent which will be on display, including first-round draft pick Cameron Heyward and fellow rookies Marcus Gilbert, Curtis Brown and Keith Williams.
There are also a couple of young linebackers in Jason Worilds, Stevenson Sylvester and Chris Carter who could very well be the Steelers' future at the position.
One thing that we don't need to worry about watching is the starters, particularly Ben Roethlisberger. They do not figure to play all too much against the Redskins.
Instead it will be a barometer for the rookies and other young players on how well they are picking up the Steelers' scheme as well as how they are adjusting to the professional league.
Will Dixon Earn the Third Spot?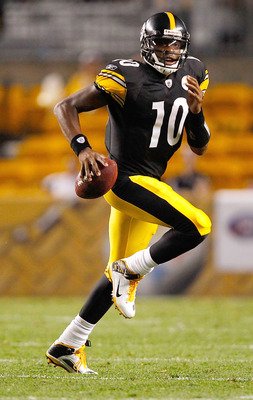 Jared Wickerham/Getty Images
About one year ago, Dennis Dixon and Charlie Batch were competing for the starting job with Byron Leftwich with Roethlisberger's four-game suspension to start the season.
This year Dixon and Batch are competing for a roster spot.
Batch is 36 and has not had his best training camp this year.
Dixon is young and still has loads of potential but is at the point of his career where he needs to begin to showcase some of that talent.
He has primarily been a run-first quarterback, and he must show that he can make plays with his arm. However, Dixon's athleticism is an outstanding asset to have.
But in a with a 'win now' mentality, will the Steelers want to keep the dependable veteran in Batch or the talented youth in Dixon?
Batch made the most of his opportunity last year when he stepped in making many feel that he could be a full-time backup again. While that did not pan out, Batch still can get the job done.
Can Dixon show that he is capable of doing more with his arm this season? This will be one thing to watch Friday.
Which Running Back Will Step Up?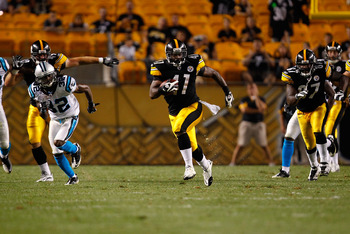 Jared Wickerham/Getty Images
The injury to Baron Batch all of a sudden opened up a roster spot at running back.
Rashard Mendenhall, Isaac Redman and Mewelde Moore likely have the top three spots locked up, and Batch had a huge lead for the fourth position.
Now the Steelers will give a good look at Jonathan Dwyer, John Clay and James Johnson.
Dwyer may have the most natural talent but came to camp out of shape and has looked shaky in position drills, particularly with his blocking.
Clay has shown he can be a very good straight line runner, powering through the offensive line in team drills. Beyond this, he has a lot to work on.
Johnson is the underdog behind these two but could turn some heads with a big game.
All three backs will have their opportunities and have to make the most of them. If not, the Steelers may look elsewhere to bring in a veteran back.
What to Make of the Wide Receiver Position?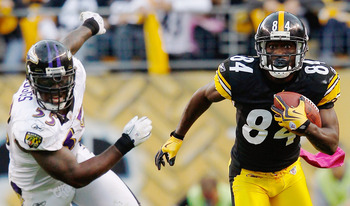 Jared Wickerham/Getty Images
The Steelers have been running without Hines Ward and Emmanuel Sanders throughout much of camp, allowing many of the young wide receivers to move up the depth chart.
Neither Ward nor Mike Wallace should expect to play much, meaning that Antonio Brown and Tyler Grisham should get plenty of playing time.
Brown has looked great physically but has not shown a mastery of the mental game yet. It will be great to see Brown on the same page with the quarterbacks throughout the night.
Brown could have a very bright future with the Steelers, and he could be a player who they try to showcase Friday.
Grisham has also had a nice camp but with the signing of Jericho Cotchery may have seen his shot of making the team go up in smoke.
That will not prevent him from competing hard, but the writing appears to be on the wall.
Other players, such as Wes Lyons, will be trying to prove themselves for a slot on the practice squad.
Can Saunders Backup Miller?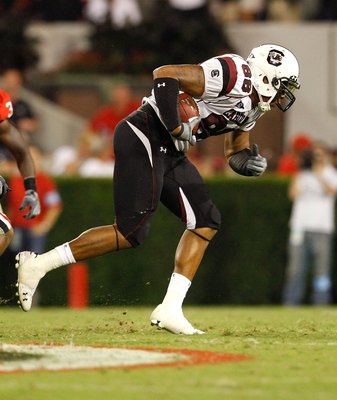 Kevin C. Cox/Getty Images
Wesyle Saunders was one of the undrafted free agents to watch entering camp, and he has not disappointed.
Though he still has work to do on his blocking, Saunders looks the part when going out for passes.
Saunders is a big target and looks fluid running routes and could eventually develop into a legitimate receiving threat to pair with Heath Miller.
He must do more than catch the ball, though.
Pittsburgh demands that their No. 2 tight end can stay home and block. If Saunders can prove himself in this area, he will enhance his chances at making the final roster.
Foster or Scott at Right Guard?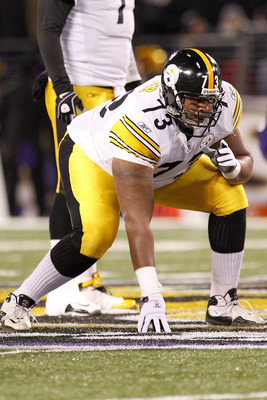 Geoff Burke/Getty Images
On Thursday I broke down the position battle at right guard.
Anticipating that Doug Legurksy is out of the race and will be used as the top backup on the interior of the line, Ramon Foster and Chris Scott are the two names to watch.
Foster has started 12 games in two seasons, while Scott spent last season injured.
Scott has come on strong this season, excelling in position drills and has begun to get first team reps.
The official competition will begin Friday night as these two players will see their first game action of the season.
Both players offer bulk and power, but Scott moves a little bit better. If he can handle starting defenses starting with the Redskins, he could jump Foster before all is said and done.
Potential with Rookie Offensive Linemen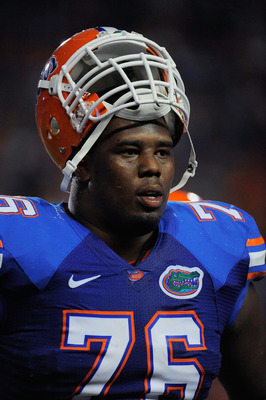 Doug Benc/Getty Images
After years of drafting linemen late, the Steelers may have finally hit on a couple with second-round pick Marcus Gilbert and sixth-round pick Keith Williams.
Gilbert did not have a first day of camp before sitting out with an injury until this past Monday. Since then, he has stepped up his play and could potentially be their left tackle of the future.
Regardless of his future position, it would be good to see what Gilbert can do on both sides of the line. The Steelers lack depth at tackle and any work that he can get on each side would be beneficial.
While it is expected that a second-rounder performs well, Williams was an afterthought of this year's draft class.
Instead, Williams got an opportunity to work with the starting line at the start of camp with an injury to Chris Kemoeatu and he looked pretty comfortable.
He is a strong run blocker, so it will be important that he maintains that intensity in his first game action. The key will be how he handles pass blocking.
Both linemen should get a lot of snaps to prove themselves against Washington's defense.
Young Corners Have a Chance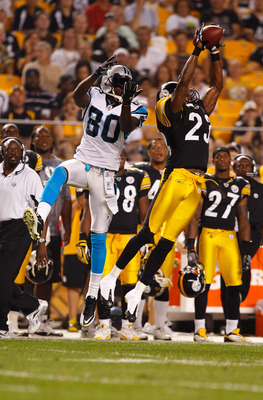 Jared Wickerham/Getty Images
Ike Taylor and William Gay should start with Bryant McFadden out against Washington, meaning that a young cornerback will have a chance early to make an impression at the nickel.
Keenan Lewis, Crezdon Butler and Curtis Brown should see the field early and often.
Lewis, who has been a disappointment over his first two seasons, has what likely will be his last chance. Even though he has had his best camp, Lewis will really need to shine to make the roster with the depth at the position.
Butler flashed some potential last preseason but did not get much of an opportunity during the season. In his second camp he did not show significant growth, despite moving up the depth chart early in camp due to injuries and free agent issues.
Brown may have the best pedigree of the bunch but has had an injury-filled camp and is also behind without OTAs.
Cortez Allen, who had a solid start to camp, is also out with an injury.
Besides right guard, this is the most important position battle to watch.
Sylvester, the Next Great Linebacker?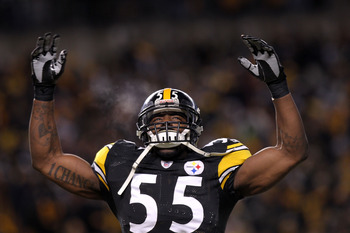 Nick Laham/Getty Images
Stevenson Sylvester has been simply outstanding during camp.
He has looked dominant in pass rushing drills and has been a force against the run. If he can continue to develop with his pass coverage, Sylvester will be the next great Steelers linebacker.
Sylvester will likely play next to Larry Foote so Dick LeBeau can use him as more of a playmaker while Foote will play a conservative game.
Something to watch will be if Sylvester plays under control or not. He has to show that he has a grasp of his responsibilities with the defense and cannot depend solely on his athleticism.
Suisham's Kickoffs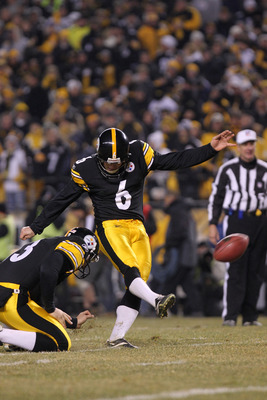 Nick Laham/Getty Images
So far in the preseason, the kickoff return game has been virtually eliminated.
As a team that has historically struggled with kick coverage, the Steelers could really take advantage of the new kick return rules.
Shaun Suisham will need to put the ball in the end zone and force the touchdowns that we all saw on Thursday night.
If he can capitalize on this, the Steelers defense will be in great position with opposing offenses starting on their own 20-yard line.
Discussion Points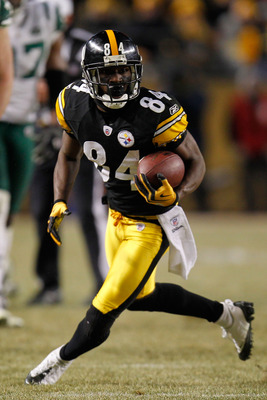 Gregory Shamus/Getty Images
What are you looking to see from the first team offense/defense?
Will Brown show he can be more than a fourth receiver?
Who do you want to see start at right guard?
Would you rather see the potential with Saunders at tight end or a dependable veteran such as Gilmore?
With Batch injured, who is the answer at running back?
How long should Hood and Heyward play?
What does your cornerback depth chart look like (with current injuries)?
Should Polamalu play?
What 'sleepers' will you be watching?
Follow me on Twitter @ChrisG_FC
Keep Reading

Pittsburgh Steelers: Like this team?