Buccaneers vs Chiefs: 5 Players for Buccaneer Fans To Monitor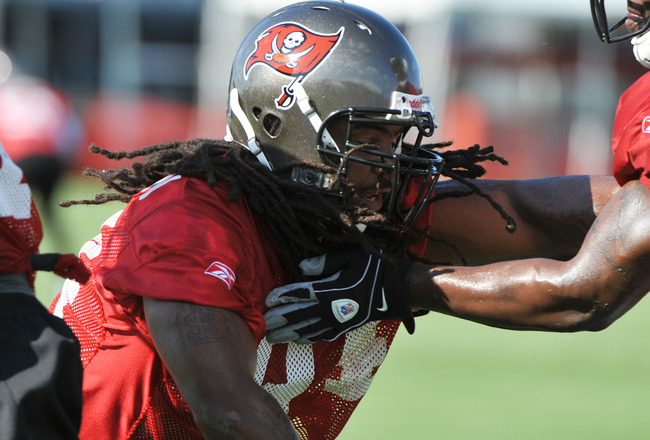 Al Messerschmidt/Getty Images
The Tampa Bay Buccaneers will kick their much anticipated 2011 season off Friday night against the Kansas City Chiefs in what will be a battle of two of the more surprising teams from the 2010 season.
The Buccaneers followed up their miserable, three win 2009 season, with a 10-win, 2010 year where Tampa Bay just missed the playoffs.
With Mark Dominik and the Buccaneer front office electing to stick with their youth movement moving forward, Tampa Bay fans who have been dying to see some of the Bucs' young talent take to the field will finally see them in action against the Chiefs.
All signs point to the Buccaneers starting each of their first three selections from the 2011 draft, so Tampa Bay will inevitably learn Friday night what some of these newcomers can bring to the field.
Outside of the rookies who will be expected to contribute from week one, their are some second year players that will be worth keeping an eye on Friday night as well.
It just so happens that every player on this list plays on the defensive side of the ball, but for a defense that ranked 28th against the run and was tied for 31st in the league in total sacks—there is a reason why the focus should be on the defensive side of the ball.
5. Brian Price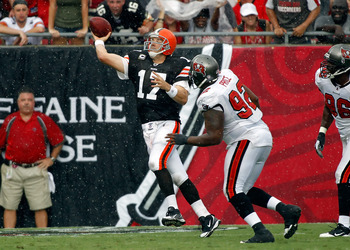 J. Meric/Getty Images
Defensive tackle Brian Price, who was selected in the second round of the 2010 NFL Draft by Tampa Bay had a shaky rookie season at best.
Price only recorded three tackles in seven games, then went down with a pelvic injury that resulted in two surgeries, cutting his rookie season in half. Price failed to impress even when he was healthy, but the transition for defensive lineman from college— to the pros— takes time.
Brian Price is currently listed second on the depth chart at the defensive tackle spot behind Ron Miller—but a good showing by Price in the preseason could lift him into the starting role.
4. Gerald McCoy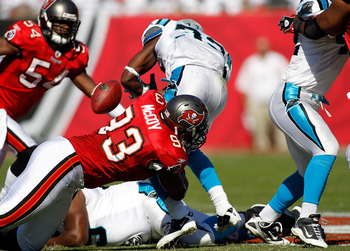 J. Meric/Getty Images
Gerald McCoy, the No. 3 overall pick in the 2010 NFL Draft struggled to make an impact for the Buccaneers until late in the season before landing on the IR due to a torn bicep muscle.
McCoy recorded only 28 tackles during his rookie campaign, and he failed to record a sack until Week 11. It would be a promising site if McCoy could get to Matt Cassel early on in tomorrow's preseason matchup.
Tampa Bay coaches and fans a like should be excited to see the progress McCoy has made this past offseason. With two rookies starting on the defensive line, McCoy needs to be more productive in this his sophomore season and start to live up to his high draft selection.
3. Adrian Clayborn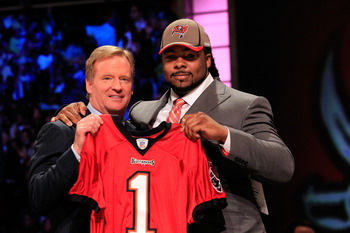 Chris Trotman/Getty Images
If there is one thing fans of any team want to see on game one of the preseason, it's their No. 1 selection in the draft.
For Tampa Bay, that means defensive end Adrian Clayborn.
At 6'3'' and 290 pounds, Clayborn is about as intimidating and scary looking as they come. In college, Clayborn's ability to get after the quarterback was undeniable. Whether it was chasing down Terrelle Pryor from behind, or clogging up running lanes, Clayborn did it all.
Clayborn is listed as the teams starting right side defensive end so Buccaneer fans will get a first hand look from the opening series at their first round selection, against at Kansas City team that features one of the leagues top young backs in Jamaal Charles.
2. Mason Foster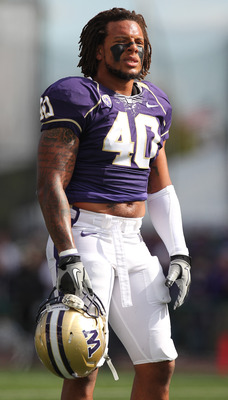 Otto Greule Jr/Getty Images
With the departure of starting middle linebacker Barrett Rudd to free agency, rookie third round pick Mason Foster will be the man starting in the middle for the Buccaneers.
Foster was an absolute tackling machine during his college days at Washington, and his 162 tackles during his senior year were second in the nation which in turn helped lead Foster to being named an All-American.
The Tampa Bay Buccaneers know what they have in starting veteran linebackers Geno Hayes and Quincy Black, so all eyes will be on rookie Mason Foster.
Foster will no doubt have some growing pains a long the way this season, but if Raheem Morris and the Tampa Bay coaching staff have enough faith in starting Foster from week one of the preseason—that's a good sign moving forward for the Buccaneers.
If Foster struggles, third year linebacker and ex-University of South Florida standout Tyrone McKenzie would be next in line to hold down the middle—both of whom have been in a highly competitive fight for the position since training camp opened.
1. Da'Quan Bowers
Al Messerschmidt/Getty Images
Of all the players Tampa Bay fans should monitoring come kickoff Friday night, Da'Quan Bowers is the most intriguing player of the bunch.
Before reports surfaced claiming that Bowers had a bad knee and his NFL career could be a short one, Da'Quan appeared all but a lock to be a top five pick in the draft. Even with the concerns surrounding Bowers knee, the Buccaneers rolled the dice and selected the 6'4'', 280 pound defensive end with their second overall pick.
It will be interesting to see how Bowers looks on the field as he will be playing with a chip on his shoulder, and he's out to prove 31 teams were wrong in passing on him back in April.
All reports from Buccaneer's camp were positive about Bowers, and he is currently listed as the second-string left end. Bowers has every intention of being the starting left end by Week 1 of the regular season, so keep an eye on No. 81 all night as he will be playing to make a statement to the entire league.
Keep Reading

Tampa Bay Buccaneers: Like this team?