NFL NFC South: Better Know a Nose Tackle
August 10, 2011
Jamie Sabau/Getty Images
Welcome to Better Know a Nose Tackle, a new feature at F*BALL highlighting the nose tackles in the NFL, division by division. While we are all aware this is the Year of the Quarterback (then again, when is it not?), the nose tackle is an oft-unsung part of the defensive line, but an integral component to any successful team. The nose tackle, as you may or may not know, is responsible for taking on one, or ideally two, offensive linemen in the trenches. They line up opposite the nose of the center (thus, nose tackle), and occupy the blockers, freeing up other defensive players to make plays. Dependent on the scheme or the O-line, the nose may also tackle. It's a position seen more in a traditional 3-4 defense, but 4-3 schemes may also employ a nose. In a nutshell, he's a big man built to double-team linemen. In this installment, we examine the nose tackles of the NFC South.
 
ROY MILLER, TAMPA BAY BUCCANEERS (pictured above)
Miller was a 2009 third-round draft pick by the Buccaneers. In his first NFL season, he played in 15 games, logging one start. Miller won the starting job in 2010, and played in all 16 games. He improved his numbers from a year before, logging 47 combined tackles (32 of his own, and 15 assists), with one sack. He is the master of the "one-eyed stretching routine"; this will prove important in training camp as he tries to stave off Brian Price, drafted in 2010 from UCLA, from taking his starting position. Highly regarded during his college career at Texas, Miller enjoys tackling, stretching, Warren Sapp, video games, and movies.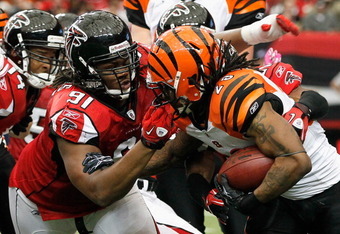 Kevin C. Cox/Getty Images
Like Miller, Peters was a third round draft pick, nabbed by the Falcons in 2010. He joined Peria Jerry, a first-round pick, in the Falcons' draft class that year. Undaunted by his higher-profile colleague, Peters beat out Jerry for the starting nose position. In 2010, Peters started 15 out of 16 games and made 33 combined tackles, with 25 solos and 8 assists. Because AtlantaFalcons.com doesn't add much personal background, it seems safe to guess that Peters enjoys...tackling, stretching, Warren Sapp, video games, and movies. 
AUBRAYO FRANKLIN, NEW ORLEANS SAINTS
Signed by the Saints this offseason, veteran Aubrayo Franklin is the closest thing the Saints have to a pure nose; he has played 3-4 nose tackle for his whole career. In concert with Shaun Rogers—also acquired by the Saints this year—he will be part of the defensive rotation, particularly in running downs. I am going to pencil-in Franklin as the starter, because we all know about Shaun Rogers' "work ethic"—or lack entirely thereof. Franklin had 39 combined tackles last season with the San Francisco 49ers; 38 were solo, with one assist. Heck, Franklin probably...enjoys tackling, stretching, Warren Sapp, video games, and movies.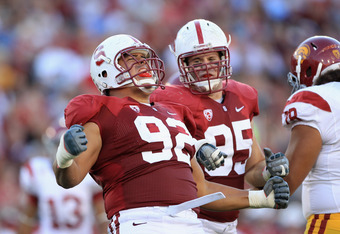 Ezra Shaw/Getty Images
Fua was drafted in the 2011 NFL draft third round by the Panthers, along with DT Terrell McClain, to shore up their…let's say..."porous" defensive line. Not finished with offseason wheeling and dealing, Carolina also brought in 10-year veteran Ron Edwards from the Kansas City Chiefs, who promptly tore his triceps in training camp, thrusting the rookie Fua into the starting nose position. Fua recorded 80 tackles in his 50 games at Stanford, and has impressed so far during camp—though that loses meaning somewhat when you're talking about Carolina's threadbare defense. Fua probably enjoys stretching, tackling, Warren Sapp, video games, and movies.
Join me as I continue on the journey of identifying nose tackles around the NFL; I hear they all have an affinity for tackling and Warren Sapp. This is a difficult project, H/T to Brian Sibila for his research assistance.