A Look at Why the NHL Allows Fighting in Hockey
Rich Lam/Getty Images
I'm lucky. My dad had me watching sports before I could chew.
Even though I don't have (and envy) the ability of a lot of men I know who can easily remember minute facts about players, statistics, dates and game details, I understand a good bit about sports.
I've watched them for as long as I can remember. I worked in sports journalism for a while. And I'm married to a man whom I watch games with every night (Yes, I know I married up.).
It has always bothered me, though, that loving—and, even more so, understanding—sports can feel like an exclusive club. There are a lot of rules or ways things are done that are hard to grasp unless you've learned them by watching infinite amounts of TV or by playing certain sports for years.
Which got me wondering: What are some questions my friends (the bright women I know, in particular) have about sports but were too afraid/shy/intimidated to ask anyone?
In the interest of saving most of the guys who read this site from having to explain yet another rule ("No questions during the game!"), I offer the first in a series of answers to questions some of my female friends have about sports.
Go ahead and use the comments to offer your take. Just remember I'm probably not writing for someone as informed as you are. I'm writing for the football widows.
Question: Why Is Fighting Allowed in Hockey, but Not in Other Sports?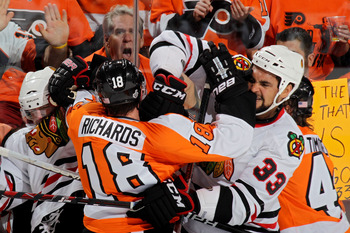 Bruce Bennett/Getty Images
I love this question because it proves my point about why it's hard to get into sports unless you watched or played them early and often.
I'll offer five reasons why fighting is allowed in NHL games but not in other major sports.
Reason 1: It's Allowed (Mostly) in the Rulebook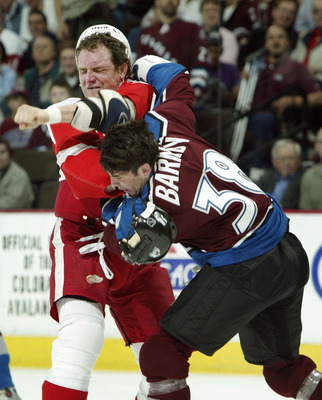 Brian Bahr/Getty Images
Read this official NHL rule about fights and tell me if those people who write booklets in tiny font sizes to explain complex electronic items weren't involved in this:
"A fight shall be deemed to have occurred when at least one player (or goalkeeper) punches or attempts to punch an opponent repeatedly or when two players wrestle in such a manner as to make it difficult for the Linesmen to intervene and separate the combatants.
"The Referees are provided very wide latitude in the penalties with which they may impose under this rule. This is done intentionally to enable them to differentiate between the obvious degrees of responsibility of the participants either for starting the fighting or persisting in continuing the fighting. The discretion provided should be exercised realistically."
Am I right? I like the part about exercising discretion "realistically." I hope no one expects me to react that way to brownies.
The point amid all those words is that the rules allow for fighting. And they give referees, the people who give out punishments to players, a lot of room for interpretation.
Of course, though fighting is allowed, there are still penalties for it. In most fights, the parties involved get either a two-minute minor penalty for roughing or a five-minute major penalty for fighting. (Ever heard of the band Five for Fighting? This is where they get their name.)
Which leads me to the second reason….
Reason 2: Wimpy Penalties Don't Discourage Fighting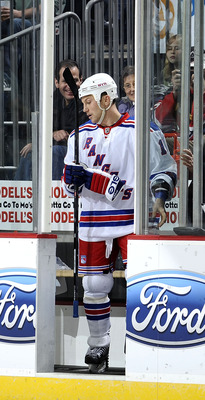 Jeff Zelevansky/Getty Images
Other major sports give players no good reason to fight. In most of them, you're thrown out of the game for any involvement in fisticuffs. More than that, other leagues reserve the right to suspend or fine players if the fighting is awful enough. The threat of hurting yourself or your team by your actions is enough to keep players in other leagues mostly in line.
Two or five minutes away from the game? That's like when I give my puppy a "time out" in his cage for tinkling where he shouldn't and he proceeds to chew the stuffing out of his pillow.
The penalty box isn't solitary confinement. They're in a box with a seat! The box has the equivalent of windows where they can watch the game! If their teammates, too, have been penalized, they get to sit with friends! If they're playing at home, thankful fans can yell sweet somethings at them while they take a rest from the action. If they're playing away from home, they get the satisfaction of hearing how much they've upset the home team's fans.
Throw in some nachos, and I'd be in heaven.
Of course, when their penalty time is up, they can get back out on the ice. See what I mean about wimpy?
Reason 3: It's Part of the Game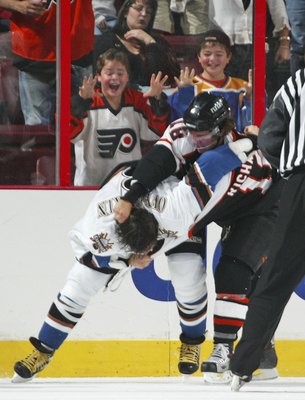 Bruce Bennett/Getty Images
Most likely because of the generous rulebook definition and a lack of scary consequences, NHL hockey has evolved over its long history to the point that fighting is just part of the game.
For women, I'd use the analogy of why we often go to public bathrooms in pairs. When did that become just something we do? I don't know. There's safety in numbers? There's someone to talk to if there's a line? There's an opportunity to devise together an exit strategy if the conversation is boring? It is an exit strategy?
Essentially, we do things because they make sense in the context of something we want to achieve.
In hockey, the goal (ahem) is to win the game by whatever means necessary. If fighting can knock out a great opposing player, energize a team that is showing few signs of life, settle a score between two players or break up the momentum the other team has built—it's a means to a better end.
Fighting is part of a strategy to win games. Just like the double-duck to the bathroom can win you your freedom. A strategy doesn't have to be complex to be effective.
Reason 4: Fans Love It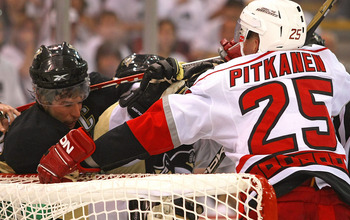 Bruce Bennett/Getty Images
NHL fans like to watch players fight.
Every team has its enforcers or goons (or thugs, as my dad calls them)—players designated for the purpose of hurting the opposition.
When these guys start fighting, you'll often see fans bang against the protective glass surrounding the ice. They aren't yelling, "Boo!" They're yelling, "Woo!" And various unprintable forms of "Kill that guy!"
All I can say about the why of the attraction is to point you to human history. We people tend to like watching fights. From gladiators to war movies to reality show meltdowns, there's something attractive about watching other people pummel each other.
Maybe it's because we secretly wish we too could get medieval on someone, but whatever the reason, fights are a big draw for NHL fans. In America*, we excel at giving the people what they want when it comes to sports entertainment.
*It's worth noting that referees for professional leagues in other nations outside of North America and for college-level hockey tend to eject players for fighting. Please share this fact at cocktail parties.
Reason 5: It's the Psychology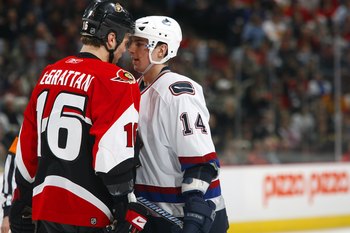 Phillip MacCallum/Getty Images
Imagine, if you will, there were a psychological game to dating. Say you wanted to prove to yourself that someone is interested in you. You could theoretically not return their phone calls right away or pretend you were too busy to respond to a text message because your life is filled with adventure and intrigue.
If the person more actively pursued you in response to your mysterious ways, that would be proof they were into you, right?
All sports have a psychological aspect to them, too, just like most human activities involving winning or losing, whether it's a game or someone's attention.
Having some kind of mental leverage over your opponent is an advantage. You can essentially make your rival defeat himself. If he doesn't think he can beat you, it's a lot easier for you to win.
In hockey, an NHL team that is known for its goon squad has an upper hand before the game even starts. They make they other team feel like David without the slingshot.
As Yogi Berra famously said, "99 percent of this game is half mental." But explaining that is the topic for another column.
Keep Reading