Bud Norris: Is the Young Houston Astros Starter the Next Cliff Lee?
August 11, 2011
Bob Levey/Getty Images
Philadelphia Phillies starter Cliff Lee has clearly established himself as one of the best pitchers in MLB, but it wasn't always that way.  It was just four years ago that he sported a 6.29 ERA, 1.52 WHIP and a dismal 1.83 K/BB.  
The next year, Lee won the Cy Young. 
What changed?  Walks.  Lee went from issuing 3.3 free passes every nine innings in 2007 to walking less people per inning than anyone in the American League in 2008.  Not surprisingly, Lee went 22-3 that year. 
So how did Lee just all of a sudden stop walking people?  Houston Astros starter Bud Norris would love to know.  The 26-year-old has great stuff and great potential but walks 3.3 batters every nine innings.  Sound familiar?  It should, that used to be Cliff Lee. 
While the two pitchers do put their gloves on different hands, their early careers are remarkably similar.  Lee managed to turn the boat around, win a Cy Young and sign a $120 million contract.  
Norris has yet to turn the corner like Lee did, but he could. 
Lets take a look at the similarities between these two hurlers, starting with the minor league careers.  Neither one was a huge name coming out of college.  Lee was drafted in the fourth round of the amateur draft, while Norris was drafted in the sixth. 
Lee (six seasons): 3.32 ERA, 1.25 WHIP, 4.2 BB/9, 10.1 K/9, 2.43 K/BB

Norris (five seasons): 3.65 ERA, 1.33 WHIP, 3.7 BB/9, 9.5 K/9, 2.59 K/BB 
Both pitchers showed big strikeout potential in the minors, but also had ugly walks numbers.  Lee's first full season in the majors came at 25, while Norris got the call at 24. 
Norris actually has a better ERA in his first years in the big leagues than Lee did in his first four seasons, helped by the fact that Norris pitches in the National League. 
Lee (four seasons): 4.76 ERA, 1.39 WHIP, 3.0 BB/9, 6.6 K/9, 2.2 K/BB

Norris (two-plus seasons): 4.38 ERA, 1.43 WHIP, 4.0 BB/9, 8.9 K/9, 2.2 K/BB 
Pretty crazy isn't it?  Now let's take a look at Lee's stats the year before he won the Cy Young and Norris's stats this season to date. 
Lee (2007): 6.29 ERA, 1.52 WHIP, 3.3 BB/9, 6.1 K/9, 1.83 K/BB

Norris (2011): 3.73 ERA, 1.34 WHIP, 3.3 BB/9, 8.5 K/9, 2.54 K/BB 
Granted, Lee started the season with an abdominal injury and only started 16 games.  Norris has already started 23 games this season.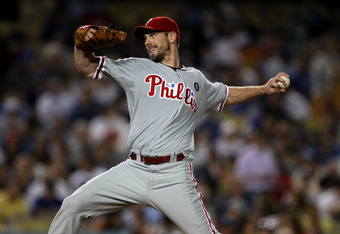 Stephen Dunn/Getty Images
In addition to the similar statistics, Norris is slowly turning into the same type of pitcher that Lee has become.  Lee has always been the stereotypical "crafty lefty," who had good enough stuff to rack up strikeouts.  Norris has all the tools to duplicate Lee's style but one; Norris isn't left handed.
Its possible for righties to be crafty, but its very hard for them to be dominant.  Greg Maddux did it, but that was Greg Maddux.  None the less, Norris is being to take the steps towards becoming more of a finesse and control pitcher.
Norris came into the league trying to blow guys away, consistently throwing his fastball 95 mph and above.  But this season Norris has taken a little off.  After throwing at least 95 mph in 22 of his 26 starts in 2010, Norris has thrown that hard in just six of his 23 starts this year.  The average velocity of his fastball down more than a full mph from last season.
While a velocity drop such as this would spell disaster for many pitchers, it has helped Norris.  He is walking a full batter less per nine innings than in 2010.  Beginning to rely on his off-speed pitches, not his fastball, as his out pitch is another reason for Norris's steady improvement. 
Lee usually goes to the changeup, while Norris prefers the slider.  Norris actually has a changeup of his own that has slowly improved over the last few years.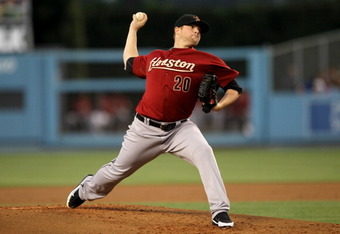 Stephen Dunn/Getty Images
Lee turned the corner almost instantly in 2008, but Norris's reformation will likely take a few more years of maturity.  Norris is going to keep improving as a starter, but will he ever be able to harness his potential and reach the same level that Lee has? 
That remains to be seen.  He has the talent and athleticism to do so, if he can continue to improve his command and control the strike zone.  Norris is only 26.  It took Lee till he was 29 to become dominant. 
As you might be wondering, its unknown if the Astros starter is somehow related to Chuck Norris.  If he is, well then they might as well get the Cy Young award ready. 
Or a few.