New York Knicks Should Consider Patrick Ewing for Assistant Coach Position
August 11, 2011
Otto Greule Jr/Getty Images
Patrick Ewing has made overtures that he'd like to return to the New York Knicks as a coach, and the team should really consider bringing him into their plans moving forward.
The esteemed former Knick appeared on the Mike Lupica Show on ESPN Radio in New York about a possible return to the franchise and discussed where he'd like to spend the next portion of his coaching career.
Ewing has served as an assistant coach with the Orlando Magic under Stan Van Gundy since the 2007-08 season, and although he has been excellent in the role, he regularly gets overlooked for vacant head coaching positions.
Largely credited for his work with Dwight Howard during his tenure with the team, Ewing has really taken to the coaching ranks. But that shouldn't come as a surprise considering his natural knowledge for the game has been on full display since his playing days.
Most recently, Ewing interviewed for the Detroit Pistons position before it ultimately went to Lawrence Frank. When prompted as to why he doesn't think he's been able to find a head coaching gig yet, Ewing had a rather interesting response:
"People think that just because you're a center, you're not as smart as the guards or the smaller guys. I think that's a load of crap. When I played with the Knicks, I was just as important or just as smart as any other of the guards I played with. I still had to call out plays, notice schemes, know the systems, do everything they had to do."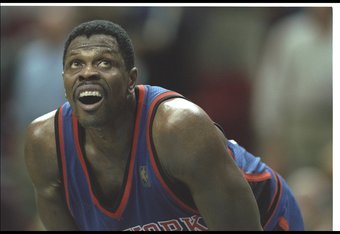 Andy Lyons/Getty Images
Ewing is right. Looking around the league, there aren't a lot of big men who often receive the opportunity to prominently coach because they are often thought to not have the same basketball IQ as guards.
But in Ewing's case, that couldn't be further from the truth.
With the Knicks looking to revamp the coaching staff and possibly even groom an eventual successor to Mike D'Antoni, it's the appropriate time to bring Ewing back into the fold.
"I hope that one day I get to come back home, because I do live in this area, I still consider this my area, I still consider myself a Knick. Hopefully one day I'll be brought back here," Ewing, the Knicks' career scoring leader, said in response to a question from Lupica.
Not only would it be a productive move for the Knicks as they look to build the coaching staff, but it would be the right one for a multitude of reasons.
Ewing was beloved during his tenure in New York, and the Knicks need help coaching their big men in a very big way.
The team could use Ewing to not only tutor Amar'e Stoudemire down low, but also to work with former second-round pick Jerome Jordan, as the Knicks are hoping that the big man can be a big part of their plans in the middle moving forward.
Ever since Ewing's departure from the team, everywhere that he's gone has seemed somewhat unnatural as he embodies the Knicks culture perfectly.
Regarding his playing days with the team and their inability to win a championship together, Ewing said the following:
"It is what it is. Like I said before, I love my teammates, we did the best that we could for the city of New York, but it just wasn't in the cards for us."
Should he rejoin the team in a coaching capacity, perhaps both he and the team will enjoy the success that has seemingly alluded them up to this point.