Why the Minnesota Vikings' New Left Tackle Should Be Phil Loadholt
August 12, 2011
Matt Sullivan/Getty Images
The Vikings made a very risky but smart decision by releasing continuously unproductive left tackle Bryant McKinnie.
The Vikings drafted McKinnie in the first round, seventh overall, in the 2002 NFL Draft to be their quarterback's blindside protector for the next decade.
Why not? His 6'8", 340 lb. frame is intimidating. But Bryant never really seemed to care about football, sure he played decent in Minnesota for nearly 10 years, but new head coach Leslie Frazier runs a tight ship and cut the unproductive McKinnie after he reportedly showed up to camp weighing in at "nearly 400 lbs."
The Vikings just drafted their franchise quarterback in Christian Ponder and traded for a veteran former Pro Bowl quarterback in Donovan McNabb. Now they've released their starting "Pro Bowl" left tackle for an already aging and declining offensive line?
Yes. And it needed to be done.
I know the Vikings say right tackle Phil Loadholt isn't being thought of at the left tackle position, but Minnesota would be wise to give him a chance to prove himself on the left side.

Why the move makes sense
Loadholt's got the size at 6'8", 343 lbs (something "Mount McKinnie" was). The coaching staff has had nothing but positive remarks on Loadholt's athletic ability and work ethic this offseason. He's in extraordinary shape (something "Mount McKinnie" wasn't). And he has shown the strength and tenacity he had his rookie campaign (before a shoulder injury in 2010).
By moving Loadholt to the left tackle position, they could solidify that spot for the next decade, and put rookie DeMarcus Love at right tackle. Adding both youth and upside (while also upgrading physicality), the two tackle positions are already better than last season.
Love's size and ability are great (I think he was a steal in the sixth), however, I'd rather have him begin his career like Loadholt (who started all 16 games at RT his rookie season) while allowing our best current tackle take arguably the second most important position on our football team. 

How the rest of the O-line improves
Steve Hutchinson will be 34, and is coming off a season ended on Injured Reserve. He's still an above-average guard, but his play is declining. Luckily, the Vikings have Chris DeGeare waiting to take over for Hutch, whenever that may be.
As for the right guard spot, Anthony Herrera is coming off a season ended on Injured Reserve as well. Unlike Hutchinson, however, Herrera was never really that good to begin with and is over the age of 30.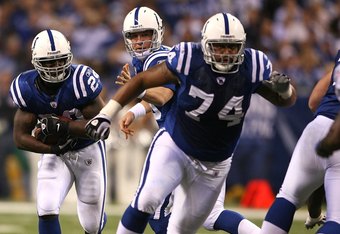 Andy Lyons/Getty Images
Enter Charlie Johnson. Johnson was actually brought in to replace Bryant McKinnie at left tackle, and while he did protect Peyton Manning's blindside, he hasn't shown much so far in camp. Actually, Jared Allen has done nothing but abuse him. So why were the Colts disappointed they lost him in free agency?
Well, while Johnson's size—6'5", 304 lbs—may not be adequate for a tackle, it is perfect for a guard, which just so happens to be a position that could use upgrading as well. Johnson could move to right guard and start in place of Herrera, which would automatically be an upgrade. 
What about Ryan Cook, you say?
Well, he can sit right in front of John Sullivan at center on the depth chart. 
Cook played center in college at New Mexico and was drafted in the second round of the 2006 NFL Draft. His size—6'6", 320 lbs—is an immediate upgrade to undersized incumbent center, John Sullivan.
Sullivan has had a hard time with his strength at the NFL level and seems to be a bit injury prone. And when you face defensive tackles like Ndamukong Suh, B.J. Raji and Anthony Adams twice a year, you cannot start an undersized and weak center. 
I know the Vikings' preseason opener is tomorrow night, but it's worth considering. If the O-line plays poorly tomorrow night, expect to see some changes to their game plan.