Manchester City Transfer Rumours: 5 Biggest Stories of the Day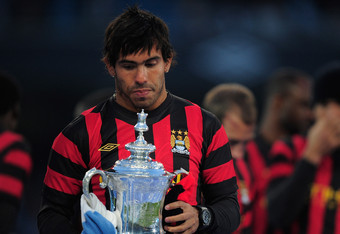 Jamie McDonald/Getty Images
With just a few days until the season starts and a couple weeks until the transfer window is closed, Manchester City, one of the world's richest teams, is right in the thick of the biggest transfers.
Manchester City has been one of the biggest players in world football in the last three years since they were bought by Sheikh Mansour and the Abu Dhabi United group, and last season they proved that all that money really could yield results.
The Billionaires in Blue won the FA Cup last season and finished third in the table, securing automatic qualification to the Champions League. And they don't look like they're going anywhere.
Purchasing the top player on the market each time the transfer window opens up makes for a very full squad with lots of star players and not enough positions.
Every few months, one or more of City's players is frustrated by the lack of playing time and wants to be moved on.
Fortunately in most cases, City doesn't mind taking a loss on a lot of their players. That clearly doesn't apply to Carlos Tevez though.
City has oddly made just one big signing this summer, in the form of star Argentina forward Sergio Aguero.
They still have too many players than they know what to do with, and there's still top players left on the market for City to swoop in for.
Samir Nasri's future at Arsenal is anything but certain, and Inter Milan seems to be having a fire sale of their best players like Wesley Sneijder and Samuel Eto'o. And there's still the problem of what to do with Shaun Wright Phillips.
And the little matter of Carlos Tevez.
City already has a stacked squad, but the chances of them not adding anyone else in the coming weeks is very slim. Let's take a look at some of the hottest rumours surrounding Manchester City today.
David Rogers/Getty Images
Inter Milan were one of the top teams chasing Manchester City's wantaway striker Carlos Tevez, but they would have to sell off a star or two to meet City's steep asking price.
Former Barcelona front man Samuel Eto'o is reportedly close to signing for Russian side Anzhi Makhachkala, which would free up space and funds to bring Argentine striker Tevez to the San Siro.
The Cameroon striker has reportedly agreed personal terms with the ambitious club and only need to pass a medical before the deal becomes official.
Inter Milan reportedly got €40 million for Eto'o, who will make about €15 million per year with the Russian club.
Looking back to the swap deal with Zlatan Ibrahimovic and Barcelona that brought Eto'o to Inter two years ago, when Inter got Eto'o and €46 million for Ibra, Inter has more than gotten their money's worth for the African striker, and president Massimo Moratti has made some very shrewd moves in the process.
The €40 million fee from Anzhi will not be enough to get Tevez way from City, but Wesley Sneijder will likely follow Eto'o out the door at the San Siro, and he will fetch a similar price, giving inter plenty of money to offer City for Tevez.
However, because Sneijder looks close to joining City's rivals Manchester United, it wouldn't be wise for Mancini to sell a superstar like Tevez unless he we getting someone just as talented in return, like Eto'o.
However, one mega-swap deal was all she wrote for Eto'o apparently.
Inter Milan may attempt to secure Tevez on a season-long loan deal, but that is not something City will likely go far.
If Sneijder does indeed join Manchester United, Tevez's chances of leaving City are slim, unless a deal for Arsenal's Samir Nasri goes through at the same time.
Should be an interesting weekend.
This article is
What is the duplicate article?
Why is this article offensive?
Where is this article plagiarized from?
Why is this article poorly edited?
David Rogers/Getty Images
Manchester City winger Shaun Wright-Phillips hasn't been in Roberto Mancini's plans for some time now, so it would be a very big surprise if he was still in Sky Blue come Sept. 1.
Fellow Premier League clubs Bolton and Stoke are high on the 29-year-old Englishman who has started just five Premier League games under his Italian boss.
Stoke City is looking to build on their terrific campaign from last season when they made it all the way to the FA Cup final, losing to Manchester City.
Tony Pulis can also offer Wright-Phillips the chance to play some European football next season in the Europa League. It would be a third signing in a busy summer for Pulis and Stoke.
Wright-Phillips still has a year left on his contract at City, but he has been a target for Owen Coyle and Bolton all summer long.
Coyle has tabled a bid of £4 million for the winger, but he would have to take a wage cut from £65,000 to come to Bolton.
"Shaun is a tremendous player," said Coyle.

"He is someone I would love to bring to the club. Whether it is possible, only time will tell.

"There are financial implications involved. Players at Manchester City are on contracts that are more than we could pay. There is a threshold we cannot go beyond.

"But there has been dialogue between our chairman and (City chief executive) Garry Cook. That is where we are at the moment. There is nothing concrete."
Wright-Phillips has said he wouldn't mind staying at City and fighting for his place, which makes sense considering he has a bigger chance at winning a trophy there and is getting paid much more, but Mancini has made it clear he won't see much time on the pitch.
"Shaun is a fantastic guy," Mancini said. "I love him as a guy and as a player.

"But it is difficult for me when I need to decide to leave him in the stand. For him, it is difficult that he can't play in every game.

"I need to speak with him to decide what to do next. If he wants to stay, he can stay. He always works very hard, and he is an important presence in the dressing room.

"But I understand that it is not easy for him when he doesn't play in every game."
This article is
What is the duplicate article?
Why is this article offensive?
Where is this article plagiarized from?
Why is this article poorly edited?
Richard Heathcote/Getty Images
Manchester City has already poached one of Arsenal's top players this summer in left-back Gael Clichy (who they got at a bargain for £7 million), and they're going after another one in Samir Nasri.
Arsenal midfield maestro has been one of the hottest players on the transfer market this summer since his contract talks have stalled.
Cesc Fabregas is looking closer and closer to finally moving to Spanish and European champions Barcelona, meaning keeping of hold of Nasri becomes Arsene Wenger's biggest task.
City are reportedly readying a £22 million bid for the midfielder, who was also a target for Manchester United earlier in the summer.
Wenger will hate losing both his stars, but if he has to lose Nasri, this is the summer to do it, as opposed to losing him next summer for free.
Wenger had named both Fabregas and Nasri in his squad for the Champions League tie against Udinese next week, and if either were to play, they were be cup-tied for the competition the whole season, a very shrewd move by the Frenchman indeed.
Nasri moving to Manchester City is a complete nightmare for Arsenal and its supporters, especially seeing as how strongly City finished the season last year, above Arsenal.
Le Parisien has said that a deal to see Nasri move to Manchester City is "nearly completed."
If a deal for Nasri does not go through, Roberto Mancini has his eyes on Fiorentina winger Alessio Cerci.
The 24-year-old has been linked with Manchester City as a backup for a long time, and he would certainly be a cheaper option to the Arsenal playmaker.
Cerci joined Fiorentina last season from Roma for just £3.5 million from Roma, but there's no doubt Fiorentina would ask for a bit more from the Billionaires in Blue.
Mancini has said he wants to bring in another winger before the transfer window closes, whether Shaun-Wright Phillips leaves or not.
This article is
What is the duplicate article?
Why is this article offensive?
Where is this article plagiarized from?
Why is this article poorly edited?
Jamie McDonald/Getty Images
Manchester City's wantaway striker and captain Carlos Tevez has been a transfer target since he handed in a transfer request in January, but it appears that the steep price City put on his head has scared other teams off.
The team that came closest to landing the Argentine striker was Brazilian side Corinthians last month, and they could be back in the mix.
But not until January.
Corinthians marketing chief Luis Rosenberg said his team was close to reaching a deal with City last month, and if the striker stays in Manchester past the Aug. 31 deadline, they'll give it another go.
"You can expect us to go after him again," he said.

"I think the deal was missing more than €5 million. But we would still have to deal with Tevez, we did not do so because we still needed to reach a settlement with City."
Corinthians is the side that makes the most sense for Tevez, at least given the reasons he had for wanting to leave England.
Tevez had said he is unhappy with life in Northern England, and he family do not live with him there, making him very homesick, and Brazil is much closer to home than England.
Going to Corinthians may make sense for Tevez's personal life, but it would be a step back for his football. He's a fantastic player and should be playing in one of the top three football leagues in the world.
But come January, the price for Tevez could be lower, depending on how Roberto Mancini handles his star.
Mancini has proved in his dealings with Mario Balotelli that he puts the team before any superstar ego, and Tevez could find himself on the bench for much of the first half of the season, lowering the price on his head.
Given Tevez's goalscoring record in England, top clubs are going to be interested, so Corinthians may have a tough time landing him if they aren't the only ones bidding.
This article is
What is the duplicate article?
Why is this article offensive?
Where is this article plagiarized from?
Why is this article poorly edited?

Manchester City: Like this team?