Baltimore Ravens vs. Philadelphia Eagles: 10 Players to Keep an Eye on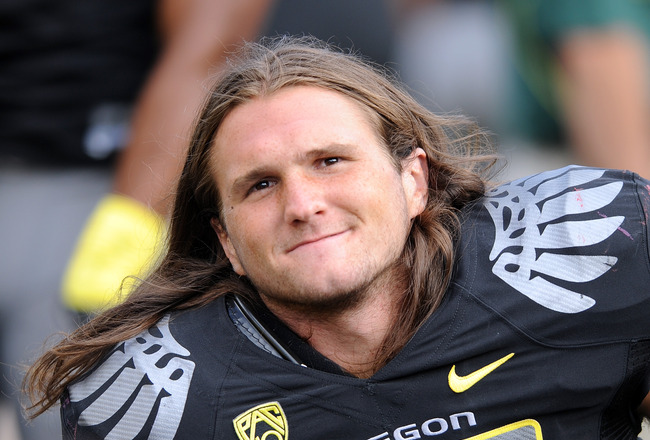 Steve Dykes/Getty Images
We may only see the starters play one quarter of tonight's preseason opener between the Baltimore Ravens and Philadelphia Eagles.
In that short time, there will be a lot to look out for and a lot to digest.
Some players are in the midst of a battle to earn a starting position while others are trying to quiet their critics.
The 10 players on this list will see most of their action during the first quarter while a couple may not get onto the field until the second quarter or later.
Riley Cooper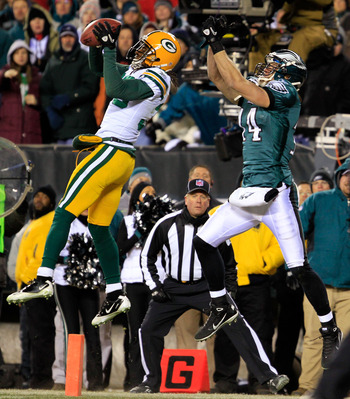 Chris Trotman/Getty Images
Riley Cooper has a great opportunity tonight to emerge as a reliable target for Mike Vick as DeSean Jackson and Jeremy Maclin are out for tonight's game, according to Philly.com.
Cooper will obviously have a tougher time getting open without two playmakers drawing attention from the defense. But if he can find a way to get open and build trust with Vick, it will pay huge dividends down the road.
We all remember how the Eagles' 2010 season ended when Vick threw an interception to Tramon Williams in an attempt to hit Cooper in the back of the end zone against the Green Bay Packers in the playoffs.
I'm not going to say the play ends differently if Vick worked more with Cooper in the preseason, but the extra reps with each other certainly can't hurt.
For all we know, the extra work together could result in Cooper being an additional target for Vick. And what happens if Maclin's mysterious illness prevents him from starting the season? Cooper needs to be ready to step in and contribute to the offense.
Danny Watkins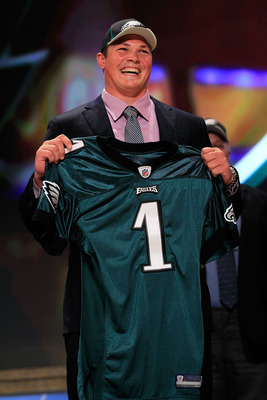 Chris Trotman/Getty Images
Wouldn't it be nice to see the Eagles' offensive line not decimated by injuries and poor play?
Rookie Danny Watkins can help solve those problems.
Watkins, who will turn 27 halfway through his rookie season, only played two full seasons at Baylor University after he transferred from Butte College in Canada.
The inexperience should have Eagles fans concerned, but all of those worries can quickly be put to rest if Watkins shows he can hang with one of the best defensive fronts in the NFL tonight.
I think it's a bit unfair to expect Watkins to play well throughout the game when you consider the NFL lockout and his contract negotiations kept him off the practice field, but that's why I said he needs to hang with the Ravens' defense.
If he can show more moments of solid play and less moments of getting beat like a drum, I think we can say there is hope at right guard this season.
Vince Young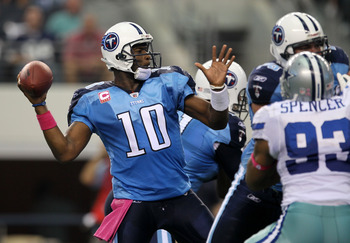 Stephen Dunn/Getty Images
I've bashed Vince Young this offseason without seeing what he can do and I truly hope he doesn't give me much ammo after tonight's game.
I am willing to cut Young some slack because like everyone else, he has not been given ample time to work with the team and learn the offense.
Watch what Young does tonight and use it as a baseline assessment. If he plays like a pig, it's not the worst news in the world because he can only go up from there. And if he plays like a Pro Bowler, we can get our hopes up that he is capable of backing up Mike Vick.
If I'm willing to go easy on Young tonight, hopefully everyone can.
Casey Matthews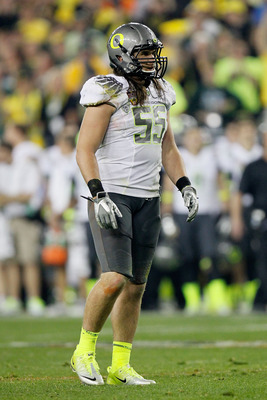 Kevin C. Cox/Getty Images
Casey Matthews brings something to the table Eagles fans have not seen in a while: A play-making linebacker.
At Oregon, Matthews seemed to find himself in the middle of every play, attempting to swing momentum with each play he made.
The big question is if he will be able to bring his style of play into the NFL.
Facing the Ravens will prove to be one of the toughest tests he will face.
I wanted to see Ravens fullback Vonta Leach seek out Matthews on a lead block for Ricky Williams. Leach tips the scales at 260 pounds while Williams comes in at 230 pounds. Unfortunately, Williams is not scheduled to play according The Carroll County Times.
Regardless of who Leach is leading, Matthews will face stern test for a 231-pound linebacker who has been criticized for being too small.
Ryan Harris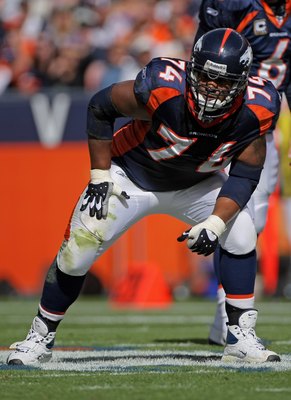 Doug Pensinger/Getty Images
Of all the names added to the roster this year, Ryan Harris is arguably the most important.
Lining up at right tackle, he has the responsibility of protecting Mike Vick's blindside and keeping the most important player on the team healthy.
If Harris makes one mistake, it could be lights out for Vick.
Harris is currently filling in for Winston Justice, who is on the reserve PUP list while recovering from knee surgery.
The interesting thing is Harris can take Justice's job if he plays well enough. Fans won't be upset if that happens because it means there is someone who can add stability to a position that has been unstable since Jon Runyan left town in 2009.
Torrey Smith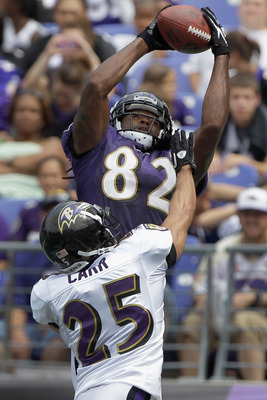 Rob Carr/Getty Images
According to The Carroll County Times, the Baltimore Ravens are under some heat for how they handled their wide receiving corps this offseason.
Second-round draft pick Torrey Smith could quiet some of the critics, but it won't be easy going up against one of the best secondaries in the NFL.
The rookie from Maryland is said to have great speed and is expected to start tonight opposite of Anquan Boldin, according to the source.
Unlike Cooper, Smith needs to build a rapport with his starting quarterback, Joe Flacco, to help give his team a respectable passing game.
Vonta Leach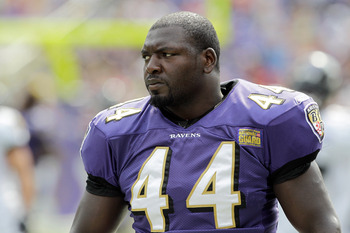 Rob Carr/Getty Images
This is the guy who may have his crosshairs set on Casey Matthews.
Vonta Leach is regarded by many as one of the best fullbacks in the NFL after he cleared the way for Arian Foster to rush for 1,616 yards in Houston.
If he can help out an unproven player like Foster that much, can you imagine how much he can help out Ray Rice? Imagine him wearing down a defense to the point where Rice breaks off a couple long runs late in the game.
If the Ravens have a lead in the fourth quarter, Leach will allow the Ravens to milk away the game.
Look for him to dominate a small defensive front for the Eagles.
Sergio Kindle
Rob Carr/Getty Images
One of the worst stories in the NFL last year was when Sergio Kindle fell down a flight of stairs, fractured his skull and missed the entire season.
Despite the injury, the Ravens John Harbaugh said a contract could still be reached and now the good faith may pay off.
The traumatic event, which actually caused Kindle to lose hearing in his left ear, has not stopped him from bouncing back to compete for a spot on the Ravens' roster.
This is the one instance where a lot of people will not focus purely on how the player performs tonight.
Jah Reid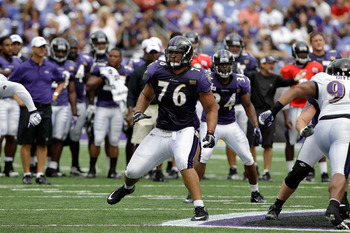 Rob Carr/Getty Images
Jah Reid, a third-round pick from the University of Central Florida, was given an opportunity to practice with the first-team offense because restricted free agent Oneil Cousins was not allowed to practice with the team until the NFL CBA was ratified on August 4, according to The Baltimore Sun.
Reid has made the most of his opportunity and has found himself in a battle with Cousins for the starting position at right tackle.
The position is not as important as it is for the Eagles, but when you go up against defensive fronts such as Pittsburgh, New York (Jets), San Diego and Houston, this year the offensive line cannot be weak on the edges.
Reid will get a good test from Jason Babin, who will probably line up more often at left defensive end.
Ravens' Cornerbacks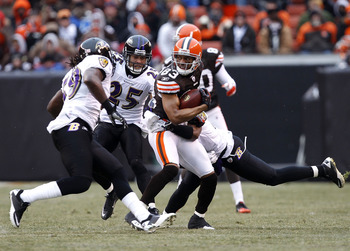 Matt Sullivan/Getty Images
If there's a weakness on defense for the Ravens it can be found at cornerback.
According to CSNBaltimore.com, Domonique Foxworth, Chris Carr, Jimmy Smith and Ladarius Webb are competing for the two starting cornerback positions.
The source mentions Carr as having an inside track for one position and Smith, the rookie from Colorado who many Eagles fans wanted in the draft, being the man the Ravens want to step up for the second position.
Unfortunately, Smith will not be playing tonight, which means he leaves his fate partially in the hands of everyone else. The other downside for Smith is his competition may look good against a depleted Eagles receiving crops that will not have DeSean Jackson and Jeremy Maclin.
Keep Reading

Philadelphia Eagles: Like this team?