Baltimore Ravens: Last Year's Draft Class Could Pay off Huge This Season
August 11, 2011
Rob Carr/Getty Images
After the last year's draft, most experts and fans gave the Ravens high grades for the way they moved around in the draft and seemingly found good value with their draft picks. In typical fashion for their general manager Ozzie Newsome, the Ravens were movers and traders on draft day.
They traded their first round pick, 26th overall, to Denver for a second round pick, a third round pick and a fourth round pick. The Ravens used those picks to select Sergio Kindle from Texas, Ed Dickson from Oregon and Dennis Pitta from BYU.
The trade was unanimously praised by draft experts and according to the draft value chart, was also overwhelmingly in favor of the Ravens.
With their first two picks, the Ravens appeared to take advantage of the opportunity and drafted two players, Kindle and Terrence Cody, a big nose tackle from Alabama, that had questions but also had first round caliber talent.
In particular, Kindle was considered by many to be the best outside linebacker in the draft class and only slipped into the second round due to off-field issues and injury concerns. He was very productive at Texas, and after taking over for Brian Orakpo, became one of the best pass-rushers in the country with his rare size and speed.
The draft pick of Kindle seemed to be a perfect match for the Ravens' aggressive style. The Ravens were looking for a pass-rusher to pair with Terrell Suggs, and Kindle seemed to fit the bill. Kindle himself was also excited to be part of the Ravens.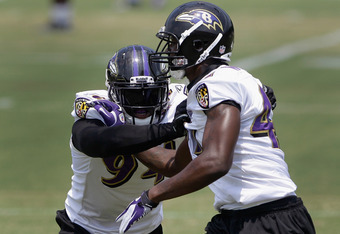 Rob Carr/Getty Images
"I get to the quarterback — that's my deal, and I can only get better learning from Suggs and guys like that," Kindle told The Baltimore Sun shortly after being drafted. "The sky's going to be the limit once I get there and get in the system… I'm getting the Rookie of the Year. That's my goal."
Kindle's statement definitely showed confidence. His comments were criticized for being bold and arrogant, but not many people thought that Kindle lacked the talent to back them up especially in an aggressive system.
Unfortunately, Kindle never had the opportunity to follow through with his statement. Shortly after being drafted, he fell down several flights of stairs and fractured his skull. As a result, he was unable to attend training camp and was ultimately placed on injured reserve, which ended his rookie season before it even began.
At this point, the draft day trade with Denver began to receive criticism. People questioned the wisdom of trading down in the draft and passing on talent in the first round, and some went so far as to blame Kindle's injury on the Ravens' front office by saying that Kindle's character concerns played into the accident.
That criticism may have been unfair, but there's no question that Ravens fans were disappointed with the lack of production of the rookie class. Kindle obviously missed the whole season, but the rookie tight ends, Dickson and Pitta, saw very little action and caught only 12 balls between the two of them.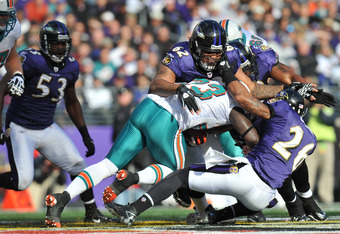 Larry French/Getty Images
Terrence Cody and David Reed, the Ravens' fifth round pick from Utah, were the only rookies who made significant impacts in their first year.
Reed made his impact returning kicks and returned a kickoff for a touchdown in the Houston game, which went into overtime and made Reed's touchdown even more crucial.
Cody played in several games toward the end of the season and in the playoffs and made a good impression. He was able to force a fumble in the playoff game versus the Kansas City Chiefs and was a key player in shutting down the run in that game.
Outside Cody and Reed, the Ravens' rookie class from last season was very quiet, but the Ravens certainly didn't give up hope for the players they selected. In fact, they appear to have done the exact opposite and made several moves this offseason that seem to indicate that they're going to rely on their second-year players moving forward.
Terrence Cody is a player that the Ravens clearly want to feature on the defense. Last year, the team started Kelly Gregg at nose tackle next to All-Pro defensive tackle Haloti Ngata. This offseason, the Ravens released Gregg and are planning to start Cody in Gregg's old spot.
Since Cody showed the most promise out of all the rookies last season, the fact that the Raven's are planning to start him at nose tackle doesn't come as a big surprise to most people. Replacing one of the most underrated and respected defensive linemen in the league won't be easy, but most people feel like Cody has all the ability in the world and is more than capable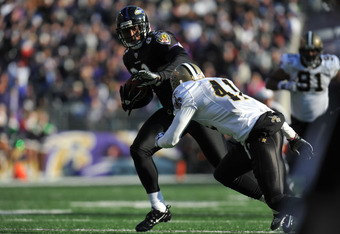 Larry French/Getty Images
The Ravens also released Todd Heap, the team's top tight end since 2002, and appear prepared to start Ed Dickson at tight end this season.
There are similarities between the way the Ravens transitioned Heap into the starting lineup and how they've handled Dickson. In 2002, the Ravens did not bring back Shannon Sharpe, their best receiver on offense and a key player in the Ravens' Super Bowl run in 2000, and appeared to be happy going forward with Heap.
Much like Dickson, Heap did not have a spectacular rookie season and only caught sixteen passes for 206 yards and one touchdown. That's similar to Dickson, who caught eleven passes in his rookie year for 152 yards and a single touchdown.
In both cases, the team appears to be comfortable starting their second year player, and fans can only hope that Dickson works out as well as Heap, who had 836 yards and six touchdowns in his second year.
Kindle is another player who would like to emulate a current Ravens' player's rookie season. In a press conference in training camp, John Harbaugh said that the team would like to use Kindle much like they used Terrell Suggs in his rookie season.
"If he can rush the passer like he did in Texas, that's the idea," Harbaugh told The Baltimore Sun. "I think you look to Suggs' first year, not that I want to put pressure on him, but if we can focus on the pass rush part primarily and then see what else he can do, kind of like we did with Terrell when he was here the first year and focus on that part of it as far as bringing him along, that would be kind of our plan right now."
Suggs, who had 12 sacks in his rookie season, made a huge impact on the Ravens' defense and won the Defensive Rookie of the Year award in 2003. If Kindle could come close to that sort of production, it would be a huge boost for the Ravens' defense, which had a franchise low 27 sacks last season, and would certainly make his early prediction for Rookie of the Year look much better.
The fact that the Ravens believe that he's capable of a Suggs-like season speaks to the confidence that the have in him and his ability. If Kindle shows the ability to get to opposing quarterbacks, there's little doubt that the Ravens will find ways to keep him on the field.
All in all, the Ravens are definitely relying on their second year players more than they usually do, and that's surprising considering their rookie's lack of production last season. On the other hand, the Ravens have always shown great confidence in their talent evaluation process and drafting abilities.
When they believe in a player's talent, they rarely shy away from putting that player into the lineup. That's not to say they never make mistakes or take risks. They've certainly made their fair share of mistakes, Kyle Boller to name one, but their risks are usually well calculated.
If the Ravens' second year players can play up to their talent and emulate the success of other players the Ravens have started early, the Ravens' draft class from last season will start to look very good, and the Ravens could find themselves going very far this season.