NFL Season Preview: NFC North
August 11, 2011
Matt Ludtke/Getty Images
The NFC North is going to be one of the most competitive divisions in the NFL this season.  The Green Bay Packers, Chicago Bears and Detroit Lions are all talented teams capable of taking over the division.
The Bears are looking to defend their NFC North championship from last season, while the Packers are looking to defend their Super Bowl championship, but no team has ever won the Super Bowl two seasons in a row while coming from the Wild Card.
So let's take a look at how this division will shake up this season and which team is going to take the NFC North.
4. Minnesota Vikings (5-11)
The Vikings have lost a few big pieces this offseason.  With Ray Edwards and Sidney Rice gone, they are out a pass-rushing threat on defense and a big-play receiver on the offensive end.
Brett Favre is also officially retired (hopefully), and they have replaced him with Donovan McNabb, not exactly a step towards youth.
It is very possible that first-round pick Christian Ponder takes over for McNabb at some point, but that will only be if the season is completely lost.
As of right now, their only threats are Adrian Peterson and Jared Allen, and they don't have many great pieces around them.
3. Detroit Lions (8-8)
The Vikings have been known for having the best interior defensive line in the NFC North and possibly the NFL with the Williams duo.  Now, the Williams duo is getting older and less effective and a new combo is taking shape in the NFC North.
Last season, Ndamukung Suh took the NFL by storm, giving every quarterback on the opposing team the fear of being put in a coma.
Rather than look for new positions where they could improve, the Lions grabbed another stud defensive tackle in the first round of this year's draft in Nick Fairley.
The combo of Suh and Fairley are going to opposing offensive lines nightmares, especially in the NFC North where each team's quarterback has two games to get put in the hospital.
Offensively, Calvin Johnson is always a threat to make a cornerback look stupid, and he could do that plenty this year if Matthew Stafford is able to stay healthy.
The Lions are making all the right moves, and they are ready to make the jump up to contender this season.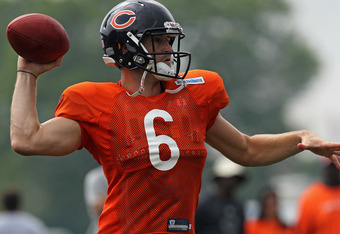 Jonathan Daniel/Getty Images
2. Chicago Bears (11-5)

The Chicago Bears are consistently one of the most underrated teams in all of sports.  Nobody ever expects great things from them, then the regular season comes, and Chicago fans are pleasantly surprised.
This season will be no different.  The Bears have made a few additions that don't seem great on paper but will pay off big time during the regular season.
Roy Williams had two of the best years of his career when he was coached by Mike Martz.  He's back with Martz again, and Jay Cutler loves to throw to big targets.
Marion Barber will likely put an end to the Chester Taylor experiment, and he will bring stability behind Matt Forte.
The offensive line isn't spectacular, they aren't even good, but they are good enough.  Last season started horribly for the front five, but after some movement, the players got in the correct spots and played admirably.
If they can play like they did the last few weeks of the season for all 16 games this year, opposing defenses are going to be wondering how the Bears offense became dangerous.
Add in a full season with Devin Hester back to being used as a gimmick receiver who specializes in punt and kick returns, and the Bears have a good chance to surprise the experts yet again.
1. Green Bay Packers (13-3)
This one hurts me greatly, but the Packers are easily one of the best teams in the NFL.  Coming off a surprise Super Bowl victory, the Packers are back and healthy—something that they weren't last season.
The Packers were riddled with injuries starting even from before the season started.  With all of their players healthy, Aaron Rodgers is going to have a full arsenal of weapons, and the defense will be even better.
James Starks surprised a lot of people late last season and had more rushing yards than any other player in the postseason (although they did have at least one more game than every other team).
With Ryan Grant back and healthy, the Packers are going to have a formidable rushing duo that will give defenses fits having to also watch Rodgers pass to players like Greg Jennings and Jermichael Finley.
Expect to see the Packers making a deep run in the playoffs and meeting the Philadelphia Eagles in the NFC Championship game.
I'm Joe W.