Eagles Still Have a Lot to Prove Thursday Against Ravens, Esp. on Defense
August 11, 2011
Leon Halip/Getty Images
I know it is just a preseason game, but this first preseason game of 2011 seems a bit more important than usual, doesn't it?  It seems like the Eagles have something to prove.
Due to a short offseason and new rules, the Eagles made a lot of changes.  They also had precious little time to implement new players to their system—reason enough to be a bit concerned. 
With so little football, I feel like most fans—starving for the game.  I am excited for tomorrow night and I want to see what this team can do.  I know it's preseason, but it has more intrigue than usual.
Normally, the first preseason game is blah.  Who cares?  This game however, has a few more things to watch than normal that should keep fans' attention.
The starters are supposed to play for about a quarter, and in that quarter, most fans probably agree the Eagles need to show us something.  The Eagles were definitely champions of the offseason but that needs to translate on the field.  I am not saying they have to beat Baltimore—I could care less if they win the game.
It's the first unit that needs to show something.  On offense, Michael Vick has to do some good things against a good defense.  He can't look lost and confused like he did at times towards the end of last season and the offensive line has to give him time to throw so he is not running for his life every snap.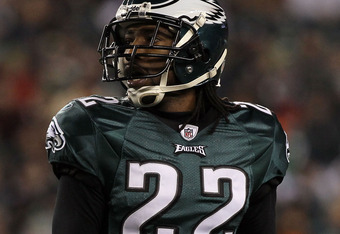 Jim McIsaac/Getty Images
The Eagles offense is not really a huge worry though and a poor offensive performance will not really cause a lot of panic.
The new field goal kicker needs to make a kick or two and the new punter needs to do a solid job. If one of them struggles badly, it might be a sign to worry.
Most importantly, the defense has to play well.  Baltimore can run the football, we already know that.  Even with basic running plays, the Eagles defense needs to show an ability to stop the run.  The Eagles have to be confident they can match up against the passing game, but the biggest question is, can they stop the run?  I really have no idea, and if they bottle up the Ravens running game, it would be a good confidence-booster for the defense.
Also, how will the young safeties play with little practice time?  How will MLB Casey Matthews do as a rookie starter with very little offseason prep?
These are all questions that we will not get answers to right away, but I am hoping we are shown some positive signs to indicate these things will work out okay.
On Friday, it would be really nice to be talking about all the positive signs we saw Thursday night.  Hopefully that will be my next article.