New York Mets: Reviewing the 2011 Seasons of Matt Harvey and Jeurys Familia
August 11, 2011
Jeff Gross/Getty Images
Matt Harvey is the New York Mets' best homegrown talent in the minors right now, and Jeurys Familia is making a bid to quickly rise even further up the pitching charts. If it wasn't for Zack Wheeler coming over in the Carlos Beltran deal last month, Harvey might have been this season's top performer on the farm.
All three men figure to be featured heavily in the Mets long-term plans, although all three are also at least two years, possibly more, from making any kind of impact. Let's have a look at what Harvey and Familia have accomplished so far in 2011.
Harvey did everything the Mets asked of him in St. Lucie, and it was vital for his progression to move up to Binghamton.
In 14 Florida State League starts, Harvey went 8-2 with a 2.37 ERA. He didn't allow an earned run until his fifth outing, and he limited opponents to one earned run or fewer in 10 of his 14 appearances.
He led the league with 92 strikeouts over 76 innings at the time of his promotion, while his eight victories were tied for the most in the whole of his class.
In addition, he held right-handed hitters to a .198 average, and he surrendered just 11 extra-base hits over 281 at-bats, fewer than one a game.
In the Eastern League since June 26, Harvey is now facing the standard of competition that is testing him every time out.
Harvey's 1-3 with a 4.93 ERA, although he has allowed just one run on seven hits over his last two starts on the road in Harrisburg (July 28) and Altoona (Aug. 4).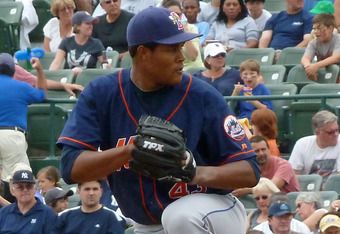 A positive sign is that he already has 42 strikeouts in 34.2 innings. He doesn't have enough innings to qualify for any pitching leaderboards, but if he did, his 11.1 average would rank No. 1 among all starters. Eric Surkamp (136 strikeouts in 115) currently leads the league with a ratio of 10.6 strikeouts per nine innings.
That tells you that he continues to miss a lot of bats, even with the jump in level.
Another positive sign is that he's keeping the ball in the yard. Just two home runs (both in the same game against Portland on July 6) tells you that hitters are either not squaring the ball up that well, or that he's pitching low in the zone. Considering he's only seen his defense turn two double plays behind him, it probably points to a lot of line drives to the outfield—not the best thing, but certainly not the worst.
A left-handed batter has yet to take him deep since his promotion.
The two things to watch for the rest of the season is his approach to right-handed batters and the way he begins games.
Harvey was dominant against right-handed bats at Class A Advanced St. Lucie, but in Binghamton they're rocking the 6-foot-4 righty to the tune of a .300 average.
In terms of coming out the gate slowly, Harvey's first-inning ERA is 12.86. That means he's allowed 10 runs in the first inning of his seven starts and just nine runs in every other inning combined. There are a few ways to look at this, mainly that he either needs a better approach the first time through the lineup or that he needs to relax more and settle into his natural rhythm quicker. However, it also shows that he's making adjustments when he faces them for a second and third time, and that is something the Mets will be happy to note.
Moving on to Familia, his time has been split between two levels in 2011, first with Class A Advanced St. Lucie and then with double-A Binghamton.
He has a pretty similar story to Harvey, in that he dominated at the lower level, proved he was probably going unchallenged there and then struggled at times once he was called up. Those struggles tell us he's at the right level in terms of his development this year.
At St. Lucie, Familia was 1-1 with a 1.49 ERA in six starts, but don't read too much into the record, or the lack of a record. Wins are a pretty poor barometer of a player's success, maybe more so in the minors than anywhere else.
He allowed one hit over seven scoreless innings in his debut against Myrtle Beach on April 8, left with a 1-0 lead and watched his bullpen surrender four runs. The next time out against Fort Myers five days later, he allowed one run on one hit and two walks over six frames, left with a 3-1 lead and watched his 'pen give up two runs in the seventh. Five days after that, he allowed one unearned run in the sixth inning of a rematch with Fort Myers, came out with a 3-1 lead, only to see the Miracle plate four runs in the top of the seventh.
You get the point.
Familia did not allow more than one earned run in five of his six starts. Take out the four runs he allowed against Brevard County on April 29, and his ERA would have been 0.56. Factor in 36 strikeouts in 36.1 innings and it's accurate to say he was dominant. Right-handers hit .171 against him, lefties just .170.
Life in Binghamton has been a little tougher, but that's what we would expect with the jump to double-A and a team that offers little in the way of offense.
He's currently 2-3 with a 4.09 ERA and 70 strikeouts in 61.2 innings, one of the best ratios among any double-A starting pitcher.
While he's holding right-handers to a respectable .209 clip, the left-handers are hitting .327 against him, and that is where most of the growing pains have stemmed from.
He has shown flashes of dominance, like the back-to-back double-digit strikeout performances against Trenton on June 12 and 18 and the seven scoreless innings he tossed against the Yankees double-A affiliate on May 15, but the consistency is not quite there yet.
He has allowed nine homers, uncorked seven wild pitches and hit five batters in his 12 appearances, and for every time he has fanned 10 batters, there's a game he's struggled.
His last two starts have been below par, so it will be interesting to see how he bounces back. Maybe it's just a case of being too tired in the dog days of summer. I can't see it being a real problem with workload, considering he's still some 30 innings (roughly five starts) short of what he has pitched the last two years.
Maybe it's simply a statistical anomaly, a bad day at work.
Either way, he went just 1.2 innings against Altoona on Aug. 2, a start which saw four hits, three wild pitches and two walks in the space of 12 batters. Then he followed it up with a season-high eight hits and season-low two strikeouts in four innings at home to Reading on Sunday.
Let's hope there's not a lingering injury problem there, that's the last thing Mets fans want to hear right now.
As it is, these two pitching prospects could help anchor the top or middle of the Mets' rotation in two or three years. They won't be rushed to the majors, but it's something to look forward to.