Tottenham Transfer News: Dear Harry Redknapp and Daniel Levy, We're Fed Up!
August 10, 2011
Gallo Images/Getty Images
Type the words "Tottenham Hotspur" into Google News and see what you get.
What I got today was a rumor about Benayoun coming to Tottenham in exchange for Modric, a report about us pursuing FC Porto's Givanaldo Hulk, another article claiming that we're still pursuing Fernando Llorente and Guiseppe Rossi, and finally, a report claiming we're pursuing Edin Dzeko.
Conclusion? We, Tottenham Hotspur F.C, have become a joke.
There's not a chance in the world that any of these rumors could ever materialize for us. We have absolutely no use for a rather washed-up winger like Yossi Benayoun, and we don't remotely have the funds available to sign Hulk or Llorente. Rossi has been made unavailable by Villarreal, and if Manchester City are reluctant to even sell us Emmanuel Adebayor, there's not a chance they'll sell Edin Dzeko.
All summer long, for more than two months now, we've been linked with literally every available striker on the market. Seriously, name a forward, and I will be able to find you a report of Tottenham being "linked" with the player.
When we're not being linked with strikers, we're being teased with midfielders who don't fit into our squad. Earlier in the summer, the names of Joe Cole and Scott Parker were thrown around; now we're "chasing" Lassana Diarra.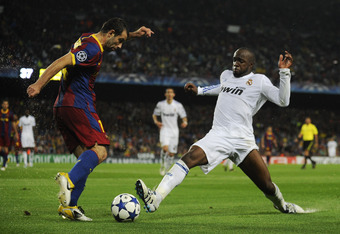 David Ramos/Getty Images
The point is, Harry Redknapp and Daniel Levy have made a complete mess of Tottenham's summer transfer campaign.
Our squad wasn't lacking much at the start of the summer; from the very start, the consensus has been that all we needed was a new, promising striker. He didn't need to be a finished product, and he didn't need to be a world beater—all he needed to be was good and new.
We showed serious a endeavor in our pursuit of Leandro Damiao, but since then, all we've gotten is talk and no bite. The Modric saga has become our headlining story, distracting from our horrible transfer campaign, and whenever Redknapp decides to talk about something other than Modric, it's usually to rule out the signing of so and so player due to his "excessive" wages or transfer fee.
Arsenal fans complain that Wenger has put Arsenal through another poor summer of transfers...in truth, I'd be more than happy if Redknapp had put us through a summer like Arsenal's. A forward like Gervinho is all we need to be competitors for the Champions League this season, but without such a forward we'd be lucky to even make the Europa League again.
Even if we are out of funds, we have loads of unneeded squad players who could quickly raise the funds needed to be active on the market. Sebastian Bassong, David Bentley, Robbie Keane, Wilson Palacios, Jermaine Jenas and Alan Hutton are all quality players who could easily bring Tottenham more than €50 million if sold.
That isn't even including Peter Crouch and Giovani dos Santos, who can still contribute to the team's success but would bring in large individual transfer sums if sold.
The bottom line is that Daniel Levy and Harry Redknapp have turned what initially looked like a smooth, easy summer into a complete debacle. Will Tottenham be able to recover in the final three weeks of the transfer window? Judging by the results coming up on Google News, it does not look likely.