Is It Time for the Giants to Go to a 4-Man Rotation?
August 10, 2011
Jed Jacobsohn/Getty Images
Some food for thought:
The combined ERA for Giants' starters Tim Lincecum, Matt Cain, Madison Bumgarner and Ryan Vogelsong: 2.94.
The combined ERA for Barry Zito and Jonathan Sanchez: 4.84.
The combined WHIP for the fab-four: 1.20.
The combined WHIP for the tumultuous-two: 1.40.
The defending world champs climbed to the pinnacle of baseball last season on the backs of their pitchers, especially their fantastic starters.
This season, San Francisco has been fortunate with the emergence of comeback star Ryan Vogelsong, who has secured and steadied the fourth spot in the rotation in place of Barry Zito, who was a liability down the stretch in 2010 as well.
While it's nothing new to see Zito struggling, it is a bit more unnerving to see Jonathan Sanchez, who we all know can be erratic and emotional at times, struggling so consistently.
In the two starts he's had since returning from the disabled list, Sanchez has an ERA of 9.64.
Zito, who is now on back on the disabled list, made six starts after his first stint on the DL and had an ERA of 5.47.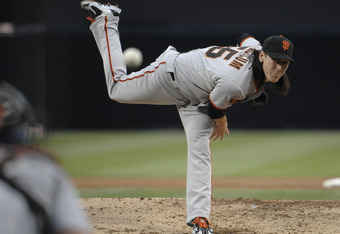 Denis Poroy/Getty Images
Meanwhile, ace Tim Lincecum is having a fantastic month of August so far (in stark contrast to August of 2010, his worst month as a big-leaguer). This month Lincecum's ERA is 1.84 and his WHIP is 0.95.
Matt Cain was marvelous in his last start against the red-hot Phillies, tossing eight innings while giving up just one earned run on three hits while fanning eight.
Madison Bumgarner had one of the best outings of his career Tuesday night against the Pirates, tossing seven strong shutout innings against the Bucs, walking one and striking out 10.
With this offense, a five-man rotation is becoming a liability
The Giants have averaged 2.6 runs/game since acquiring Carlos Beltran from the New York Mets.
With that feeble run support, Giants' starters have little margin for error, and with just a half-game lead on the Arizona Diamondbacks heading into the middle of August, the Giants as a team have even less of a margin.
Back in the good old days (last month), the Giants had a comfortable lead in the NL West, and could afford to have a fifth starter take the hill and hope for the best.
The comfortable lead has now evaporated, as San Francisco has lost 10 of their last 13 games, clinging to the slimmest of leads in their division.
Barry Zito and Jonathan Sanchez are just not reliable enough anymore.
Over-Taxation?
The most obvious argument against the Giants going to a four-man rotation of Tim Lincecum, Matt Cain, Madison Bumgarner and Ryan Vogelsong is that having to start every fourth day would over-tax their arms and leave them vulnerable come October.
Remember spring training, when it was thought in some quarters that the sheer number of innings pitched by Giants starters, including a long postseason that ended in November, would result in a decline in the effectiveness of Tim Lincecum, Matt Cain and especially Madison Bumgarner, the then-21-year-old who had never thrown so many innings in his life?
Thearon W. Henderson/Getty Images
Well, here we are, and we can see that these three have "shouldered the load" (pardon the pun) admirably, and now that we've got six weeks to go and the Giants are in a real pennant race, is it ludicrous to consider pulling out all the stops?
Is Surkamp ready?
Eric Surkamp, now one of San Francisco's top pitching prospects following the trade of Zack Wheeler for Carlos Beltran last month, is looking really good for Double-A Richmond.
He's 8-4 with a 2.09 ERA, and has 147 strikeouts in 120.2 innings pitched.
Whether he could make the jump from AA to the big leagues is a question mark, but perhaps it's time for Brian Sabean and Bruce Bochy to start thinking about giving this kid a shot as the fifth starter.
The Giants need a chance to win every night
Wednesday afternoon's blowout loss to the struggling Pittsburgh Pirates cannot happen every fifth day. If the Giants want to make the playoffs, they're going to have to win the NL West, because Atlanta shows no sign of letting anyone into the wild card discussion.
That being the scenario for the defending world champs, their starting staff needs to give their anemic offense a chance to pull out torturous win after torturous win.
A four-man rotation may become a necessary evil for manager Bruce Bochy to give some serious thought to.