Heart of a Viking: Tribute to the Minnesota Vikings' Jimmy Kleinsasser
August 12, 2011
Donald Miralle/Getty Images
This isn't Jim Kleinsasser's first rodeo. 
As the longest-tenured player on the Vikings' roster, Kleinsasser has been around the block a few times. For over a decade, he has been doing what he does best—punishing defenders on the football field.
He's the type of player that you can count on week in and week out, year in and year out. He is a true professional and a class act. 
Over the last twelve years, Kleinsasser has carved out his own place in Vikings history as one of the most physical tight ends to ever wear purple and gold, so let's take a few minutes to honor the grizzled veteran by looking back on his remarkable football career.   
High School Career
Jim Kleinsasser grew up in Carrington, North Dakota, where he was a standout athlete in every sport he played.
He was a two-time all-region, all-state and Gatorade Circle of Champion North Dakota Player of the Year while at Carrington High School. He was also won the AAU national shot put and discus championship as a junior. 
Collegiate Career
Kleinsasser attended the University of North Dakota and played for the Fighting Sioux football team from 1995-1998. He finished his four-year career at UND in the top 10 in both receiving yards and touchdowns. He was also a three-time All-North Central Conference selection and earned All-American honors in 1997 and 1998.
Coming out of college, Kleinsasser was considered one of the top tight ends in the country and was named a starter in the 1999 Senior Bowl where he first met the Vikings' current quarterback, Donovan McNabb.  
In 2008, Kleinsasser was inducted into the North Dakota Sports Hall of Fame.
Professional Career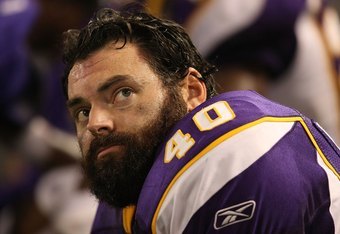 Nick Laham/Getty Images
Kleinsasser was drafted as a tight end by the Minnesota Vikings in the second round (44th overall) of the 1999 NFL Draft. 
This season will be his 13th season in the NFL, and Kleinsasser, 34, is still one of the best blocking tight ends in the league. During his career, Kleinsasser has helped pave the way for six of the top seven single-season rushing performances in Vikings history. 
He has played with many different quarterbacks during his professional career in Minnesota, including some big names: Randall Cunningham, Jeff George, Daunte Culpepper, Brett Favre and now Donovan McNabb.  
If you could describe Kleinsasser's career in one word, it would have to be: Reliable. 
In 2007 and 2008, Kleinsasser was named to USA Today's All-Joe Team, which recognizes hard-working, under-appreciated players in the NFL, and he currenty ranks 2nd in Vikings' history for starts by a tight end (112) and 4th in team history for receptions by a tight end (174). 
According to Pro Football Focus, Kleinsasser was in pass protection on 113 snaps in 2010 and only allowed two quarterback pressures all season.  
In 2008, he not only had the highest run blocking score for the Vikings, but led all NFL tight ends as well. To boot, he gave up just four total quarterback pressures despite being asked to stay in to pass protect on 97 plays. In 2009, he had dropped to fourth in the league but was the only Viking to have a positive run grade on the year. And again, he was an impressive pass blocker, not giving up a single pressure in 76 chances. The guy can block. Not something you can say about many Vikings.
 
Then there was 2010. Truth be told, it was one of his weaker years, but he was still the only Viking to grade positively in run blocking. With a strangely dwindling snap count (he had 66 less opportunities to run block,) he just wasn't able to put in the kind of performances we'd come to expect. The pass protection was still there (two hurries allowed on 113 instances he was left in) but he wasn't quite as dominant as before. It was all summed-up by his worst display in a long while in Week 17 – it's not often the big man will go all game without making a single positive block.
Even in a bad year, Kleinsasser was still the best blocker on the team. Nice. That's why he has been a fan-favorite for years in Minnesota.
The 2011 season upon us and it looks like the Vikings are gonna keep Kleinsasser around, despite drafting Kyle Rudolph this April. Maybe "the sauce" can teach young Kyle Rudolph a thing or two about blocking.
Jimmy Kleinsasser: He's blue-collar. He's bad ass. And he's got the heart of a Viking.